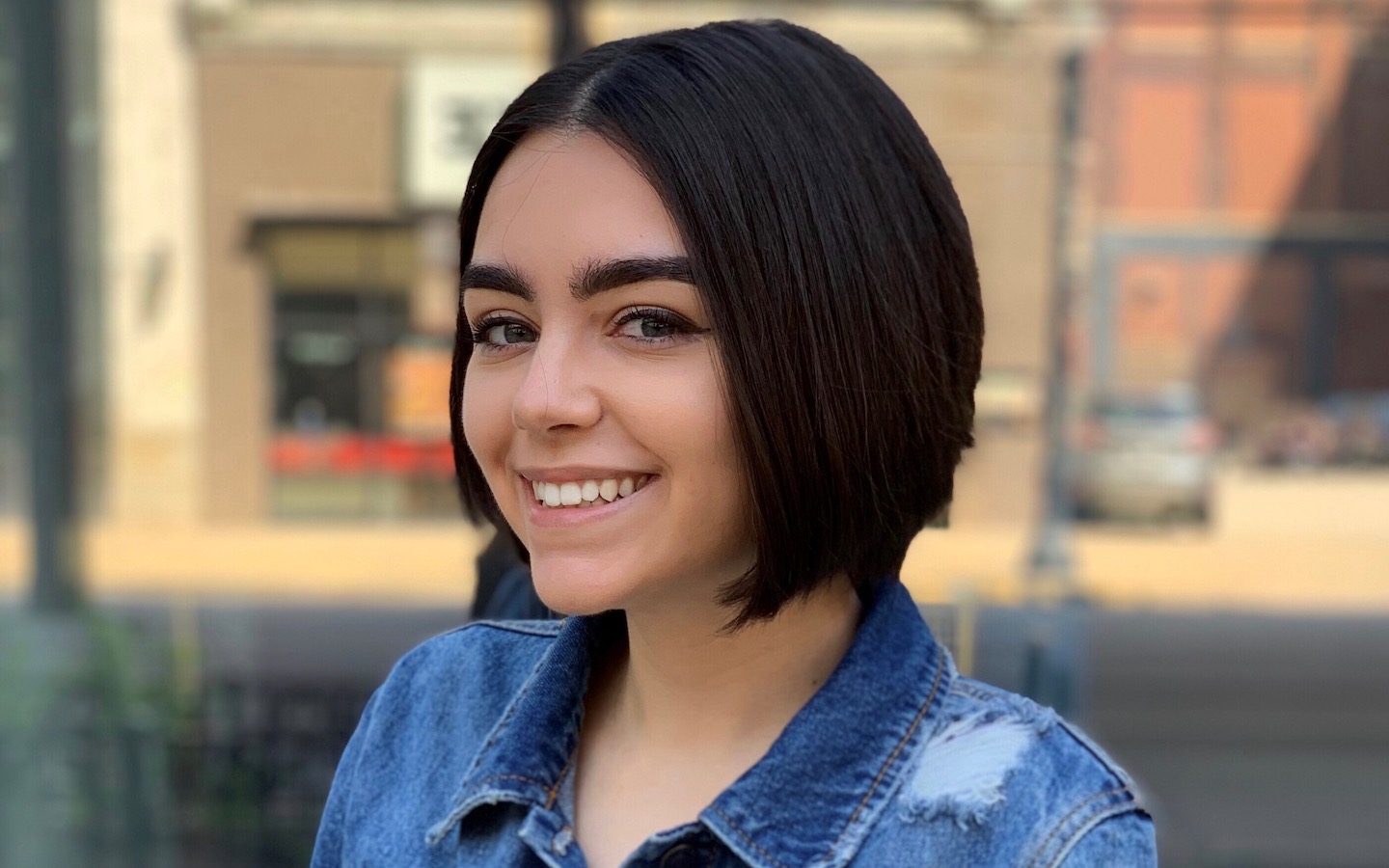 In honor of her academic achievements and her research on fair housing in Chicago, senior Kaitlyn Greenholt was named the 2020 Lincoln Academy Student Laureate from Roosevelt University.
The award recognizes outstanding seniors from colleges in Illinois who exemplify a "desire to make a difference in the world through civic engagement."
As a first-generation student, Greenholt had worried at first that the honors program workload would be overwhelming. "I was nervous about getting in over my head," she said. "I wasn't confident in my abilities as a student."
Through the Honors Program and the Policy Research Collaborative, Greenholt has built confidence in her own skills as a researcher and a student. The Chicago Ridge, Ill. native has helped test levels of housing discrimination against those who occupy protected classes. Greenholt plans to continue her research for her honors thesis, exploring how Housing Choice Vouchers have combated the lasting effects of de jure segregation in Chicago. She was nominated for the award by professor and Honors Program director Marjorie Jolles.
"Everyone deserves access to safe, stable housing," she said. "They shouldn't have to worry about eviction, discrimination or rent becoming increasingly unaffordable."
The political science major will be formally recognized this fall with a $500 stipend and a program celebrating the award. She spoke with Roosevelt University about her research and the Honors Program.
WHAT SPARKED YOUR INTEREST IN FAIR HOUSING?
Prior to college, housing was something I hadn't put much thought into. That in itself shows my privilege. I never considered how the neighborhoods I had lived in had shaped me as a person, or the resources I had access to.
That all changed my freshman year after taking Professor Stephanie Farmer's course Contemporary Urban Issues in the sociology program. I knew about segregation, but diving deep into the details of red-lining, predatory lending and racial zoning in Chicago opened my eyes to just how many of the issues that marginalized communities face today can be traced back to discriminatory housing practices.
In my eyes, everything comes back to housing and where we live. Our environments determine our access to resources, our cultural capital and our social mobility. By the end of the course, I knew that I wanted to dedicate myself to rectifying the lasting effects that de jure segregation has had on Chicago.
TELL US ABOUT THE HONORS PROGRAM.
The Honors Program has made my experience at Roosevelt better by providing me with a support system of staff, students and professors.
The program has consistently challenged me to engage with a diverse array of subject matters in a critical way, and to collaborate and support my classmates as we navigate higher education together. My confidence as an academic and a student has improved tremendously.
I am a better writer, student and critical thinker as a result of the program.
HOW DID YOU GET INVOLVED WITH THE POLICY RESEARCH COLLABORATIVE?
From internships to activism and civic engagement opportunities, Chicago offers opportunities that aren't available at other institutions that are not located within large metropolitan areas.
My Honors Program advisor, Sarah Maria Rutter, informed me of an opportunity here at Roosevelt with Policy Research Collaborative. The project was looking for a research fellow to conduct research on fair housing policy, and to assist the project coordinator in rolling out a fair housing testing program in nine neighborhoods in Chicago.
While I wasn't quite familiar with what exactly a testing program consisted of, I knew that this was a chance to further pursue and expand my knowledge regarding fair housing policy and gain tangible research experience. More than that, it was an opportunity for me to make a difference in the city.
I'm so incredibly grateful that I received the position. It truly has been life-changing.
WHAT DOES YOUR DAY-TO-DAY WORK LOOK LIKE?
I assisted in maintaining the project's database to make sure it was comprehensive and accurate, identifying discriminatory practices, locating testing properties in mobility areas, conducting rental property searches and coaching testers.
The most meaningful moments happened when debriefing with the testers on the project and recording their experiences at the test site. So many of the people I worked with were genuinely passionate and thorough in their work because they knew how integral research such as this is.
It was always a good experience when I had the chance to have conversations with testers that spanned beyond the project because it gave me a chance to get to know the individual, rather than just the data. I was constantly learning from those around me, whether about life or fair housing policy.
WHAT'S YOUR ADVICE FOR FUTURE ROOSEVELT STUDENTS?
Get to know the professors and advisors. The professors within my major and minor departments have been instrumental in my own academic success — they have been extremely supportive in my pursuits, and I'm incredibly grateful for their encouragement.
The professors at Roosevelt want students to succeed, and the city provides many opportunities to do so. Attending Roosevelt University can be a great way to gain experience in your field and to make a change in the surrounding community.
WHAT ARE YOUR PLANS AFTER GRADUATION?
My dream job would be becoming an urban planner in Chicago. I know that I want to pursue a master's in urban planning, focusing on affordable housing and community development. I want my work to directly benefit individuals and neighborhoods that have historically been disinvested in, making sure that they are receiving the resources necessary to thrive.
I want to dedicate my life to ensuring that everyone has equal access to a place to call their own, wherever that may be.
Learn more about student research opportunities on the Policy Research Collaborative website.