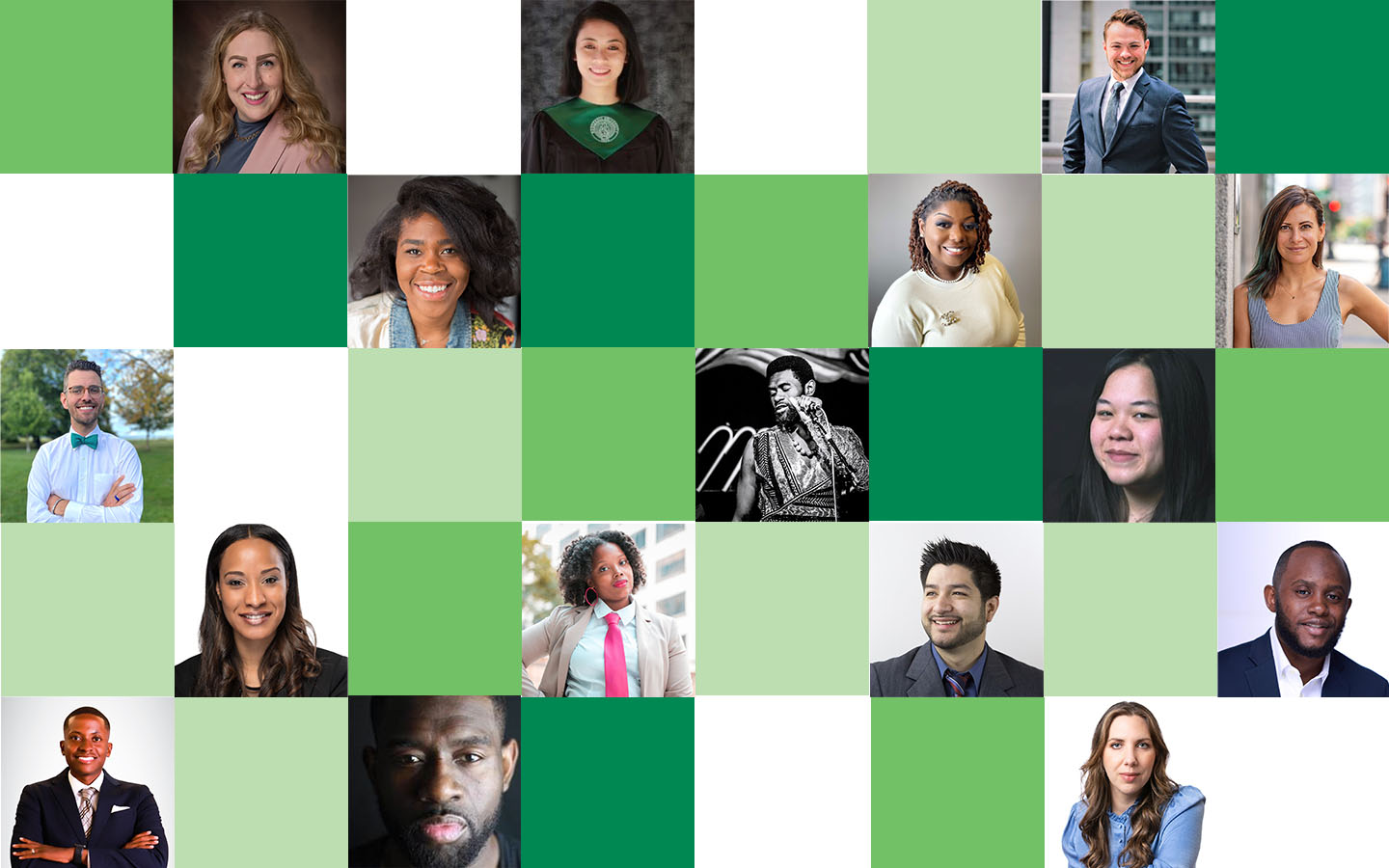 Age is just a number, if you look at what recent graduates have already accomplished. Meet 23 Roosevelt University alumni are taking the lead in Chicago and the country.
Join us on campus for the Laker Leadership Conference, May 23-24, to hear from other members of the Young Professionals Association. The event for young leaders, by young leaders, is jam-packed with early career advice.
School's Out for Never: Alumni in Education
Cherise Johnson (BS Mathematics, '13) is from Akron, Ohio, but has spent the better part of the last decade here in Chicago. After graduating with a master's in education, Cherise became a high school math teacher. Today the lifelong educator works as a senior content manager at Albert, a platform that provides flexible learning for all middle and high school classrooms.
After hours, Cherise has performed on improv stages cross the city, including Second City, iO Chicago, and CIC, Logan Square Improv, and ComedySportz Chicago. Currently, she is the training center director for ComedySportz Chicago.
Cherise is also an avid storyteller and often shares stories about her tumultuous time as a teacher. She is the creator and host of Exit Ticket: The Podcast.
Marlon Haywood (EdD Educational Leadership, '18) is the director of Neighborhood and Community Impact Development at VOA Illinois and founder of Urban Male Network.
An avid proponent of mentorship programs, Dr. Haywood co-developed the Urban Male Initiative, a program that provides academic support to first-generation and minority male students at Malcolm X College. He is an active in Mentor Teacher Brother, a nonprofit that mentors young African American male high school students in Chicago. Most recently, he started Marlon Speaks, LLC, a platform that promotes social change.
Taking Care of Business: Entrepreneurs and Career Strategists
Lakrisha Davis (BBA '11) is an expert LinkedIn Business strategist, coach and speaker who helps ambitious people launch profitable brands on LinkedIn.
Starting with zero audience, Lakrisha began leveraging LinkedIn to grow her career development and resume writing agency in 2017. Since 2017, Lakrisha has organically grown her audience to over 40,000 followers, scaled her business to multiple six-figures, generated over 10 million views.
Lakrisha has landed 50+ paid speaking engagements and partnerships with brands like Capital One, AT&T, Coursera, and Facebook, all on LinkedIn. Her work has been featured on ABC 7 News, Rolling Out, Forbes, LinkedIn News, Newsweek and more. Brainz Magazine named Lakrisha a "Top 11 Experts to Follow on LinkedIn" in 2021.
Nicole Rhone (BS Management, '12) is a capacity coach and CEO of Flourishing LLC. The alumna was rising in the corporate human resources world, landing a six-figure job at a major company. Working full-time, raising a child, being everyone's go-to — the overwhelming stress sent her to the intensive care unit in 2019.
The Roosevelt University HR graduate called the experience a wake-up call. She took a risk and started her own business to help other women understand their work-life capacity.
Rhone offers potential clients her free capacity calculator. Step by step, they consider everything on their plates: the feeling that there aren't enough hours in the day, why they're feeling drained or unfulfilled.
"I'm hearing repeatedly from my clients that they didn't even realize they were operating at max capacity," she said. "Are we spending time on the things that we value? Or are we running around, filling up our capacity with things that don't necessarily matter?"
As a capacity coach, Rhone has given clients the tools to realize they were in a toxic work environment and to address problems in their personal relationships.
Elizabeth J. Stigler, PhD (MA Women's and Gender Studies, '12) is an intersectional Diversity, Equity, Inclusion and Accessibility advocate dedicated to empowering individuals and communities to see themselves as agents for change.
As a queer person with an invisible disability, the work of inclusion and equity is a deeply personal pursuit for Elizabeth. She is the inaugural director of the Community Equity Research Center at the Chinese American Service League, where she oversees organization-wide DEIA efforts, government and policy work, as well as the Anti-Hate Action Center.
Elizabeth brings over a decade of experience writing, researching and teaching about identity based oppression and systemic injustice to her current work.
Joy Martinez (BA Psychology '13) is a human resources professional for a nonprofit in the North Shore and a graduate student at Loyola University Chicago.
When Joy and her family moved from the Philippines to the U.S., she started her college education with Harper College. She later transferred to Roosevelt and earning her bachelor's. Joy has worked with Fortune 500 companies as a recruiter connecting industry leaders with top talent.
Davina Ware (MBA Integrated Marketing Communications '14) is a career transition coach, marketing professional and founder of Upwardly Paved Path career coaching. She helps people get out of their own way to transition into their ideal careers that utilize their gifts and talents.
Through the signature 90 Day Career Fix coaching program, she provides career transition strategies, personal growth, and spiritual development as she leads her clients to find fulfillment in their next career move.
Shantenae Robinson (MBA '15) says that the business program at Robert Morris University Illinois prepared her to launch a successful career in public service. Today she serves as the public affairs manager at Aon.
While the Cook County Board might not be the most well-known arm of government, it serves millions of people in the nation's second-largest county. As Chief of Staff to one county Commissioner, rising leader Shantenae Robinson helped shape legislative change that affects the daily lives of county residents.
Robinson led the team of Bridget Gainer, who represents about 300,000 people from Lincoln Park to Edgewater. One of Gainer's biggest accomplishments was creating the Cook County Land Bank Authority, which has converted 500 vacant properties into affordable housing.
Eric Synajie (BA Actuarial Science '17) is the CEO and founder of A Swift Connect, the premier creative design platform for growing small businesses focused on captivating their audience through award-winning graphic design.
Eric is from Cameroon, Africa but has spent the last eight years in Chicago, Illinois. He was also the co-founder of Roosevelt University's first Social Entrepreneurship Club. It was during his tenure as president of the club that he adopted the concept of "people before profit" in all his business endeavors.
Michelle "MiMi" Matthews (MBA '18) is a restorative career strategist and founder of Boss Up & Hustle Consulting, a firm that helps resolve energy deficits that contribute to low employee retention, burnout and decreased productivity.
Michelle began her career in the career advancement industry as a part-time resume writer. She amassed over $500,000 in combined salary increases for her clients. She then joined the Professional Association of Resume Writers and Career Coaches as a certified professional career coach.
At Boss Up & Hustle Consulting, Michelle has had the pleasure of delivering keynotes and trainings with nonprofits and higher education organizations. She has been published in Indeed and featured in numerous grassroot publications. She's an advocate for importance of salary negotiation, job search strategy, and career mapping.
Michelle is working on her first book, Powerless to Powerful: Bossing Up & Hustling Minus the Grind, based on personal experience and client case studies. She is also the host of The Boss Up & Hustle Podcast. Michelle has two young sons that she currently homeschools.
Alumni duo Brett Velon and Matt Sharp launched DreamFuel protein bars, a healthy all-natural bar. Since 2020, DreamFuel protein bars have expanded to over 65 stores throughout Chicago with a bustling online business.
After graduating, Velon went to work for a Fortune 200 corporation. "I absolutely hated it," he admitted. Wanting to work for himself, Velon opened a sports performance gym. Velon saw that current protein bars, designed for high-performing athletes, were low quality: The ingredients were unhealthy, or businesses had poor customer service or lack of community.
"While we are a protein bar company that delivers a phenomenal, all-natural product, we view ourselves as a customer service company," said Velon.
Velon set out to make a protein bar with whole ingredients that you can feel good about eating.
In the years between, Matt Sharp earned his MBA in finance from Roosevelt University. Sharp knew Velon from high school and had watched the new business gather steam. Sharp reached out to see if he could use his sales experience to help get the bar into retail stores.

To Their Own Beat: Music and Performing Arts Alumni
Double Roosevelt graduate Eduardo Lopez (BM '07, MA Organization Development, '21) is a self-driven professional with proven success in creating, training and leading teams of tech professionals. He's interested in understanding people and organizations with the goal of making effective productive change.
Lopez has been in the technology industry for over 14 years, starting from entry level and working up to leadership and management positions. In his current role at Razorfish, he uses what he learned about organization development to facilitate ideas and innovation among other tech professionals.
Jared Fritz-McCarty (MM Voice, '11) is the director of development and strategic fundraising at Roosevelt University, where he oversees the University's annual giving, major gifts and advancement operations.
Jared started his career in education as a graduate admissions counselor. The performance alum has worked in leadership roles within advancement, marketing and communications, and enrollment management.
Aaron Gottl (BM Cello '15, MA Arts Admin. '17) is the founder and creative director of Atlas Arts Media. Aaron provides high-quality audio, video recording, production and post-production, and technology consultancy to the performing arts.
Atlas Arts is the leader in servicing both arts organizations and individuals and is dedicated to uplifting the arts through powerful, all-encompassing media.
Alex Fruin (BMA '19) is a director at CCS Fundraising. He works on the ground with leading nonprofits to develop and execute comprehensive fundraising strategies to promote their missions. CCS designs successful and sustainable development initiatives for nonprofits across every sector with offices throughout North America, London and Dublin.
Originally from Mattawan, Michigan, Alex found his way to the Chicago College of Performing Arts, where he actively played a role in developing the college's bachelor of musical arts program. The interdisciplinary program prepares passionate musicians for careers in areas like public administration and event management.
Alex also received Roosevelt's inaugural Presidential Social Justice Award for his work in examining leading performing arts organizations' diversity and inclusion practices.
Rhapsody Snyder (MA Performing Arts Admin. '18) has made a home for herself in the Chicago arts scene. She is the executive director of the Chicago Jazz Philharmonic, which combines jazz and classical to create new, evolved, "third stream" musical experiences at home and around the world.
Rhapsody's career has spanned many corners of the performing arts industry, from Steinway salesperson to music teacher to community programs manager. Her adaptability has made her an asset in the constantly changing art world.
Brett Axell (MM Voice, '10) was born in Guyana and moved to the United States at age two. In Florida, his middle school music director ignited a passion for music that would lead to his future career.
Brett is the owner of Balú Smoothies and More, which provides a healthy, tast, and refreshing experience for Chicagoans. He frequently makes appearances on stage, at sporting events, and with symphonies. He is a proud member of Omega Psi Phi Fraternity and Phi Mu Alpha Sinfonia.
Full STEAM Ahead: Science and Healthcare Alumni
Christopher Broucek (BA Biology, '18) is a clinical research coordinator at the Medical College of Wisconsin. After graduating from Roosevelt, he continued his education with a master's of public health.
As a public health administrator with the Chicago Department of Public Health, Christopher helped organize distribution of the COVID-19 vaccine, ramping up flu clinics for the rollout. His work helped the city get the vaccine to patients.
On Brand: Marketing Alumni
Amber Alvarado (MS Integrated Marketing Communications '17), is the social strategist at KNOCK, Inc. where she develops strategic social strategies and insights grounded in data. She's passionate about helping brands create more meaningful relationships with their audiences. Her expertise in integrated marketing has successfully served clients across several brands and categories.
Her career has included working for nonprofits around the Chicagoland area including Mujeres Latinas En Acción's Young Professionals Advisory Council, The Chicago Council on Global Affairs, Reform for Illinois, Illinois Holocaust Museum & Education Center and many more.
Amanda DePalma (MS Integrated Marketing Communications, '19) is the director of brand marketing at Roosevelt University. She has spent her career telling brand stories in creative and innovative ways. She sits on the boards of Healing to Action, Bikes and Music and America's Urban Campus.
Deanna Lee (BA Graphic Design, '05, MM Education, '12) is the senior brand specialist at Roosevelt University. Deanna is an award-winning, passionate and committed marketing, brand and design professional with over 16 years of experience within fast-paced environments. She promotes brands through digital and print media.