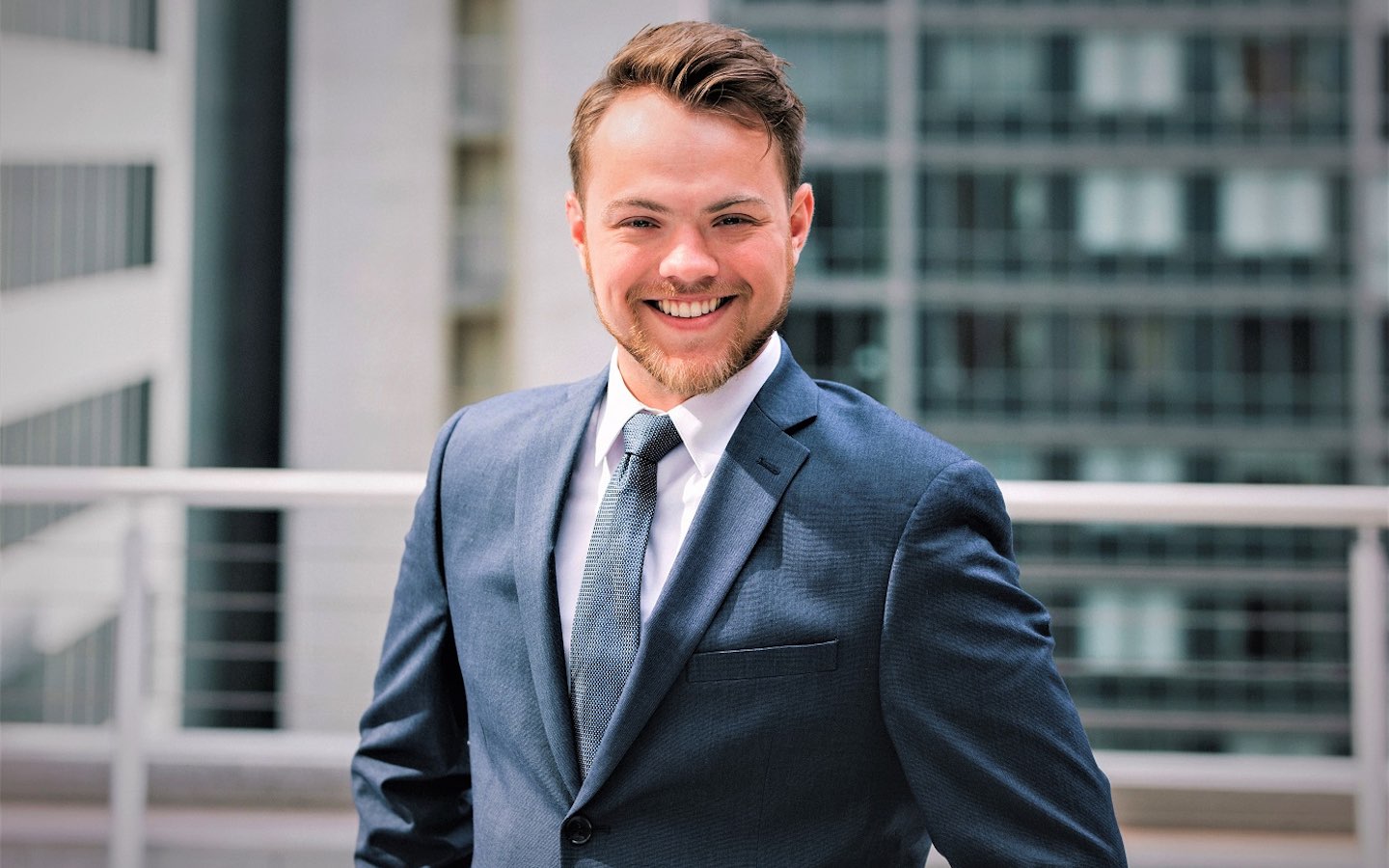 Alexander Fruin (BMA, '19) has stepped into Detroit's nonprofit scene as an associate director for CCS Fundraising, a global fundraising consulting and management firm. Alex's portfolio includes leading nonprofit institutions, which he partners with to develop and execute comprehensive, mission-based fundraising strategies.
Originally from Mattawan, Michigan, Alex found his way to Roosevelt's Chicago College of Performing Arts, where he actively played a role in developing the college's bachelor of musical arts program. The interdisciplinary program prepares passionate musicians for careers in areas like public administration and event management.
Alex's success as a student extended far beyond the classroom. He was a trainee with the Obama Foundation Community Leadership Corps, an intern with Make Music Chicago and a Yamaha Fellowship recipient, which allowed him to attend the Eastman School of Music's Leadership Academy. He also received Roosevelt's inaugural Presidential Social Justice Award for his work in examining leading performing arts organizations' diversity and inclusion practices.
HOW ROOSEVELT AND OUR MISSION PREPARED HIM TO SUCCEED
My freshman year, I remember thinking that college was more difficult than I had anticipated. But, then someone back home told me, "It's about what you do when things get challenging that defines you."
That sentiment stuck with me. I began seeking out support as needed and learned to celebrate my successes no matter how big or how small they were. Faculty and staff encouraged this behavior and stood by me along the way. Roosevelt taught me to be self-motivated — this has helped me find success so quickly after graduation.
Above all else, the University's social justice mission challenged me to be a more socially conscious and empathetic person. I was the first person in my family to graduate from college; however, I grew up in a privileged community and was afforded opportunities that many others are not. Roosevelt helped me recognize this inherent privilege, and the importance for me to actively work to break down social barriers that divide our society. Today, as a professional in the nonprofit sector, I realize this lesson is invaluable.
HIS FONDEST ROOSEVELT MEMORY 
I was greatly influenced by so many incredible staff and faculty members — far too many too list. Roosevelt's inclusive environment connects students with staff and faculty across the entire university, bolstering the educational experience. There's a culture of mentorship. It sets the University apart and helps ensure student success from day one and beyond graduation. Thank you to these individuals.
HIS ADVICE FOR TODAY'S STUDENTS
Be an active participant in your education and take advantage of the opportunities available to you. If you aren't feeling challenged, seek out the chance to be challenged. We too often fall into the expectation that our education must be flawless, but that's not the case.
Just as Roosevelt holds its students to high standards, students must also have high expectations of Roosevelt. If the University falls short, it is your responsibility to take ownership and push others and the University to do better.
A FUN FACT HE WANTS YOU TO KNOW
I grew up on a vineyard in Michigan and I come from a family with generations of farmers in our lineage, many of whom grew grapes for Welch's grape juice.