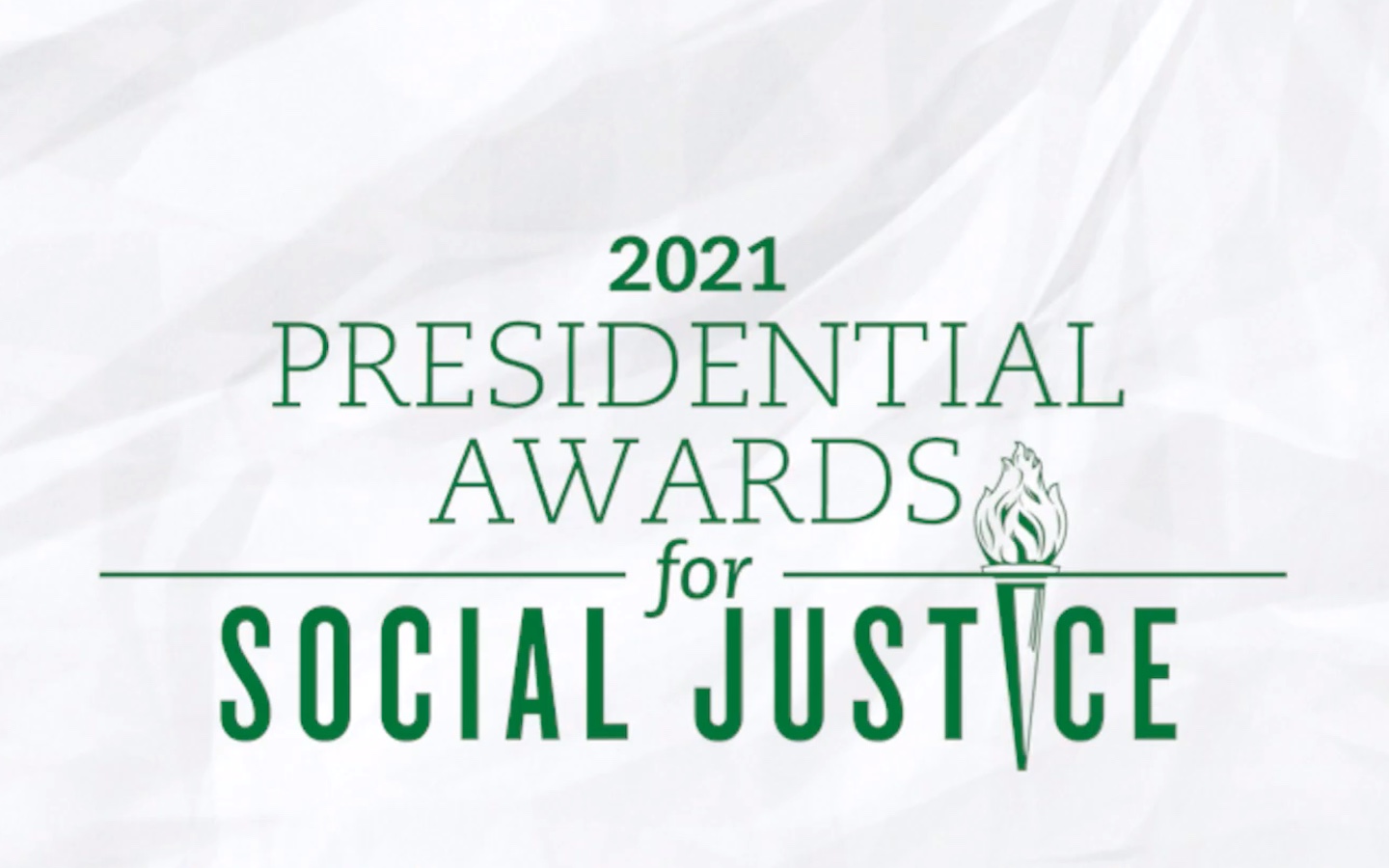 At the 2021 State of the University address, President Ali Malekzadeh recognized 28 members of the Roosevelt community for their work to put social justice into action.
Malekzadeh unveiled the prestigious honor in 2019 to recognize students, faculty and staff for projects that promote equity and inclusion on campus and in Chicago.
PROFESSOR JOHN FOUNTAIN'S JOURNALISM CLASS
Professor John Fountain and his students received the Presidential Social Justice Award for the project Unforgotten: The Untold Story of Murdered Chicago Women.
Since 2001, 51 Chicago women, more than three-fourths of them African American, have been murdered by strangulation. Were 51 strangulation deaths to happen in white suburban neighborhoods, the headlines would be large and frequent. Instead, the murder victims are Black and often impoverished.
The response has been scattered news stories rather than sustained and in-depth attention. This small press response reveals the ethnocentrism of much U.S. journalism.
Professor Fountain's journalism and media studies students countered that flaw with careful attention and publication, which in this context amount to the most socially valuable and ethical of actions. They investigated the lives of the victims, contacted their loved ones, did extensive interviews, and created online multimedia portraits of the women.
Their main point: These are human beings, and they were beloved.
The Unforgotten Project has spanned two semesters. During that period, Professor Fountain and his students have gone far beyond the demands of the standard classroom and class period. Read the coverage in Oxygen and People magazine.
The group also received an award from the Chicago-based grassroots group Mothers Opposed to Violence Everywhere (M.O.V.E.).
Award winners:
Professor John Fountain
Adnan Basic
Jules Banks
Olivia Byrne
Reyna Estrada
Jessica Hernandez
Amanda Landwehr
Samantha Latson
Kristin McKee
Sydney Mishler
Mallory Nickelson
Mohammad Samra
Arianna Thome
Nick Ulanowski
Andrew Vasquez
Chijioke Williams
HEATHER DALMAGE, PROFESSOR OF SOCIOLOGY
Dr. Heather Dalmage is a tireless advocate for social justice. As the longtime director of the Mansfield Institute, the heart and soul of social justice-based scholarship and teaching at Roosevelt, Dalmage supports students with research and advocacy opportunities.
Through annual events such as the Mansfield Lecture and the One Book/One University selections, Dalmage provides energy and inspiration to the University's social justice mission. This fall, Dalmage ran a series of virtual social justice toolbox workshops designed to encourage and enable activism for students, faculty and staff. These workshops featured RU alumni and professors who led sessions on building community, creating safe spaces through storytelling and fostering self-care.
Dalmage also led a successful effort to secure a $180,000 grant from the Mansfield Foundation to fund three years of Fellows for Activism and Community Engagement. These will fund 15 undergraduates per year to take a summer Sociology in Action course, complete a paid summer internship, present at conferences and receive continued support as part of each year's cohort.
Her long record of research and teaching on race, gender and education provide her students and colleagues with a wealth of knowledge.
Dalmage is also the 2021 winner of the Frank Untermyer award.
COVID-19 TASK FORCE
As the pandemic swept through the nation, the Roosevelt University community had to re-evaluate their approach to everything, with the top priority of keeping employees and students safe. The COVID-19 Task Force, chaired by Melissa Hogan, Dean of the College of Science, Health and Pharmacy, has led RU through some of the most difficult times in our history.
COVID-19 Task Force:
Michael Cassidy
Michael Ford
Melissa Hogan
Paul Huerta
Mike Kaluzny
Mablene Krueger
Latoya Laing
Jamar Orr
Mike Pizana
Aaron Rester
Toyia K. Stewart
The COVID-19 task force worked beyond their "normal" duties, meeting weekly, continually assessing the situation and closely following the local and national guidelines. The task force members had to lead the campus in quickly making decisions about things no campus had ever had to do before.
The COVID-19 task force pulled together campus leaders with unique, cross-functional perspectives to solve rapidly changing, complex problems. No one individual was making the decisions about how to move the University forward in the pandemic; the diversity of experience represented on the task force allowed the group to see risks and opportunities from different angles so that they could generate solutions and adapt to changing situations.
Their commitment to the RU community and their common purpose has helped keep us safe.
See the 2020 Presidential Social Justice Award winners.