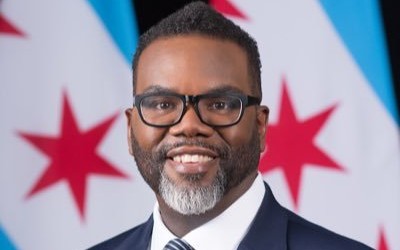 Chicago mayor Brandon Johnson will be the featured speaker at Roosevelt University's Mansfield Lecture. Hosted by the University's Mansfield Institute, the annual gathering invites national thought leaders to discuss approaches to social justice. This year's event is titled "The Progressive Movement: Building Chicago for All," and will invite Mayor Johnson and an esteemed panel to discuss forward-thinking approaches to policy and community activism that make Chicago more equitable for all residents.
Before he was elected mayor in 2023, Brandon Johnson was a social studies teacher in Chicago Public Schools, was active in the Chicago Teachers Union and served as Cook County Commissioner. Johnson successfully ran on a progressive platform that emphasized investment in Chicago's neighborhoods, mental health facilities, public transportation and affordable housing. Mayor Johnson will speak to his challenges and opportunities as a progressive mayor, and to the ongoing effort he believes will be needed to realize the goal of Chicago becoming an inclusive and just city.
Mayor Johnson's appearance will be preceded by a panel moderated by Amisha Patel, the executive director of Grassroots Collaborative, and discussant Stephanie Farmer, a sociology professor at Roosevelt who studies the interaction of urban public policy and community activism. The panelists will include:
Alex Han, executive director of In These Times magazine
Andrea Ortiz, director of organizing for the Brighton Park Neighborhood Council
Benetta Mansfield, a lawyer with 40 years of experience at the Amalgamated Transit Union, National Mediation Board and International Brotherhood of Teamsters
Richard Wallace, executive director of Equity and Transformation (EAT) and Roosevelt graduate
The event is free, open to the public and will be held in the Auditorium Building's Ida B. Wells Lounge from 9-11 a.m. on Thursday, November 30.