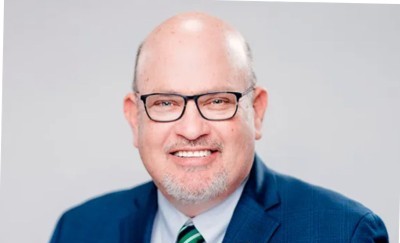 Civic and business leader Jaime di Paulo, President and CEO of the Illinois Hispanic Chamber of Commerce (IHCC), was voted into the Roosevelt University Board of Trustees at the December board meeting. His three-year term began on December 2, 2022.
Mr. di Paulo oversees the leading Hispanic business networking, advocacy and development organization in the Midwest. Under his leadership, the IHCC team intensified their commitment to assist the Latino business community by providing direct assistance and working closely in collaboration with all stakeholders. "Roosevelt will greatly benefit from Jaime di Paulo's success in building cross-cultural initiatives that support workforce development and enhance equity," shared Roosevelt Board Chair Maurice Smith, BS'95, President & CEO, Health Care Services Corporation, Blue Cross Blue Shield of Illinois.
Since assuming the role of president and CEO in 2019, di Paulo has sought to multiply the networks with various chambers of commerce locally and nationally. Under di Paulo's leadership, the IHCC has more than tripled the financial resources it provided to the small business community, totaling $88 million since 2019.  
"We are honored to welcome Jaime di Paulo to the Roosevelt Board of Trustees," said Ali Malekzadeh, President of Roosevelt University. "His experience bringing together underrepresented communities to access better business opportunities aligns well with Roosevelt's mission to create access and drive inclusion."
At IHCC, di Paulo promoted the first Roundtable of Women CEOs, bringing together influential Hispanic women to connect, collaborate and create new opportunities. In partnership with tech incubator 1871, di Paulo and the IHCC supported young Hispanic tech innovators by facilitating opportunities to present ideas to prominent investors.
"Like Roosevelt University, the IHCC is about building infrastructure that supports the success of others," di Paulo said. "I am excited to continue supporting small businesses as part of the Board of Trustees, serving an institution that aligns with my personal mission: serving my community. I'm honored to have the opportunity to work alongside President Malekzadeh and other leaders to enhance the reach and impact of the university."
Di Paulo has been a member of Business Enterprise Council for Minorities, Females and Persons with Disabilities (BEP) Commission since September 2018. Prior to joining the IHCC, he was the Executive Director for the Little Village Chamber of Commerce (LVCC), transforming the chamber into a stronger business development center and advocacy organization.
Di Paulo received bachelor's degrees in public administration and political science from the Universidad Nacional Autónoma de México (UNAM) in Mexico City. He is married and the proud father of three sons and a daughter.