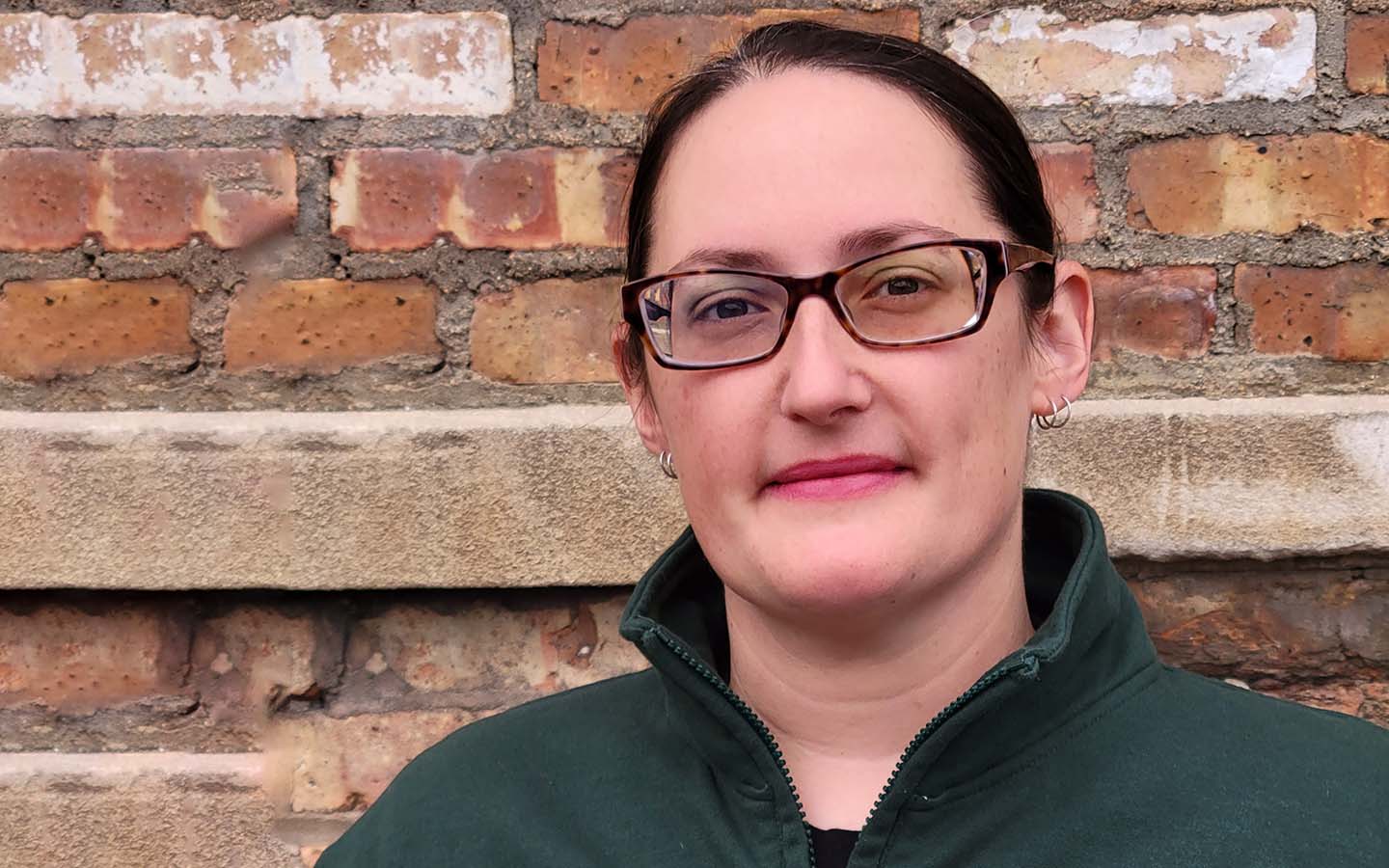 When Libby Heublein turned 35, she set some new goals: She would go back to school. She would earn her bachelor's degree. And she'd pivot to a new career. All before age 40.
In 2021, Heublein checked all three off her list when she graduated from Roosevelt University with a data analytics degree. She's one of the many adult learners who choose Roosevelt University to transition to a promising new career.
The support adult learners depend on
Heublein joined the Professional Mentoring Program for help balancing all of her responsibilities, which only intensified during the pandemic. The program matches current students with active professionals in their future fields.
"I had a great experience," she said. "My mentor helped me balance working full time, school, job hunting and self-care."
Heublein also had the support of her professors through the transition from remote to in-person classes. Roosevelt instructors understand the many responsibilities that non-traditional students have to juggle, whether they're working or caring for family members.
"Roosevelt's faculty has been supportive personally and academically through the craziness of COVID-19," she remembered. "They have all been amazingly adaptable and understanding."
Unlock earning potential in booming fields
Chicago has become a regional hub for tech giants, consulting firms and startups. Companies like Google, Facebook and Uber Freight have opened offices downtown.
it's not just tech. Other growing organizations have chosen the city as their home base, from healthcare leaders to social justice-minded organizations, and all are looking for 21st-century skill sets.
At Roosevelt, students work with the latest technology, from Refinitiv Eikon in the finance program to simulation labs in nursing classes. With firsthand experience, students like Heublein know what to expect when they land their first job.
Heublein chose Roosevelt because the school offered one of the few data analytics programs in Chicago. As a data analytics student, she practiced coding in multiple languages and worked on hands-on projects in artificial intelligence and machine learning.
After graduation, Heublein was quickly hired at Slalom, a global tech consulting firm. The company employs more than 12,000 people in 35 cities around the world. Heublein joined the Grace Hopper cohort, an international group of women in tech entering the field as a second career.
She works in the data and analytics division, which bridges data engineering, data science and data visualization instead of locking her into one specialization.
"It's been amazing to join a technology company that takes inclusion and diversity seriously and offers support for those in underrepresented groups," she said.
Real projects for the real world
Heublein came to Roosevelt after years of working in culinary management. She appreciated the chance to work on practical projects she could add to her resume. In one course, she worked with biologists at the Field Museum to analyze data on microplants.
"Gaining real experience in working with teams, deadlines and update reports is invaluable," Heublein said. "If all of my courses followed the traditional academic model, I would be clueless walking into a project-based tech position."
At Roosevelt, Libby could earn her bachelor's while proving she was ready for the reality of the workplace.