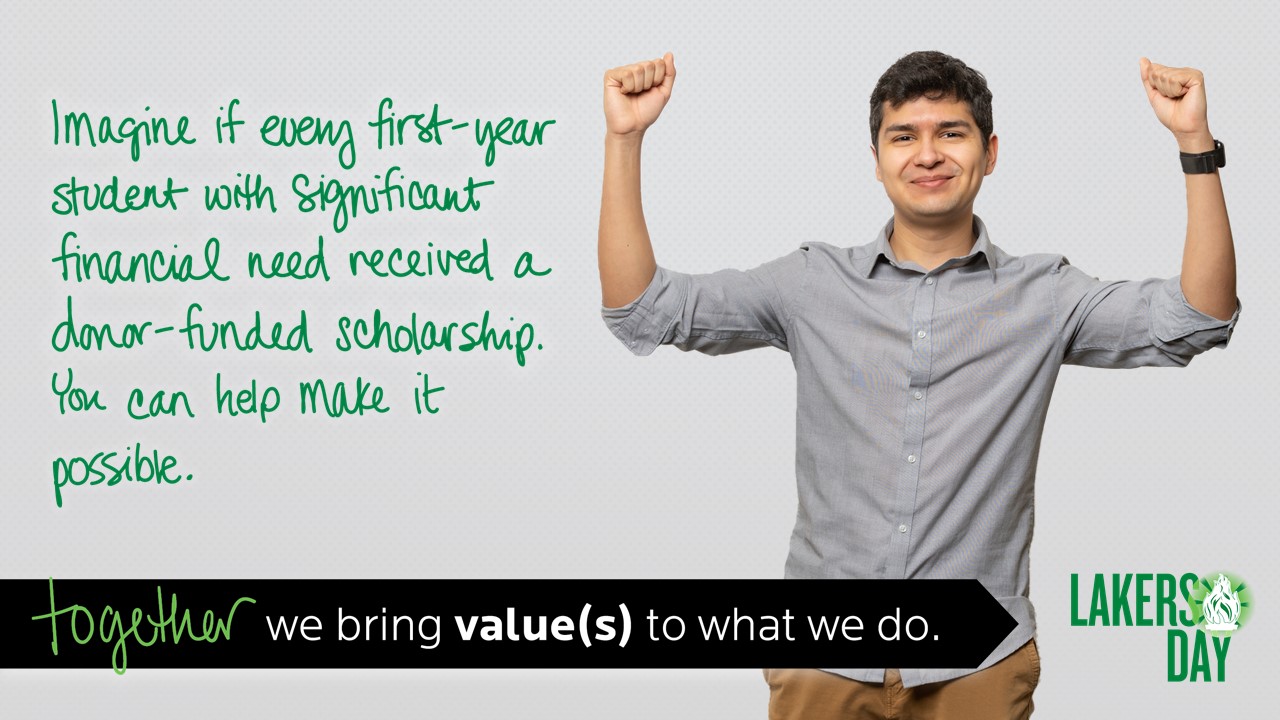 As Roosevelt University prepares for its second annual day of giving on Thursday, April 20, community members are stepping up to help reduce financial barriers for prospective students and families. Approximately $100,000 has already been pledged towards this year's initiative—the new RISE Scholarship Fund. University leaders believe additional donations could help provide donor-funded scholarships for up to 400 first-year students during the 2023–24 academic year.
Taking affordability to the next level


 
The RISE Scholarship Fund complements Roosevelt's recent decision to reduce tuition for first-year students by nearly 40%, and the community's positive response to this announcement helped inspire this year's LakersDay initiative.

Rebekah Wilcox, a former Roosevelt University student, shared on LinkedIn, "I am so excited to hear that Roosevelt is taking a huge step towards accessibility for future students. This is excellent news!" Rebekah was one of the many alumni who used their personal social platforms to spread the exciting news.

Jared Fritz-McCarty, assistant vice president of advancement and editor of The Roosevelt Review, says, "Alumni and friends continue to show unwavering support for Roosevelt's tuition change, and many have expressed interest in helping us make an even bigger impact. LakersDay will provide community members a way to contribute directly to Roosevelt's newest recruitment and affordability efforts."
The RISE Scholarship Fund will provide $500–$2,000 awards to eligible, first-year students. The amount will be determined by each student's financial need and their family's ability to contribute. Fritz-McCarty continues, "RISE is 100% donor-funded and will direct aid to students who need it most. These scholarships will help us recruit students who may otherwise not be able to attend Roosevelt."

Many students and alumni attribute their ability to attend Roosevelt to the scholarships they received. When awarded in combination with other federal, state and Roosevelt aid, the RISE Scholarship could make a first-year student's education tuition-free.
Community partners strengthen fundraising efforts

"Sponsorships from community partners play an integral role in maximizing participation among the broader Roosevelt community," says Keelie Johnson, associate director of advancement and coordinator of LakersDay.

Last year (when 295 donors contributed more than $140,000 to 11 initiatives), post-event surveys revealed that matching gifts were the primary motivator for both new and established donors to participate in LakersDay. Johnson continues, "Thanks to this year's generous sponsors, we hope to surpass last year's results. A full range of sponsorship opportunities are still available."

Roosevelt anticipates community partners and University leadership to provide more than $50,000 in matching gift opportunities for this year's day of giving. Sponsors currently include Lake County Press; ScholarshipMagic; Maurice Smith and Jim Connor, Roosevelt University Board of Trustees officers; and Ali Malekzadeh, president of Roosevelt.

New this year, donors will gain access to select thank-you gifts. The Chicago Fire Football Club, a collaborating sponsor, will announce its own thank-you gift for contributors later this month. The team's representative Hank Blum shares, "Roosevelt University's recent initiatives around access to higher education resonate with our own DEI priorities. We're proud to sponsor LakersDay 2023, and we hope our support inspires others to give to this important initiative."
A full listing of matching gift opportunities—as well as several ways to support this year's day of giving—can be found online at lakersday.roosevelt.edu. Gifts can be made beginning April 1, 2023 through Thursday, April 20.