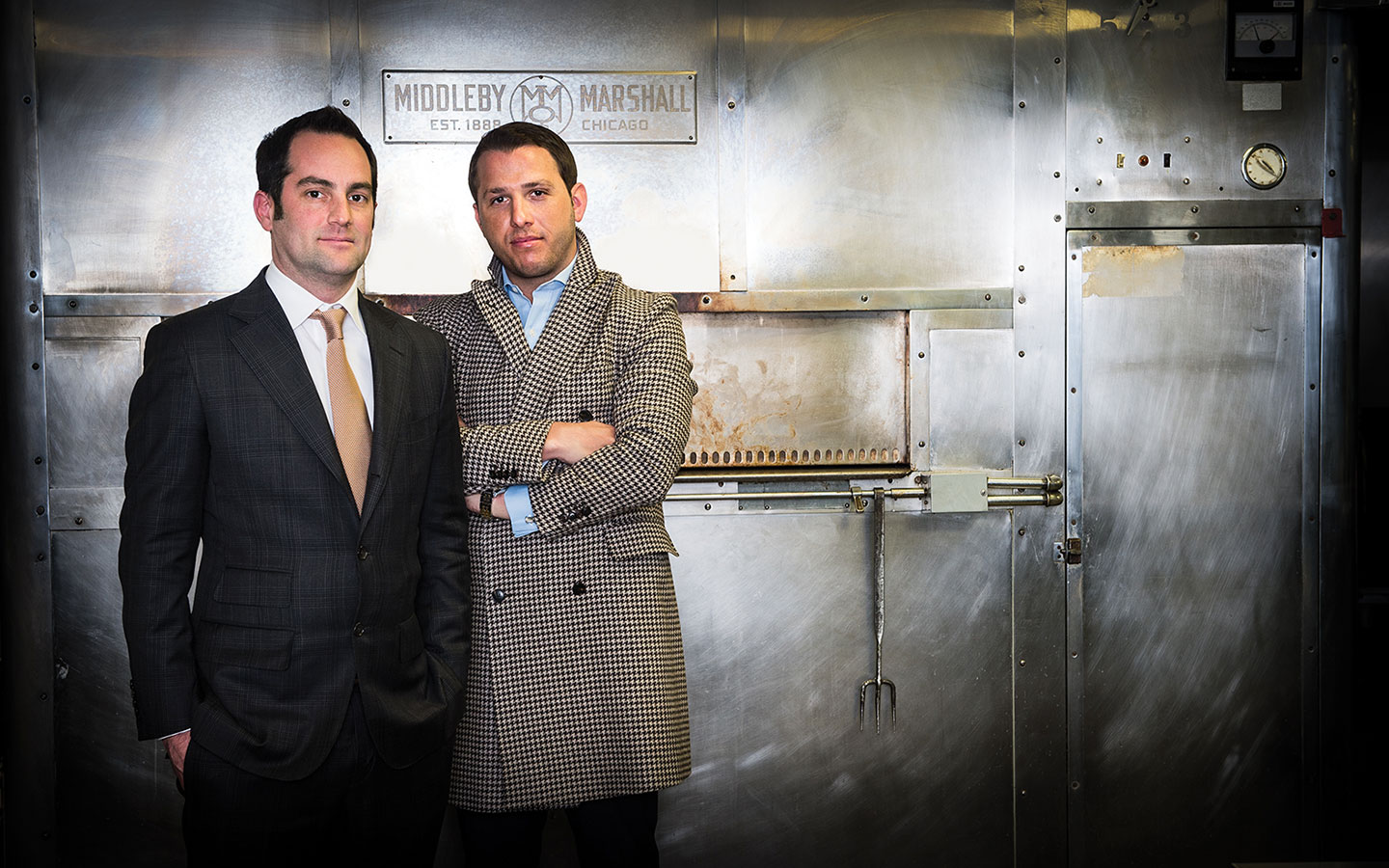 In 2006, two former Roosevelt University students started a lunch-service business because they knew food in school cafeterias was often pretty bad.
Determined to do better, Jonas Falk and Justin Rolls began cooking 500 nutritious lunches each night at a rented kitchen in Chicago's West Town and then personally delivering the meals to small nearby schools. Today, their company, OrganicLife LLC, has $29.86 million in annual sales and 1,000 employees who prepare and serve tens of thousands of healthy lunches every day at Chicago-area sites, including schools, day-care centers, nursing homes and universities.
"Over the years, we've had dozens of students undertake entrepreneurial activities and start businesses," said Gerald Bober, hospitality professor emeritus. "These guys have really hit a home run."
Falk and Rolls also are restaurateurs. The two opened Cochon Volant, a brasserie in the Hyatt Centric the Loop Chicago hotel that handles room service and banquets as well as table meals. They also created Mixed Greens, a build-a-meal, build-a-salad concept, and Dough Bros, a New York-style pizza and subs restaurant.
Rolls earned his bachelor's in hospitality and tourism management and returned in 2005 for his master's.
"We didn't know anything about school lunch service when we got into this business, other than the fact that school food is terrible," he said. "Our Roosevelt professors took us under their wings and taught us a lot about the restaurant business and management, and it got us through the learning curve."
"I really love the University," added Falk. "Roosevelt really got us started on this path."
Falk and Rolls grew up in Chicago suburbs, Falk in Glencoe and Rolls in Barrington. As teens, they both worked in restaurants, rising through the ranks as dishwashers and line cooks to general managers: Falk, at the former four-star Le Francais in Wheeling, Ill. where he apprenticed under one of the great chefs of the world, Roland Liccioni; and Rolls, at the now-closed Flatlanders Restaurant and Brewery in Lincolnshire, Ill.
The pair also has family ties to the University. Falk's mother, Barbara, and father, Joel, met in the seventies as students at Roosevelt's Chicago Musical College (now the Chicago College of Performing Arts). Barbara Falk was a a classical pianist and recipient of the Rudolph Ganz Award for Piano Performance as a Roosevelt freshman in 1972-73. And Rolls met his wife, Michelle, while taking a Roosevelt science class.
Destined for Goodness
Falk, 30, and Rolls, 36, didn't take classes together at the University and as restaurant managers they never crossed paths. They might not be together at all today at the helm of a company called by Crain's Chicago Business, Forbes and Enterprise as one to watch if Roosevelt hospitality management professor Chuck Hamburg hadn't connected them 10 years ago.
"Justin Rolls is the kind of guy who dots his i's and crosses his t's," said Hamburg, who taught both men at different times. "Jonas Falk looks at ideas."
Growing up in a household where his mother enjoyed cooking and his father collected more than 10,000 cookbooks, Falk often heard about bad school lunchroom food. Barbara Pierson Falk remembers her son liking her lunches so much that he began asking her to make them for increasing numbers of his New Trier High School friends.
"Jonas has always been driven and creative," she said.
"At one point, he had me making so many lunches that I think he was selling them," she joked. "It might have been his first foray into the food business."
Today, OrganicLife has moved beyond providing lunches-made from scratch at small private schools like Montessori Academy of Chicago, the company's first customer, or the Sacred Heart elementary schools in Chicago, also an early site. These days, Falk, who is the company's CEO, and Rolls, who is the president, bid for school contracts against food-service giants like Compass Group, Aramark and Sodexo. Both men were named to Crain's Chicago Business 40 under 40 list in 2013.
"I remember telling them, 'To be successful at this, you need to be able to build relationships,'" said Brian Margulis, another Roosevelt hospitality management professor. "And that's really what they've done."
"We're pretty much all work and not much fun," said Rolls, who says that when time allows the partners try to squeeze in competitive sports: for Rolls, it's tennis; for Falk, martial arts; and for both together, golf. But there is little free time. Their work days usually start at 4 a.m., touring kitchen sites where OrganicLife menus typically consist of favorites like roast turkey, pot roast, macaroni and cheese, burgers and fries – all made fresh daily from scratch.
"You can't just sell tofu and kale," said Falk. "Kids want the same thing that all of us want, so we've replaced the pink-slime burger and white bun with grass-fed beef on a whole wheat roll. We've always known there's nothing wrong with pizza, as long as it's not frozen, so we make ours from hand-tossed dough and all-fresh ingredients."
"What we've wanted from day one is to build a billion-dollar company," said Falk.
"But we've never tried to do it their way," added Rolls, referencing the 50 largest industrial food-service providers, many of which are multinational companies. "We've only done it our way."
As their journey continues, the two are thankful for the beginning they received at Roosevelt. "Our Roosevelt University professors were fantastic sources of information and support," said Rolls. "They went beyond the call of duty and for that we will always be grateful," added Falk.