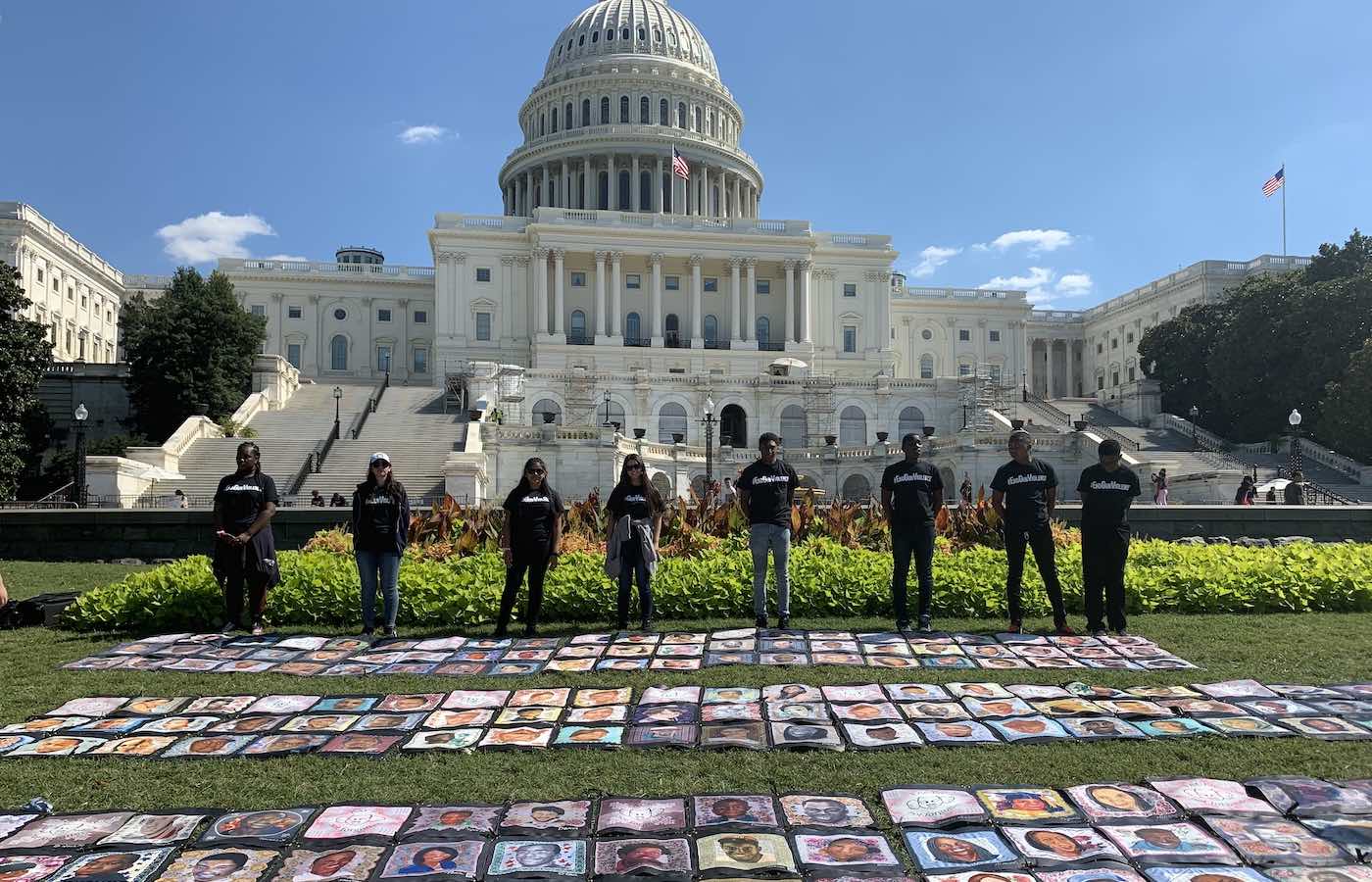 One day in class, journalism professor John Fountain offhandedly mentioned the National Rally to End Gun Violence. Father Michael Pfleger, an organizer and senior pastor of Saint Sabina Church, was planning an overnight bus caravan that would bring protesters from Chicago to Capitol Hill.
Immediately Roosevelt student Samantha Latson asked if their class could go, too.
Latson is a junior double-majoring in African American studies and journalism. To her, the issue felt personal — one of her former high school classmates had been shot and killed the previous year. "Writing is one of the many ways I stand up for justice," she said. "As a journalist, my role is to be a voice to the voiceless by telling the stories that are often left out, specifically concerning marginalized groups."
Fountain reached out to Pfleger, who invited the Roosevelt students to join the caravan and cover the protest as it unfolded. Thirteen students from Fountain's journalism courses signed up to make the 700-mile expedition as embedded reporters.
Journalism and social justice
Alongside national reporters from ABC and NBC, Roosevelt students gained firsthand experience covering a social-justice issue. Gun violence disproportionately affects low-income communities and communities of color, and many of the protesters had lost loved ones to gun violence.
"I find it difficult if not impossible to talk about social justice without also talking about journalism," said Fountain. "Journalism and its practitioners have always been integral to social movements and social change."
With professionalism and sensitivity, the Roosevelt students interviewed protesters of all ages and backgrounds. They took photos and videos of the die-in, a demonstration where people lie down as if dead. They spoke with leading figures like Cook County State's Attorney Kim Foxx and Congressman John Lewis, a moment Latson said she would treasure forever.
"The way most of the protesters welcomed me with open arms had a heavy impact on me the way a classroom assignment couldn't," said Mohammad Samra, a junior majoring in journalism and media studies. "They trusted me with their story and gave me intimate information about the situations gun violence placed them in and how that led to them coming to Washington."
real journalism experience
Roosevelt University recently made experiential learning a core requirement for graduation. All undergraduate students must participate in lessons that get them off campus, into communities, and involved in real projects.
"The opportunity to cover the rally is the kind of real-life, hands-on daily reporting experience that cannot be replicated in a classroom," said Fountain, who previously served as a New York Times correspondent. "As a breaking news event, it required students to jump into the fray alongside working professional journalists and challenged them to think on their feet, to use their budding skills and get the story."
Latson agreed. "In class assignments play a role in developing skills, but nothing compares to working in the actual field," she said. "The experience helped me to get accustomed to interviewing individuals on the spot, while also asking quality questions as a journalist."
And although the buses have made their return to Saint Sabina, Fountain's students will continue to reflect on and process the immersive learning experience. The students have written first-person responses to the events they witnessed, incorporating photo and video to develop their multimedia skill set.
"This experience really took me out of my comfort zone," said Samra, who writes a sports column for the Torch. "The unpredictability of the rally taught me to always have my camera rolling, which helped me capture a lot of great moments."
Fountain is documenting the experience in a series of articles for the Chicago Sun-Times entitled "Caravan of Faith."