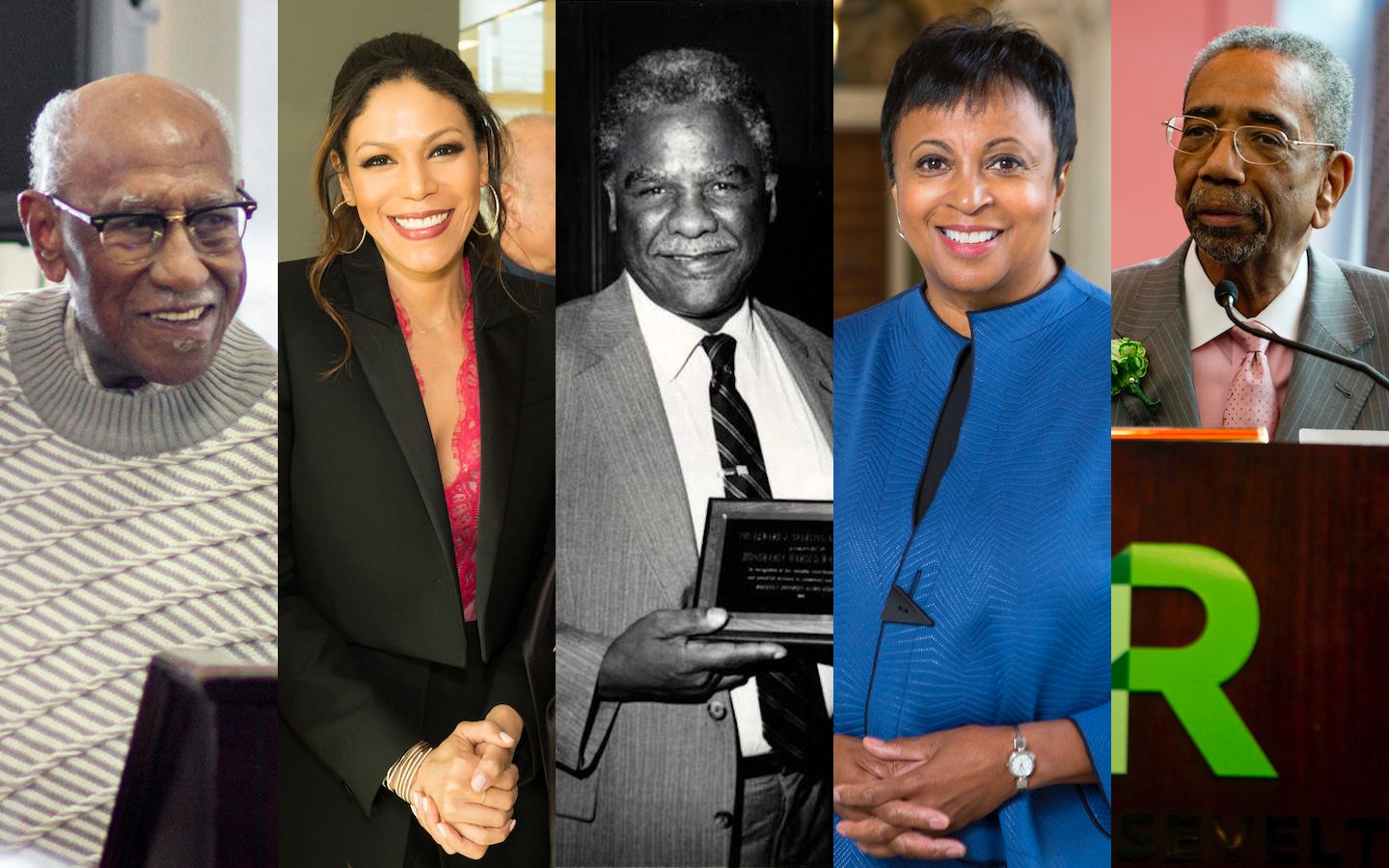 Since Roosevelt University's founding in 1945, African American students, faculty and alumni have pioneered the way in social justice and inclusion. Celebrate Black History Month by recognizing the accomplishments of alumni in their local and global communities. The following are only a few of the many Roosevelt figures who have rewritten history.
Founding Faculty
In the 1940s, chemist Percy Julian served on Roosevelt's Board of Trustees, one of the first integrated college boards. He held over 130 patents.
Professor Lorenzo Dow Turner was one of the first to study the Gullah language of coastal South Carolina and Georgia — his research explored how African Americans preserved the culture and language of their ancestors. He taught at Roosevelt from 1946 to 1967.
St. Clair Drake was an activist anthropologist who studied urban communities and race relations. His groundbreaking book Black Metropolis offered a comprehensive portrait of the lives of African Americans on Chicago's South Side. With professors Frank Untermyer and Lorenzo Dow Turner, Drake developed one of the first African studies programs in the United States. He also advised the first prime minister of Ghana, Kwame Nkrumah, and trained Peace Corps volunteers.
He is the namesake of Roosevelt's St. Clair Drake Center for African and African American Studies.
Civil Rights Leaders
As a civil rights activist and attorney, Anna Langford (BA Political Science, 1946–48) Langford was Chicago's first Black woman elected as an alderman in 1971. Before her years of serving on the Chicago City Council, she was a civil rights activist and organizer, helping Dr. Martin Luther King Jr. plan his march in Cicero, Illinois to promote integration.
Dempsey Travis (BA Political Science, '49) had a career that spanned real estate, entrepreneurship, founding the Urban Research Press, civil rights, and accomplishments in writing and jazz. Travis was the instrumental coordinator of Dr. Martin Luther King Jr.'s first march in Chicago. This Renaissance man and African American leader embodied Roosevelt's character of being a multifaceted agent of social justice.
The Dempsey Travis Scholarship supports Roosevelt students with a record of strong academic achievement, financial need and interest in giving back to their communities. In 2019, the Dempsey Travis Scholarship supported 22 students, 73% of whom are students of color.
After returning from service in World War II, Timuel Black (BA Sociology, '52) received his bachelor's from Roosevelt and began a career as a high school teacher in Gary, Indiana. Upon seeing the power of Dr. Martin Luther King Jr. on TV, Timuel Black worked with members of Hyde Park's First Unitarian Church to not only bring Dr. King to Chicago, but also organize the Chicago contingent of the March on Washington. Black has continued to honor Dr. King's legacy through activist education and running for public office.
"Roosevelt was the first university that publicly made it clear they wanted an integrated college," Black said. "A reason to go to Roosevelt was because it was so openly inclusive, but the faculty were of such a superior quality that they were the reason to stay."
Often on the front lines of desegregation, James Forman (BA Public Administration, '56) mobilized activists in the South during the civil rights era.Forman served as Roosevelt's student council president. In the 1960s, he became executive secretary of the Student Nonviolent Coordinating Committee, the youth "shock troops" of the civil rights movement. He led voter registration drives and joined Martin Luther King Jr.'s Freedom Rides.
Forman's bravery and commitment to social and racial justice has inspired many Roosevelt students and citizens across the country.
Joyce Hutchens (MS Journalism, '87; MA Education, '97) was a seasoned educator in the Chicago Public Schools, including teaching at Lincoln Park High School, educating inmates in a CPS high school in the Cook County Jail, and serving as an administrator. Her intelligence and passion for justice empowered her to fight for her own rights and dignity. After racial discrimination from CPS, Hutchens sued the district and represented herself without a lawyer in the U.S. Court of Appeals.
Following her win, Hutchens outlined her career and path to legal victory in the book How a Pro Se Won Justice: An Inside Look at an Educator's Stunning Civil Rights-Employment Victory in the Seventh Circuit Court of Appeals, which is featured in more than 50 law school libraries across the country, including Harvard Law School.
But Hutchens wasn't done. At the conclusion of her historic victory against the school district, Hutchens vowed, "As long as I breathe, I will do all that I can to prevent what happened to me from happening to others." In 2021, Hutchens launched On My Own Project, a Chicago-based woman and minority-owned nonprofit. On My Own Project advocates for victims of employment discrimination and retaliation, with services that are free of charge to everyone.
In 2022, On My Own Project will open the Blending Generations Center, a program that will raise awareness of age discrimination and connect generations to improve the lives of older people.
Roosevelt students joined the Black Lives Matter protests in the summer of 2020, demonstrating against police violence and white supremacy. The protests became one of the largest movements in U.S. history. Above, Journalism and media studies student Chijioke Williams at a Reclaim Pride protest. Photo credit: Block Club Chicago
Artists and Musicians
Robert McFerrin (BA Music, '48) was a talented baritone vocalist. He became the first African American man to sing as a member of the New York Metropolitan Opera. Later, he stepped into the vocal role as Porgy in the 1959 film version of Porgy and Bess. He shattered barriers for Black males in opera and pursued his passions and talents in New York, finding great success.
An artist, playwright, activist and the granddaughter of a freed slave, Lorraine Hansberry left an inspiring imprint on the lives of many. Her most well-known work, A Raisin in the Sun, swept Broadway with tremendous success and was followed by a film adaptation that received universal acclaim. Hansberry was also an active participant in the civil rights movement.
Legendary jazz icon Ramsey Lewis (Music Composition, '52) explored his talents and ear early as a student at the Chicago Musical College, predecessor of Chicago College of Performing Arts. Winner of three Grammy awards, Lewis conceived chart-topping favorites including "Wade in the Water" and "The In Crowd." He is one of four Roosevelt alumni to win an NEA Jazz Master fellowship, the highest honor for jazz musicians in the United States.
Anthony Braxton (Philosophy, Music Composition, '63) has released over 100 albums and has earned a global reputation for his remarkable skills as an improvisational jazz artist. Braxton was recognized as a Jazz Master by the National Endowment for the Arts, awarded the MacArthur 'Genius' Grant, and continues to play music and support young musicians.
Carla Hayden (BA Political Science, '73) is both the first African American and first female Head Librarian of Congress. Carla Hayden's social justice work improving community libraries in Chicago, Baltimore and Washington has earned her the prestigious position of highest librarian in the country.
The Library of Congress is home to more than 171 million items, including 32 million books. In 2021, Carla will lead a new initiative, Of the People: Widening the Path, to expand and diversify the Library's collection to offer a more inclusive story of the American experience.
Danitra Vance (BA Theater, '77) was classically trained in acting at Roosevelt's Chicago College of Performing Arts and London's Webber Douglas Academy of Dramatic Art. Vance was the first African American woman to appear in Saturday Night Live's main cast in the 1980s. Vance is remembered for breaking barriers across Chicago, New York and London.
Merle Dandridge (BFA Theater, '98) and her acclaimed career in performance has established her as a strong role model in the performing arts industry. She has performed on Broadway in musicals Jesus Christ Superstar, Spamalot and Rent, and earned a BAFTA for her voiceover work. She stars as Grace Greenleaf in the Oprah Winfrey Network drama series Greenleaf. In 2018, she received Roosevelt's first Distinguished Artist Award.
Political Powerhouses
Harold Washington (BA Political Science, '49) began his political career as the vice president and then president of Roosevelt's student council. He went on to serve for 15 years in the Illinois state legislature and for two terms in the U.S. House. As Chicago's first black mayor, Washington increased minority representation in city government and sought to balance economic development between neighborhoods.
Washington was nicknamed the "People's Mayor" for his ability to unify Chicagoans from different backgrounds. In a campaign speech, he once said: "In the future when you ask me, 'What are you really like, Mayor Washington?' I'm going to say, 'Go over to Roosevelt University. I'm like them.'"
In the 1960s, Bobby Rush (BGS Political Science, '74) served in the military and, after his honorable discharge, formed the Illinois chapter of the Black Panthers. His time at Roosevelt marked his pivot to electoral politics. He won a seat alderperson of Chicago's Second Ward in 1975, holding the seat until his election to the U.S. House of Representatives in 1992.
By representing diverse communities facing a spectrum of contemporary issues, Rush has advocated for progressive policies to improve the lives of all his constituents. The current congressperson returned to campus to celebrate the opening of the Wabash Building. "As I travel Lake Shore Drive, and I look up and see that Roosevelt University is a part of the skyline of the city, it makes me even more proud to know that beneath that tall sign in the sky, there is a true foundation," he said.
Fred Rice (BA Public Administration, '75) was the city's first African American police superintendent, in office from 1983 to 1987. After many years of service through the ranks of the Chicago Police Department, Mayor Harold Washington appointed him to the role.  Rice sought to end de facto segregation in the police force.
Brenda J. Gaines (Master of Public Administration, '76)  has served in key leadership positions and broken barriers as an African American woman. From heading the Chicago Housing Authority under Mayor Harold Washington to serving as president of Diners Club North America, Gaines has made a visible impact within the local and continental business and public sectors.
After graduation, Melissa Conyears-Ervin (MBA, '03) turned her attention to her community and led efforts in back-to-school drives, providing immunizations and dental health checkups, senior activities and other social services. Her community leadership led her to run successful to represent Illinois's 10th district in Springfield in the 2016 election. In 2019, Conyears-Ervin became the Chicago City Treasurer in Illinois. She shared her personal journey during a conversation at the American Dream Reconsidered Conference.
Business Leaders
Thomas Burrell (BA English, '62) is the founder and CEO of Burrell Communications Group LLC. He has used his renowned strengths in communications to speak meaningfully to diverse audiences across the country. With his leadership and savvy marketing skills, Burrell Communications has become the largest multicultural marketing company in the world, with clients such as McDonald's and Coca-Cola since the company's founding.
Karen Gibbs (BS Business, '76) broke barriers in Chicago's financial industry as the first woman to work on the floor of the Chicago Board of Trade. She is also a former anchor and financial news reporter for CNBC, PBS and Fox News. She specialized in financial and business journalism.
Blanche M. Manning (MA Urban Studies, '72) Manning was appointed U.S. District Court Judge for the Northern District of Illinois by President Bill Clinton and served from 1994 to 2010. She is also an accomplished musician, and has played saxophone with the Barristers Big Band and Smaller Combo. Manning also served as a Roosevelt trustee.
Reginald Weaver (MA Education, '73) has served as a teacher, public school advocate and president of the National Education Association from 2002 to 2008. The NEA is the largest labor union and the largest professional association in the U.S. with 3.2 million members. He received multiple honorary doctorates for his work in education and has testified before Congress on federal education policy.
Sylvia Flanagan (MS Journalism, '86) was the first African American graduate of Roosevelt's master's of journalism program. From 1985 to 2007, she was the senior editor of Jet Magazine, capturing contemporary African American current events, culture and perspective in celebrated journalism.
Groundbreaking Academics
Lloyd C. Elam (BS Zoology, '50) broke barriers as an African American psychiatrist who paved a path for others to follow. The first African American graduate of the University of Washington School of Medicine, Elam served as department chair, dean and president of Meharry Medical College. The Lloyd C. Elam Mental Health Center at Meharry Medical College is named in his honor.
Charles Donegan (BSc '54) decided to become a law professor to "increase the small number of black lawyers and to sensitize more white lawyers to social issues." He was the first full-time professor of color at SUNY-Buffalo Law School. He said Roosevelt had "a demonstrated commitment to social justice, which made an indelible impression on me."
Charles V. Hamilton (BA Political Science, '51) established himself as an academic catalyst to inspire civil rights action among his students. After teaching at several universities during the 1960s, including Roosevelt, Hamilton joined Columbia University's faculty. With Stokely Carmichael, he co-wrote the influential Black Power: The Politics of Liberation in America.
Dr. Matthew Holden, Jr. (BA Political Science, '52) has focused his academic research on political science, public administration and the study of political power. He has held the prestigious office of president of the American Political Science Association, and is currently a senior fellow at the National Academy of Public Administration.
Christopher Reed (BA '63, MA '68) is the nation's leading expert on the early history of African Americans in Chicago. He published six books and taught history at Roosevelt for 20 years, retiring as professor emeritus.
Darlene Clark Hine (BA History, '68) is an accomplished historian and African American studies scholar. Darlene Clark Hine has been a leader in the field of African American women's history. She taught history as a professor at Northwestern University and in 2013 received the National Humanities medal, awarded by President Barack Obama.