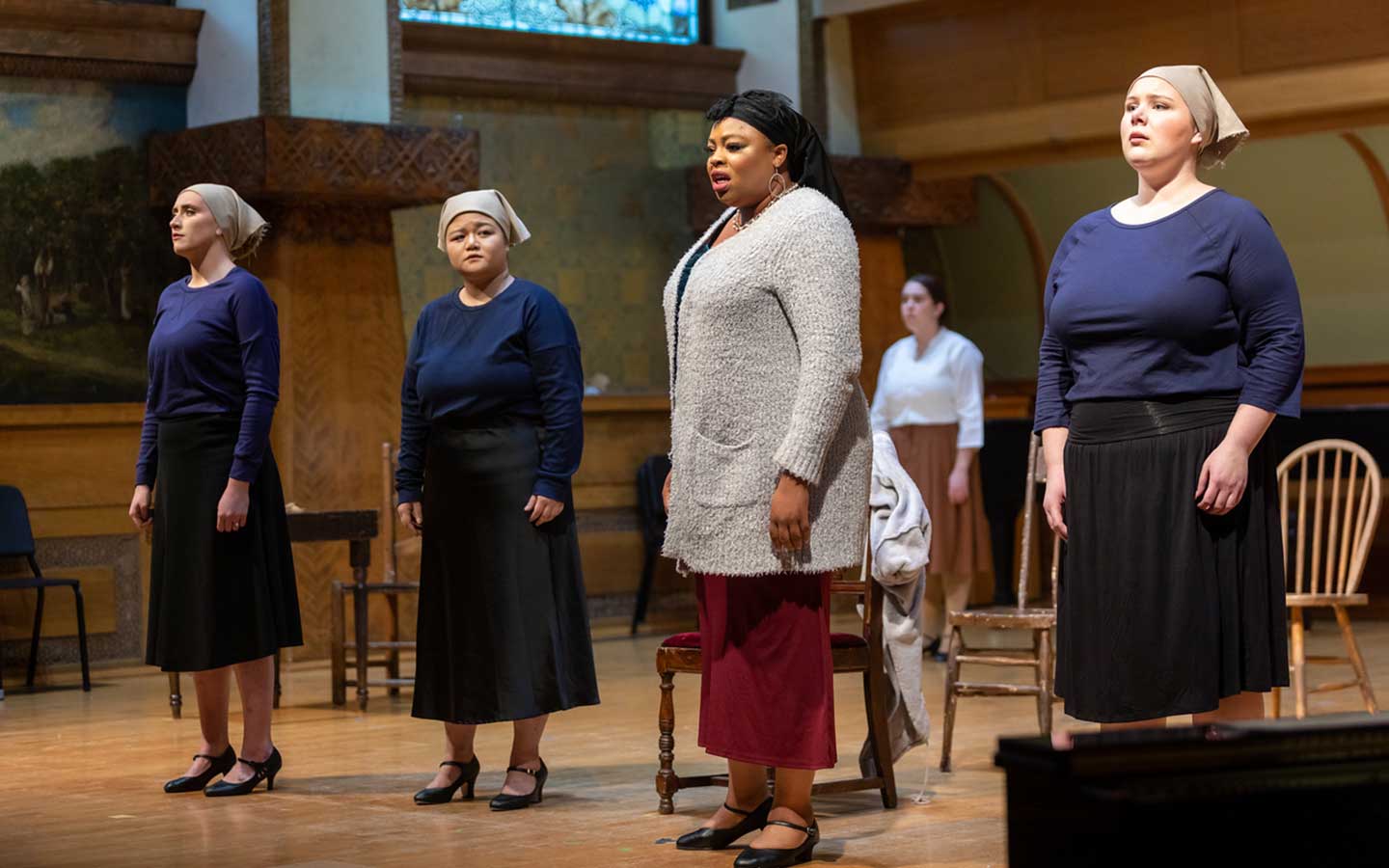 Graduate students in CCPA's voice program performed the first act of Jake Heggie's opera Two Remain in honor of International Holocaust Remembrance Day. Hosted by the Illinois Holocaust Museum & Education Center in Skokie, the evening included a performance held in the Goodman Auditorium followed by a Q&A with the production's performers and members of CCPA's voice program. The event was attended by more than 200 guests ― all friends of the Museum or Roosevelt University.
Debuting in 2016 and performed during Roosevelt's Opera Fest last fall, Two Remain focuses on Holocaust survivors Krystyna Żywulska and Gad Beck as they reckon with the horrors of Auschwitz. Zywulska was a Polish resistance fighter who concealed her Jewish identity after being imprisoned in Auschwitz-Birkenau in 1943. In secret, she composed lyrics to inspire fellow prisoners, even as she carried out the harrowing job in the effektenkammer (storage room) cataloging the personal effects of thousands of prisoners before they were murdered in the gas chambers next door. The opera follows an older Zywulska as she is haunted by the ghosts of her past and struggles to reckon with her actions.
Two Remain—a musically challenging and emotionally wrought piece—was both a formidable challenge for graduate students and a powerful representative of CCPA's effort to tie performance pieces with contemporary social justice issues.
"Gone are the days when we simply produce an opera without taking the time to examine the socio-political themes within the work, how its themes apply to today, or the circumstances that surrounded its composition," said Shannon McGinnis, Roosevelt's director of opera. "We're finding that our students are eager to engage with world events while still treating the material in a compelling way, and the recent rise in antisemitism provides an urgent backdrop we wanted to explore creatively."
The graduate student performers also wanted to confront the piece's relevancy to modern topics and the intersectionality of identity.
"I felt like I had agency as a student, actor and musician to collaborate with my colleagues directly and confront how my Russian-Jewish background informs my performance," said Tanya Landau, who played Zywulska's friend Mariola. "It took me the entire run of rehearsal to really settle on my character and develop both a strong performance and an emotionally engaging entry into the material."
Julia Brady, vice president of university relations, agrees with this sentiment. "Through this and other community-based events, Roosevelt proudly reaffirms our values of and dedication to social justice," she says. "This performance reiterated how the arts bring individuals together to reflect and inspire change. We wish to thank the Illinois Holocaust Museum for their partnership on this important event."
Upcoming Opera Performances
"A Funny Thing Happened on the Way to the Finale"
March 17 and 18, 2023
Using familiar music from opera and music theatre, as well as new compositions, this pastiche opera explores what eight young people's lives might look like if they refused to conform to expectations of others. Learn more.
"Love and Redemption" at the Chicago Temple
March 31 and April 1, 2023
Don't miss this double-bill presentation of Giacomo Puccini's Suor Angelic and Jonathan Dove's Tobias and the Angel. These works — a 20th-century grand opera and a 1999 "church opera," respectively — depict complex spiritual journeys to bring about forgiveness and redemption. Reserve your tickets today.