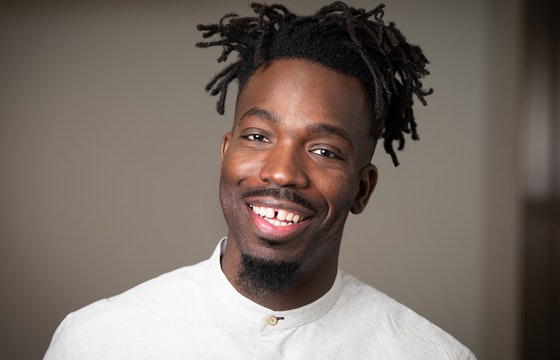 Embodying Roosevelt's commitment to social justice, Richard Wallace (BA Sociology, '16) continues to enact the University's mission of diversity, equity and inclusion as the executive director of nonprofit EAT (Equity and Transformation). Established by Wallace in 2018, the organization advocates for Black residents in Chicago's West Garfield Park neighborhood who are part of the informal economy. Due to structural racism and lack of opportunity to join the conventional workforce, participants in the informal economy are not protected by government regulations and are more vulnerable to criminal prosecution.
Wallace and EAT combat this inequality with a series of programs that aim to improve food security, economic opportunity and mental wellness on the city's West Side. The nonprofit's newest initiative is the Chicago Future Fund (CFF), a guaranteed income pilot program that provides $500 a month to 30 formerly incarcerated individuals in the West Garfield Park neighborhood. Many people with a criminal record struggle to find employment and housing after being released from prison, and the CFF program seeks to demonstrate how a baseline income reduces recidivism and results in a higher percentage of full-time employment. EAT also participated in the third annual Basic Income March this September to promote the benefits of guaranteed income with community members and local news outlets.
The CFF program is organized by fellow Roosevelt alumni Ashley Baber (MA Sociology, '14), who met Wallace in a Sociology of Inequity class. After graduating with her master's, Baber worked as a research coordinator for the University's Policy Research Collaborative. "I learned invaluable research skills including program evaluation and spatial analysis," she says. "These skills prepared me for my current project evaluating a universal basic income program for EAT."
EAT's other programs include the Cannabis Equity Campaign (which lobbies the state of Illinois to use revenue from legalized cannabis sales to reinvest in communities disproportionately targeted during the war of drugs) and mutual aid for community members in need of rent support and grocery assistance.
Wallace credits his Roosevelt experience as crucial to his development as an activist and community organizer. "I found myself running across an open field during a direct action in Ferguson, Missouri, looking to my left and seeing my Intro to Community Organizing professor running through the field a few yards away from me," he says. "It was that moment that truly showed me how to show up for what I believe in regardless of my credentials or position in life."