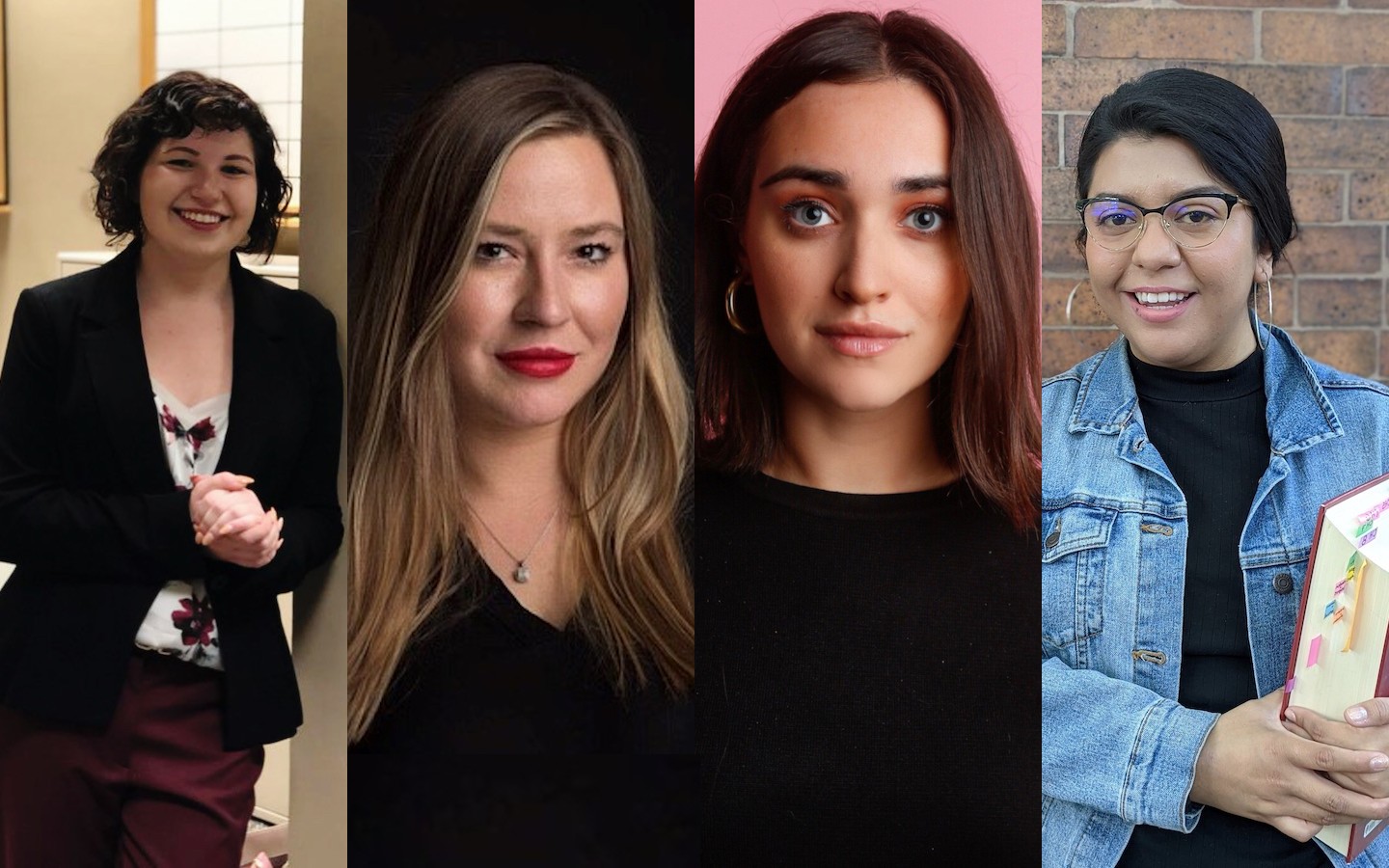 What does it take to succeed in law school? These four Roosevelt University graduates all took their own paths to the next step in their careers — as different majors, as the first in their family to go to law school, by working full-time for a few years before sending in their applications.
Today they are poised to make an impact as attorneys, from writing clear and concise contracts to advocating for indigent clients.
Read on for their advice on what pre-law students should know before applying to law school.
Learn more about the legal studies minor at Roosevelt University.
SUSANNE BONIADI (BA POLITICAL SCIENCE, '17)
Susanne will graduate from UCLA School of Law in 2021. She has accepted a position in the civil litigation group of a corporate firm in Los Angeles.
Roosevelt political science alumna Susanne Boniadi
On her time at Roosevelt
Professor Love's first-year seminar and Professor Warner's primary texts course in the Honors Program taught me how to be a better writer and think critically. Both are skills that are absolutely essential to excel on the LSAT and in law school.
Roosevelt's social justice curriculum really gave me a leg up on viewing legal problems holistically. Having a basic social justice vocabulary and a basic understanding of how the law and race, class and gender are all mutually co-constitutive has helped me be a better student of the law.
The political science program gave me a solid understanding of government that has been incredibly helpful. The law is so much more than just the courts, and understanding the nuances of all three branches of government has made law school a little easier.
On her law school experience
I'm easily most proud of having a strong school/life balance. Law school is competitive and stressful. Balancing being a functioning human with a social life while also doing well in school was a learned skill that took a lot of hard work.
Her advice for future law students
Check in with yourself, make sure it is what you really want. Be clear about your reasons for wanting to go to law school. Once you get there, you'll quickly discover it's a highly competitive space that can take an extreme toll on one's mental health. You'll need to draw on the reasons you came to get yourself through it.
VERONIKA CHARYTONIK (BA POLITICAL SCIENCE, '15)
Veronika graduated from UIC John Marshall Law School in 2019 and was a member of The John Marshall Law Review. She works as a contracts manager at Mobilitie.
Roosevelt political science alumna Veronika Charytonik
On her time at Roosevelt
Roosevelt's faculty and courses helped pave my path to success in law school. Although I was a political science major, I took advantage of electives or crossover courses from paralegal and legal studies to introduce me to legal reading, case briefing and legal analysis.
It was truly Roosevelt's faculty that made a tremendous impact. The majority of professors had an open door policy — I could stop by before or after class to ask questions ranging from homework assignments to selecting the right courses to best prepare me for law school.
On balancing work and law school
During my studies at Roosevelt and during law school, I was working full-time in a corporate environment. Although it was stressful at times, I am proud I was able to get good grades at Roosevelt and throughout law school while also advancing my professional career.
On corporate law and her current role
Heading into law school, I knew I did not want to follow the traditional attorney career trajectory of litigation or working at a law firm. My interest has always been transactional law in a corporate environment.
As a contracts manager, my responsibilities are a mixture of transactional legal work and operational business work. I negotiate and draft contracts that efficiently achieve the clients' goals by minimizing their costs and risks — the goal being clear, concise contracts that aim to ensure parties do not need to go to litigation.
Her advice for future law students
Study and get good grades in undergrad, hone in on your reading and writing skills, and do not wait until the last minute to study for the LSAT.
Law school is competitive and can be stressful at times. Set aside some time, even if it's a few minutes, to do something you enjoy — a small break from studying goes a long way.
NATALIA GALICA (BA CRIMINAL JUSTICE, '17)
Natalia graduated from UIC John Marshall Law School in 2020. She was admitted into two national honors societies and won Best Brief at the John J. Gibbons Criminal Procedure Moot Court Competition.
Roosevelt criminal justice alumna Natalia Galica
On her time at Roosevelt
The faculty were incredibly instrumental in my path to law school. I didn't know anyone who went to law school, so I wasn't sure what to expect or what my options were. Several professors met with me to discuss topics such as public interest loan repayment programs, the application process and internship possibilities.
My professors consistently encouraged me to continue pursuing my passions and helped me to forge my own path through opportunities, such as independent study programs and symposiums. Having that help and doing those programs made me feel much more prepared for the challenges of law school.
On her plans as a lawyer
I practice criminal defense, working with the Office of the State Appellate Defender. My goal as a lawyer is to have an impact on individuals by helping them navigate the often confusing and intimidating legal system. I want the people that I work with to feel comfortable asking questions and I want them to feel confident that I will be a zealous advocate for them.
Her advice for future law students
Being a lawyer is like doing homework for a living; it's mostly researching and writing. Because of that, law school is mentally and emotionally draining.
Figure out why you want to be a lawyer before you go to law school. Then, create an inspiration board. It will help keep you motivated during law school and remind you why you chose this rewarding career path.
ANA GARDUNO (BA POLITICAL SCIENCE, '16)
Ana minored in legal students at Roosevelt University. She is a second-year law student at UIC John Marshall Law School. She's interested in family law and divorce, and plans to explore more areas of law this summer.
Roosevelt political science alumna Ana Garduno
On her time at Roosevelt
The Constitutional Law classes really pushed me to go to law school. Before then, I was merely thinking about applying. After reading Supreme Court opinions on some of the most important cases in our country's history, I knew I was passionate about the way laws were interpreted and applied.
Professor Faris and other faculty were always very encouraging. I stayed connected with mentors even after graduation. They were essential tools for me when I was navigating the application process.
On her plans after graduation
My goal as an attorney is to make law accessible. In whatever capacity I end up working in, I hope to make clients feel comfortable and not overwhelmed by legal jargon. I hope to use my Spanish to help people understand their legal issues and feel confident about the services they pay for.
On her time in law school
As simple as it might sound, I am proud to have finished my 1L year strong, despite the pandemic. Learning how to be a law student is tedious work — it's so different from undergrad. I had to go through this process twice: In March, I had to learn how to be a pandemic law student.
Adjusting to online classes and online study groups was difficult, but I'm grateful for my support system and proud to have made Dean's List despite the chaos.
Advice for future law students
It might seem urgent to start law school, but taking a break after undergrad was one of the best decisions I made. I worked in different law firms, under different capacities and had the opportunity to learn about what lawyers do day-to-day. I was able to save money for some of my first-year expenses and dedicate a lot of time to my applications.
There's no rush to start. Law school will always be there for you.