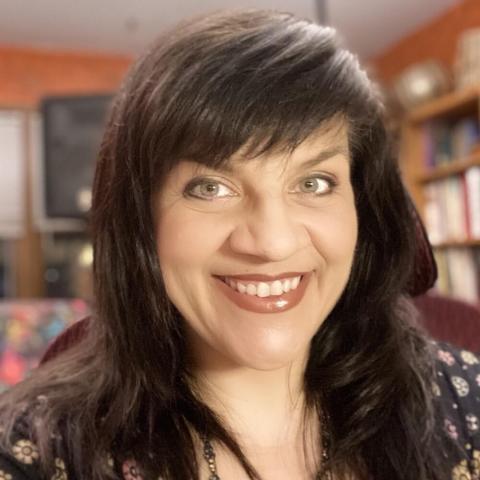 Teaching Professor of Musical Theatre
Chicago College of Performing Arts
» Office of Theatre Conservatory
» Acting
About Me
In the Classroom:
Greetings! I have had the immense joy of teaching in the Theatre Conservatory since 2004, where I bring a substantial background in classical vocal pedagogy balanced with a comprehensive and contemporary understanding of musical theatre repertoire, vocal styles, and current performance practice. I am a strong believer in vocal versatility and authenticity for musical theatre singers, and my own experience spans the genres of musical theatre, jazz, pop/rock, and opera as both a performer and a voice teacher. I teach private voice, as well as a variety of classes such as: Ensemble Singing, Group Voice, and Pop/Rock Styles for Musical Theatre, a class I created in 2020. I also developed the curriculum and wrote the textbooks for the Theatre Conservatory's two-semester music theory sequence which focuses specifically on the skills that musical theatre singers need to be musically independent and literate in today's demanding performance arena. My private voice students sing on Broadway, Off-Broadway, on national tours, in regional theatres, and throughout Chicago.
One of the things that drew me to Roosevelt University was its mission of social justice. To that end, I am particularly passionate about creating a welcoming and equitable learning environment for all of our students in the Theatre Conservatory. I took part in a 6-week course for RU faculty called the Equity Teaching Academy (ETA) in the summer of 2021. Here I learned many progressive pedagogy practices, as well as ways to create more of a sense of academic belonging for my students. I went on to be named as the ETA Faculty Fellow for CCPA for the 2021-2022 academic year, and I led multiple workshops for faculty to help promote these new teaching ideas and methodologies. I will now be teaching a module of ETA in the summer of 2023. I have also brought in experts to educate our Theatre Voice Faculty on working with transgender singers in the voice studio. I believe that our conservatory is stronger when it provides a welcoming environment for students of all backgrounds, needs, and learning styles so that everyone is afforded a path to success. I also contend that a good teacher should be a lifelong student, so I am always seeking out new professional development opportunities so that I can continue to bring new ideas into the classroom.
My Performing Background:
In addition to performing roles in regional theatre and opera, my concert work has taken me throughout the U.S. and Taiwan with such ensembles as the Chicago Symphonic Pops Orchestra, Vocal Summit, and Ars Musica Chicago.  I served as the Music Director for HealthWorks Theatre for three years, and I was a touring company member for five years. I have also performed at such jazz and cabaret venues as Davenport's Piano Bar, Simone's Cabaret at Cyrano's Bistro, The Fairmont Hotel, and the Treemont Hotel. I was a founding member of the a cappella jazz quintet, The Hi-Tops.
I spent seven summers as the conductor of the Gallery 37 Vocal Arts Ensemble, serving as Chorus Master for The Love for Three Oranges and The Magic Flute at The Chicago Cultural Center. I was also the Stage Director for a production of The Magic Flute with Lyric Opera's Opera Kids! program. For ten years, I served as a faculty member in both the Voice and Early Childhood Music departments at The Sherwood Conservatory of Music. I am an active member of the National Association of Teachers of Singing (NATS), as well as a registered Music Together™ teacher.
Topic of Expertise
Vocal Health

Nadine is passionate about instilling good vocal health habits in her students at CCPA. She has created practical course materials on the subject, and she often brings in guest speakers to give her students the most recent information from medical professionals and researchers in the field

Pop/Rock Music in the World of Musical Theatre

Many of today's new musicals are begin written by pop/rock singers, so, in addition to traditional Broadway repertoire, musical theatre singers need to be comfortable performing a wide range of genres such as: Motown, Hip-Hop, Disco, and Country. Nadine has sung extensively in the pop/rock genre in her career, and she has taken workshops with leaders in the pop/rock musical field, such as Sheri Sanders and Melissa Cross. This is an exciting time for new musical theatre! She has created a course called Pop/Rock Styles for Musical Theatre which teaches students how to sing in a wide variety of pop/rock genres with vocal authenticity and a comprehensive understanding of the era and the history behind it.
Education
M.M.

Vocal Performance & Vocal Pedagogy — Roosevelt University

B.S.

Performance Studies — Northwestern University

2 years

Vocal Jazz Performance — Berklee College of Music