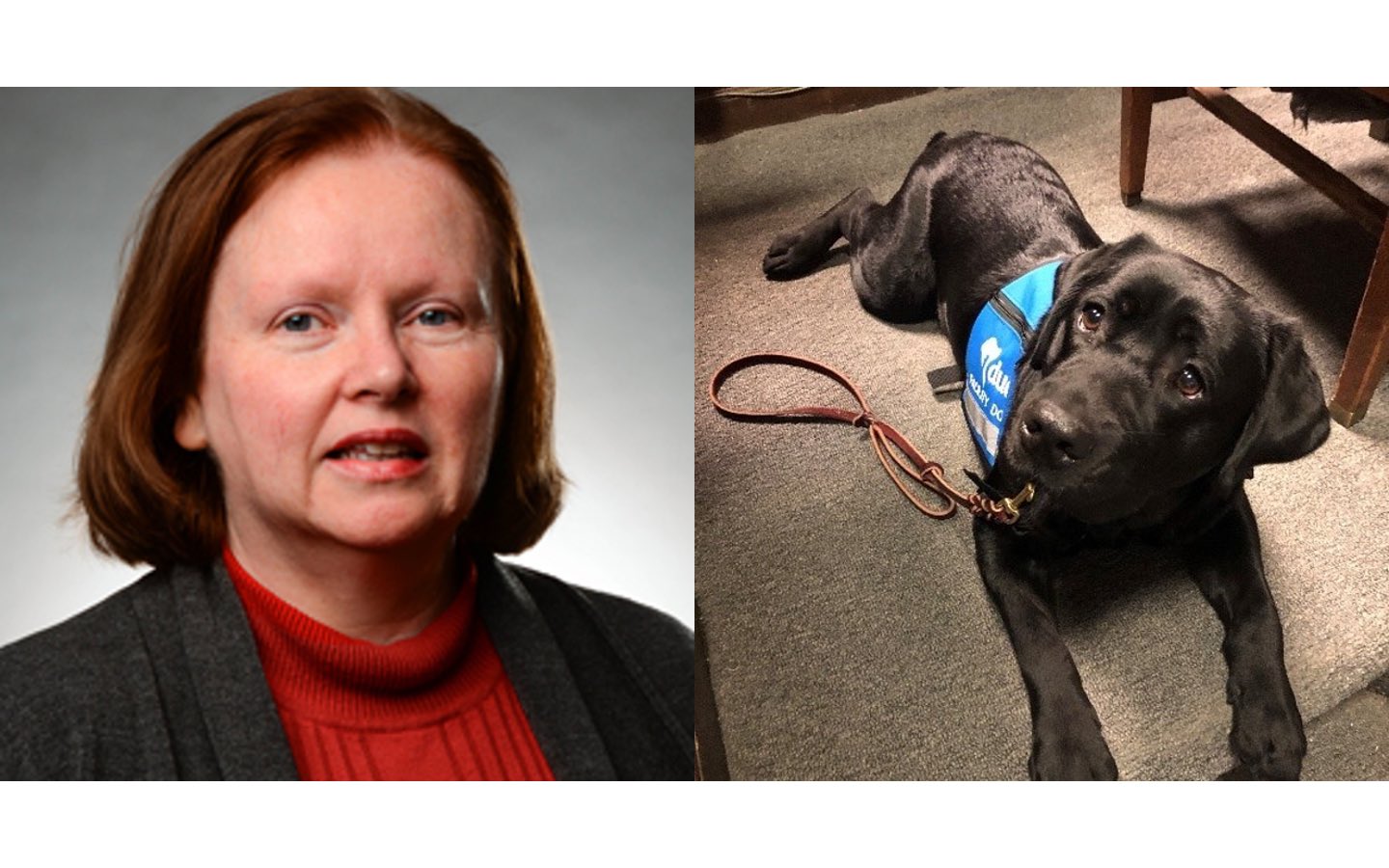 As a prosecutor, Roosevelt University instructor Mary Boland represents clients in Illinois court. One of her coworkers — a Labrador retriever named Hatty — just earned a promotion thanks to Boland's advocacy for domestic violence victims.
The lengthy process of criminal court can often traumatize the children seeking justice. When testifying, kids often feel afraid of the defendant or embarrassed about speaking. Those intense emotions could prevent a child from answering questions on the stand.
Research shows that dogs can dramatically reduce stress and offer psychological benefits. Now children and people with disabilities can count on dogs like Hatty for emotional support in court.
Boland started working with Hatty in early 2020. She's an adjunct professor in the Government, Law and Justice Department. As a full-time prosecutor, she specializes in violent crimes at the appellate level for the Cook County State's Attorney's Office. Boland is also a Roosevelt alum with a master's in public administration.
Boland became the first in Cook County to argue a motion to use a therapy dog during a sexual assault trial with a child victim.
"In the trial, Hatty was a wonderful assist to the stressed and anxious victim as she testified," Boland said. "And the jury never even saw the dog in the witness box."
Boland testified before the legislative judiciary committee to expand the Illinois statute. After the "Hatty bill" stalled during COVID-19, Boland worked to get it onto the agenda for the current legislative session. The bill passed unanimously, and Governor Pritzker signed it into law in June.
As a prosecutor, Boland is the complex sex crimes specialist in the appellate division, which means that in addition to writing appellate briefs and conducting oral arguments before the Illinois Appellate and Supreme Court, she also reviews briefs for the Office and gives technical assistance to trial prosecutors in preparing certain cases.
Boland teaches criminal justice and paralegal studies courses for Roosevelt undergraduates. At Roosevelt University, students learn from experienced professionals like Boland as they envision their future career paths.