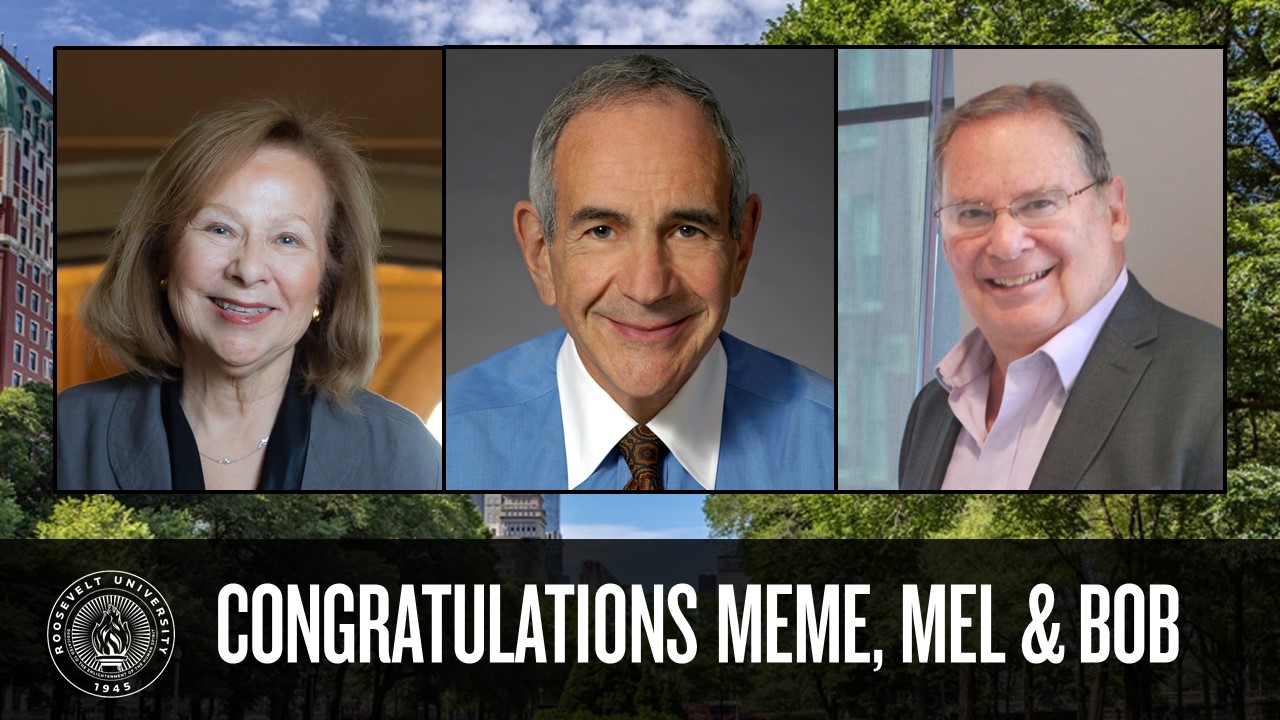 On June 23, Roosevelt University officially recognized the retirement of three life-trustees at its annual Board of Trustees Dinner. The event was co-hosted by board chair Maurice Smith — a 1995 Roosevelt University alumnus, and president and CEO of Health Care Service Corporation — and University president Ali Malekzadeh at the Fairmont Chicago.
Smith opened the program by introducing six new trustees, all of whom were elected since the Board's most recent dinner in June 2020: Sharon Bush, executive director of Grand Victoria Foundation; Michelle Mills Clement, CEO of Chicago Association of Realtors; J.C. Gonzalez-Mendez, founder of GM Integritas Consulting; Joe Nocera, leader of Cyber & Privacy Innovation Institute for PricewaterhouseCoopers; Joyce Tucker, retired vice president of global diversity and employee rights for The Boeing Company; and Joseph Yacullo, senior vice president of The Northern Trust Company.

Smith also announced the formal retirement of the Board's immediate past chair Patricia Harris. Harris was the first alumnus and first woman to be elected chair of Roosevelt University's board. She was also the first African American female to serve as chair of a University's board in the United States.
The evening's three honorees included Meme Hopmayer, Melvin "Mel" Katten and Robert "Bob" Mednick, and special guests included close friends and family members of each retiree.
Co-chair of the Board's development and board governance committee Ann Ford, who also served as the program's emcee, said, "Meme, Mel and Bob have shared 92 combined years of service, knowledge and wealth. For Mel and Bob, this meant working alongside four of Roosevelt's six University presidents. And collectively, they have personally contributed and secured millions of dollars in charitable gifts. I think we can all agree that the impact they've made on our community is truly remarkable."
MEME HOPMAYER
Meme Hopmayer joined the Board in 2009. But, her support of Roosevelt had begun nearly two decades earlier, in 1991, when her family partnered with Roosevelt to fund and develop a teacher training program in Holocaust studies.
This collaboration soon transformed into a larger vision around social and restorative justice — leading to the Albert and Anne Mansfield Foundation's gift of $400,000 to establish the Mansfield Institute for Social Justice in 1999.
Former University president Charles Middleton said the Foundation's support "enabled us to expand social justice learning throughout our entire community" and showed all students that "social justice is integral to their education."
In 2008, an additional Mansfield gift expanded the Institute's work to include a robust service-learning program, which served "as the bridge that would allow students to transform their academic knowledge into social action." Service-learning was seen as "critical and empowering for Roosevelt's diverse student population — for those who had experienced social adversity and those with privilege."
The Foundation's most recent gift — a three-year pledge beginning last year — to the new Mansfield Fellowship in Activism and Community Engagement program, brings their total giving to over $1 million.
The Fellowship supports students as they work with local organizations to make social change. The Foundation has remove financial barriers for both students and Chicago-area organizations — providing each fellow with free academic credit towards graduation and a $2,500 stipend for their work. So far, 29 students have participated in this outstanding program.
MEL KATTEN
Joining the board in July of 1987, Mr. Melvin Katten served for 35 years as trustee. Mel began his two-year term as vice chair to the board in 1997, and then in 1999 he became senior vice chair — a role in which he served until his retirement earlier this year. In March, the board unanimously voted to make him a life-trustee.
Throughout his tenure, Mel served on several board committees: facilities, finance and investment, and the audit committee. But perhaps his greatest impact was made as chair of the board's development committee. Mel was a strong advocate and ambassador for the University's fundraising efforts, soliciting gifts from several nation-wide foundations and local partners.
His efforts helped ensure the University's successful expansion to Chicago's northwest suburbs and the ongoing development of Roosevelt University's downtown campus.
In 1996, president Ted Gross wrote, "the University has grown since you came aboard with me several years ago, and the establishment of [Schaumburg's] permanent campus is one of the greatest steps in [Roosevelt's] development." In '96, the creation of Roosevelt's Schaumburg campus marked the first new comprehensive University campus to be established in Illinois since the late 1960s.
Mel's charitable and civic service extended far beyond Roosevelt University. His board appointments included: the Better Government Association; IIT Chicago's Kent School of Law; the Standard Club; the Anti-Defamation League; the Jewish Federation of Chicago; Tel Aviv University; and the Auditorium Theatre, for which he chaired the board for many years. He has also authored various articles, and served as a speaker on federal taxation.
Mel and his wife Renee have personally supported several University efforts over the past three and a half decades, but one in particular is guaranteed to benefit our deserving students for decades to come — the Mel Katten Endowed Scholarship for undergraduate, Chicago-resident students.
A fun fact about Mel: Over the years, Mel developed a talent and passion for writing (and receiving) letters. Mel's attention to detail was impeccable. He took his role as trustee very seriously, and offered his personal connections to benefit Roosevelt University. His love for Roosevelt is reflected in his writing.
ROBERT MEDNICK
Mr. Robert Mednick, a 1962 graduate of Roosevelt University, joined the board of trustees in December of 1977. He was recruited as the Board's then "Alumni Representative" — as Bob had proven himself to be highly successful since graduation. He had immediately launched his career with Arthur Anderson & Co, and in 1973 he transitioned to their world headquarters. Bob was also an avid supporter of the University's Alumni Association, and in 1974 he was named one of the "Ten Outstanding Young Citizens of Chicago" by the Chicago Junior Association of Commerce and Industry.
Bob served as vice chair to the board from 1988 to 1993, and in 1995 he became senior vice chair. In 1997, he was honored as the Walter E. Heller College of Business' inaugural distinguished alumnus. He served on several board committees, including the audit committee, as well as the finance committee — for which he also served as chair. And in 2002 Bob was named life trustee, in recognition for his ongoing service.
In a letter to Bob, Roosevelt's fourth president Ted Gross wrote, "Everyone looks to you for the kind of balanced judgement and insight so essential in confronting complicated and difficult issues. […] Bob, you are the embodiment of all that is good about Roosevelt University."
In addition to his career with Andersen Worldwide, Bob made several significant contributions to the broader profession. He's the former chairman of the American Institute of CPAs, and he has provided consultation to The World Bank and the Comptroller General of the United States. Bob's civic and charitable roles include: the American Judicature Society; the National Bureau of Economic Research; Chicago Boy's Club; and the Auditorium Theatre. Bob has served as a visiting scholar at Jerusalem's Hebrew University and has taught in Northwestern University's Kellogg Graduate School of Management.
In 1996, Bob, his wife Susan, and their family established the Harry & Nettie Mednick Endowed Scholarship — honoring the namesakes, Bob's parents. As the children of immigrants, Harry and Nettie believed "education was, of course, the key to upward mobility in a new country." And all three of their own children became college graduates … "two being graduates of Roosevelt University." This endowed scholarship provides annual support for "inner city minority students who demonstrate a commitment to excellence and a desire to use their educational opportunity to better their lives within the Chicago community. This scholarship is just one part of the legacy Bob leaves to Roosevelt, as one of the University's longest serving trustees.