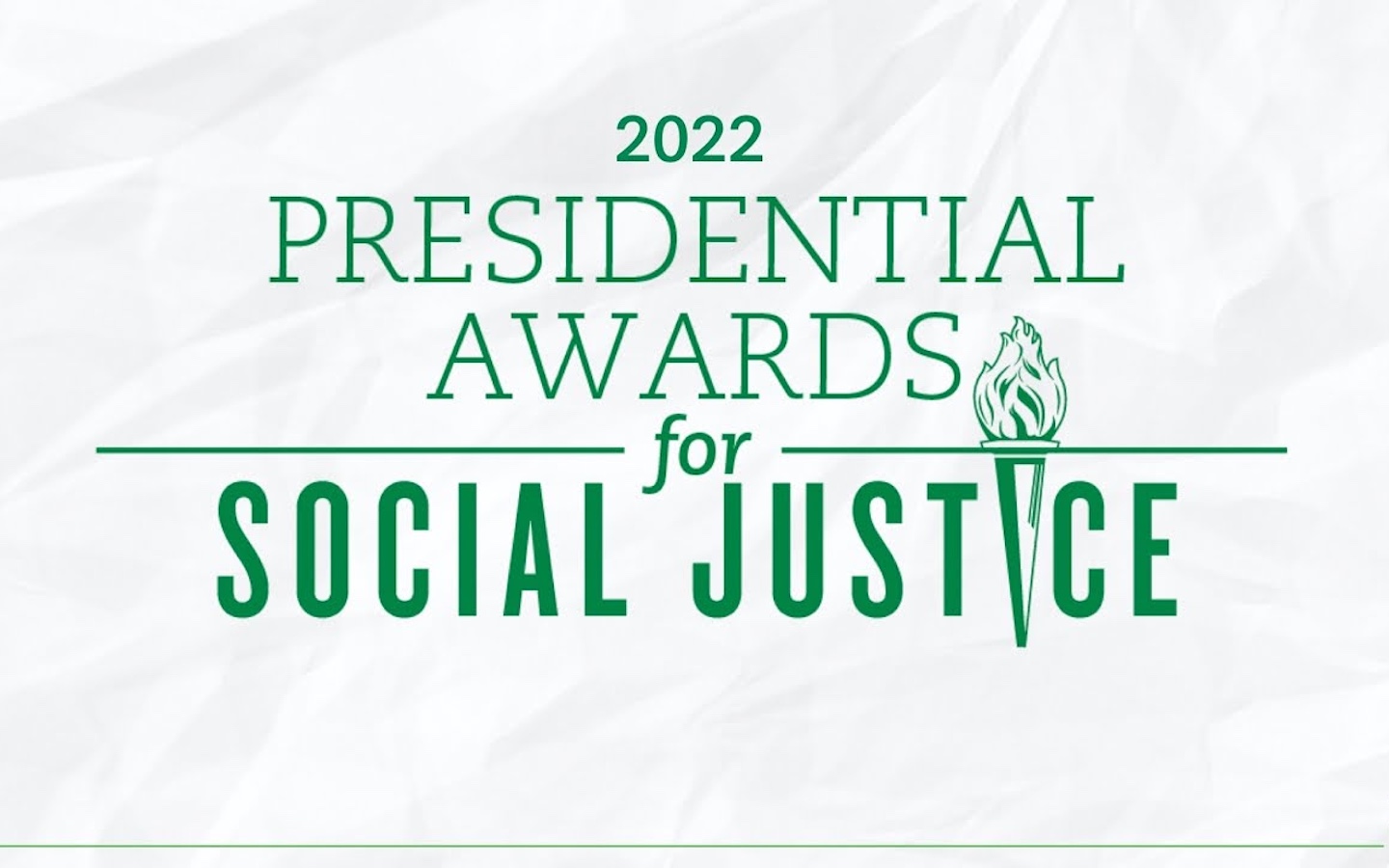 On Wednesday, Roosevelt University president Ali Malekzadeh announced the 10 winners of the Presidential Awards for Social Justice. Congratulations from colleagues poured in to celebrate the students and faculty who pushed for equity and inclusion.
Malekzadeh unveiled the prestigious honor in 2019 to recognize students, faculty and staff for projects that promote equity and inclusion.
Policy Research Collaborative interns
Located just a short L ride from Roosevelt's campus, the National Public Housing Museum is the only cultural institution devoted to telling the story of U.S. public housing. Through the Policy Research Collaborative, five Roosevelt students partnered with the museum to research housing inequity in Chicago.
The Policy Research Collaborative partners with Chicagoans to address social inequities through transformative policy research and advocacy. The team of five students worked with artist-as-instigator Tonika Lewis Johnson as part of her Inequity for Sale project. The project is a critical exploration of how Land Sale Contracts in the 50s and 60s led to today's inequity in Greater Englewood.
The five students met with long-time neighborhood residents to gather an oral history of racist housing policies and practices. Over the last six months, the students strove to make their findings more accessible to the public.
They wrote and designed a series of zines, "When the Market Isn't an Option," now available online. The series follows the history of public housing policy, digging into the legacies of segregation and disinvestment.
Juanairis Castañeda is a first-generation college student double-majoring in history and international studies. She is an equitable development fellow with the Logan Square Neighborhood Association.
Sophia Gallo is a senior studying sociology and women and gender studies. Gallo is passionate about environmental justice and serves as president of the campus organization RU Green.
Victoria Limón is a third-year doctoral student in clinical psychology. Her clinical interests include improving mental health care in the correctional system.
Jack Werner is a senior majoring in political science. He is pursuing careers that allow him to build justice through policy-making.
Alexyss Wofford is a senior studying English and sociology. She plans to apply her writing skills to justice work.
Student leader Troy Gaston
Troy Gaston is famous on campus for his organizing work. During the summer of 2020, he led or joined 67 protests against racial injustice in incarceration and policing. Dr. Nussbaum-Barberena, director of the student research program, nominated the Roosevelt senior for another side of the student that everyone might not know.
As a McNair Scholar, Gaston is researching the effect of mass incarceration on Black women in communities. In his work, he explores public policy and its impact with care and respect for the voices of others.
"Troy deploys his vision of justice in all areas of his work," said Nussbaum-Barberena. "I have every confidence that beyond his work to transform public policies towards justice, Troy will be a professor who will transform students' lives and work."
As a McNair Scholar and political science student, Gaston formed mentoring relationships with his classmates, bringing more students into the fold at the intersection of research and justice work.
"Gaston finds ways to encourage students around him," said Nussbaum-Barberena. "He lifts up the other students with less direct experience in judicial, housing and geographic injustice, particularly when he senses that this difference makes them nervous."
Equity Teaching Academy instructors
In summer 2021, four Roosevelt instructors devised and taught the inaugural class of the Equity Teaching Academy.
Drawing from best practices in inclusive teaching, they led 22 Roosevelt faculty members through a summer course on student success. The four successfully navigated the often-tricky role of offering professional development to their peers.
"Numerous faculty noted that they will never teach the same again," said nominator Mike Maly, senior vice provost for academic affairs. "These four faculty represent the best of Roosevelt faculty: wise, reflective, interdisciplinary, innovative and steadfastly dedicated to improving the quality of teaching and learning that Roosevelt students receive."
Their summer sessions explored how to create equity mindsets, revise syllabi and build inclusive practices. The practical lessons and exercises helped faculty improve their classes to meet students where they are. The four connected teaching modules put the University's social justice mission into practice and embedded it in how faculty teach.
The response was inspiring. Maly sums it up: "Their work is one of the best things I have seen in 24 years at Roosevelt."
Marjorie Jolles, PhD is a professor of women's and gender studies and director of the Roosevelt Honors Program.
Susan Torres-Harding, PhD is a professor of psychology and director of the PsyD program.
Ellen O'Brien, PhD is an associate professor of English.
Natasha Robinson, Esq. is an assistant teaching professor of criminal justice.