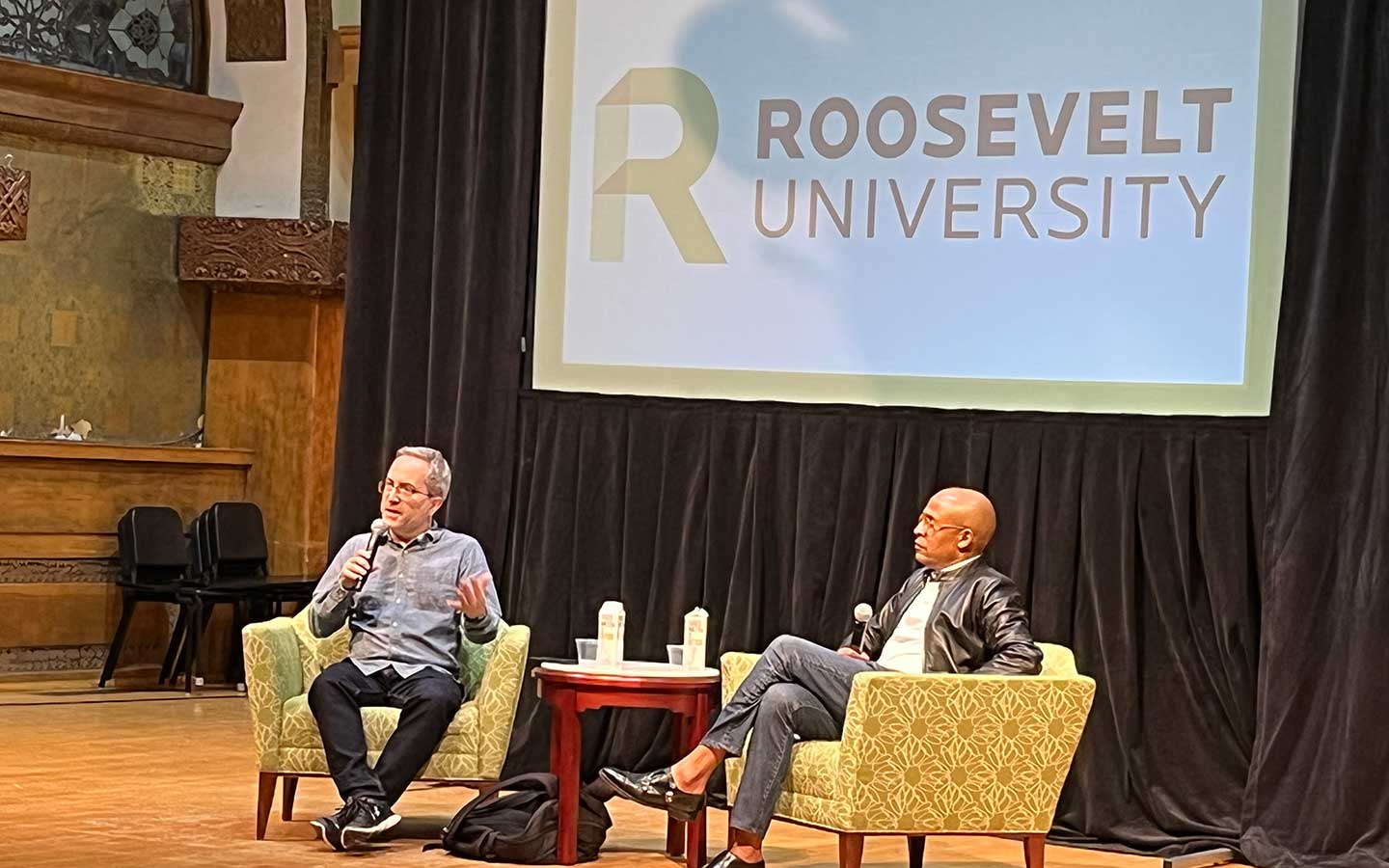 Roosevelt University continued to celebrate the life and legacy of Harold Washington at a documentary screening at the University's Ganz Hall. Titled Punch 9, the documentary chronicles Washington's political career, mayoral campaign and inauguration as the first Black mayor of Chicago in 1983. The screening was followed by an engaging Q&A with director Joe Winston and producer Raymond Lambert. The event was part of "The Year of Harold: A Centennial Celebration," a series of events that honor Washington's political and social legacy.
Raised in downstate Illinois and one of Roosevelt University's first graduates, Washington served as a member of the Illinois Senate and House or Representatives before successfully running for Congress in 1980. He would eventually overcome staunch opposition to be elected Chicago's first Black mayor, and he held the position before passing in 1987.
During his time in office, Washington successfully combated the ingrained corruption in city government and allowed unprecedented numbers of Black, Hispanic and women staffers in his administration. His other accomplishments included focusing economic development on Chicago's neighborhoods, encouraging cultural celebrations in Chicago's diverse communities and drawing attention to the AIDS crisis at a time when the disease was largely ignored by the federal government
Most importantly, Washington recognized Chicago's rich cultural composition and strived to unite groups in a cause of growth and equal opportunity.
"Washington recognized that to succeed, he had to earn people's votes by giving them a voice, a chance to be seen and heard," said Margaret Rung, who teaches history in the University's College of Arts & Sciences. "Similarly, he worked to build coalitions and unite groups behind common goals, such as equal access to decent housing, education, public transit and other public goods.  In the end, the 1983 election, with its extraordinarily high voter turnout, demonstrates the power individuals have when they use the ballot box to express their collective voice."
Washington's successful election was also a watershed moment for Black representation and participation in municipal politics. "Harold was not content to put a Black face on the old, corrupt system," said Punch 9 director Joe Winston. "He carried with him millions of Black people whose lives he intended to improve, and he introduced an unprecedented level of civic engagement from all of Chicago's communities."