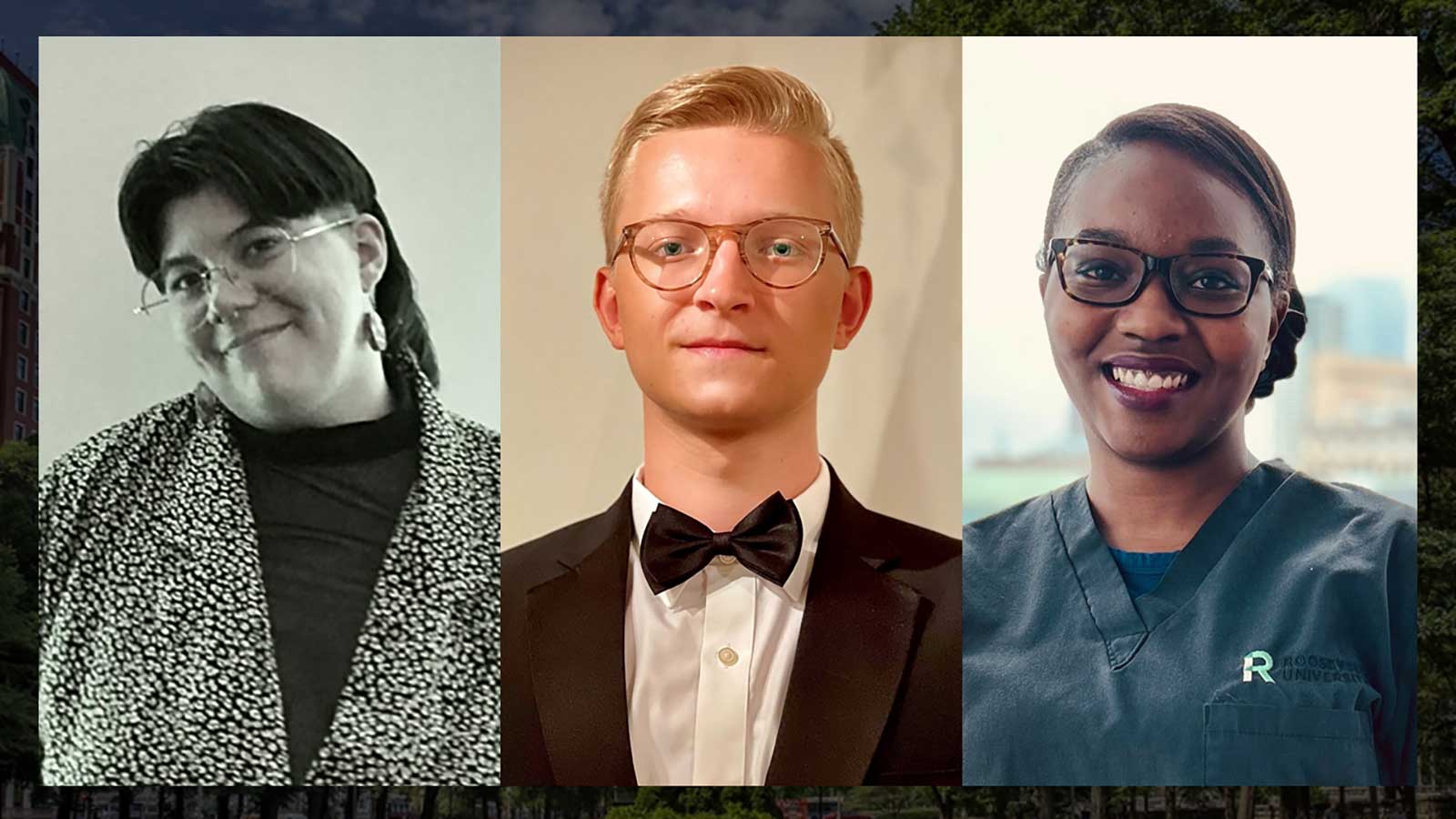 Roosevelt University students Sophia Gallo, Nazarii Mykhailenko and Rachelle Vinson were presented the American Dream Award, a scholarship sponsored by BlueCross BlueShield of Illinois, on October 17. The reimagined scholarship program recognizes select Roosevelt students for their strong record of leadership, service, community engagement and academic excellence as well as their commitment to Roosevelt's social justice mission.
Roosevelt President Ali Malekzadeh announced the award winners at the opening session of the 2022 American Dream Reconsidered Conference. This year's conference ("The City and the American Dream") focused on the role cities play as key sites of economic innovation and growth, cultural self-expression and how the concept of the "American Dream" plays out in our cities.
"Sophia, Nazarii and Rachelle stood out among a very impressive group of nominees — making our committee's selection difficult," said Dr. Margaret Rung, co-chair of the American Dream Reconsidered Conference and selection committee. Co-chair Dr. Andrew Trees went on to share that "these students embody Roosevelt University's social justice mission." The 2022 American Dream Award honorees each received a $10,000 scholarship.
SOPHIA GALLO, BA '22
College of Arts & Sciences
Hometown: Glen Ellyn, IL
As president of the student organization RU Green, Sophia has been a major force in building student interest in campus sustainability and environmental justice — serving as a key leader in the university-wide effort to update Roosevelt's strategic sustainability plan. "Sophia's stalwart stewardship of RU Green during the pandemic, and their in-class leadership qualities and work ethic, have had a tremendously uplifting impact upon their fellow students," says Mike Bryson, professor of sustainability studies."
Sophia promotes student and community outreach through on- and off-campus activities, such as climate justice marches and corporate social responsibility advocacy. They are also a scholar and multimedia journalist for the Policy Research Collaborative, through which they research and write about the history of public housing. Sophia is passionate about the intersectionality of sustainability, social and environmental justice, and gender and racial equity.
NAZARII MYKHAILENKO, BM '24
Chicago College of Performing Arts
Hometown: Wood Dale, IL
Nazarii is recognized as a leader with a keen sense of purpose and responsibility. With family in Ukraine, the Russian invasion in early 2022 was very personal to Nazarii — inspiring him to act on behalf of victims of the war and refugees arriving in the United States. Nazarii blended his musical gifts with his passion for Ukraine to record a performance of the Ukrainian national anthem by the Conservatory Chorus. He also organized a series of concerts to raise funds for Ukraine during the summer of 2022 in partnership with his brother, a fellow musician.  
"Nazarii's sense of building community and effort to bring a positive and collaborative endeavor is simply outstanding," said Kyong Mee Choi, interim dean of the Chicago College of Performing Arts. "His response to the war in Ukraine exemplifies the way he handles obstacles and transforms challenging moments into something constructive for the larger community."
RACHELLE VINSON, BS '23
College of Science, Health & Pharmacy
Hometown: Lansing, IL
Rachelle actively contributes to both the Roosevelt and broader Chicagoland communities. She is president of the Nursing Society and an active member of SSS STEM, helping first-generation students succeed at Roosevelt. Regularly volunteering with the Greater Chicago Food Depository, Feed My Starving Children and the Ronald McDonald House, Rachelle is recognized for her leadership to other students by "providing other board members opportunities to assist others in need," according to Cynthia Gonzalez, director of nursing at Roosevelt.
Rachelle is also a First-Class Petty Officer in the United States Naval Reserve, providing career counseling as an administrative trainer and serving as part of the American Legion. Earlier this fall, Rachelle was named a Lincoln Laureate — a program through which an outstanding senior from each of the four-year degree-granting institutions in Illinois is awarded the Abraham Lincoln Civic Engagement Award by the Governor.