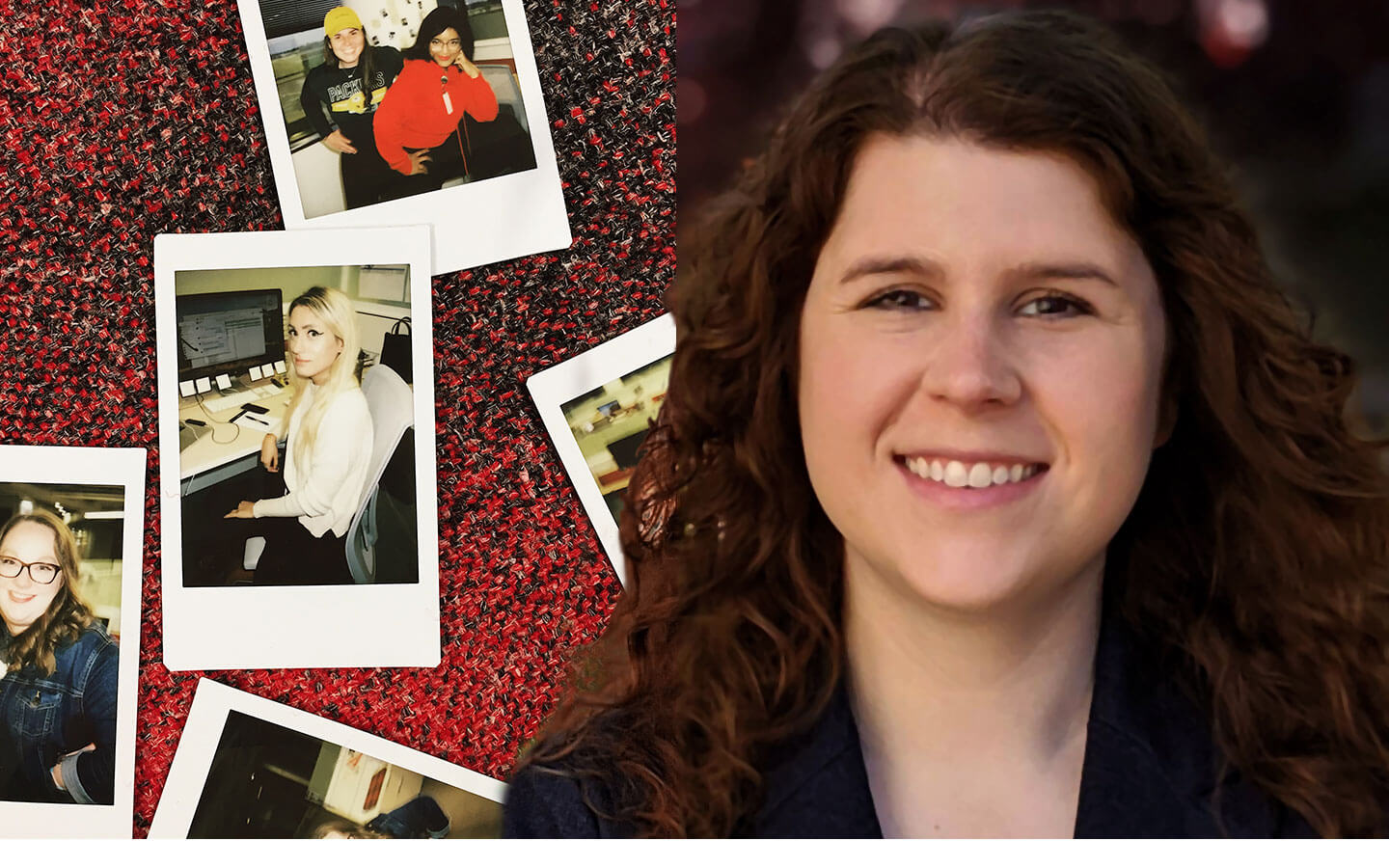 English majors spend their four years at Roosevelt University reading, writing, rewriting and talking about literature. After graduation, how can you keep doing what you love for a living?
With the support of their professors and career services, these three Roosevelt English majors turned their passion for reading and writing into successful careers.
Read more: Career Guide for English Majors
Made for marketing
Courtney Clark (BA '15) always looked forward to Production Saturdays with the Torch, Roosevelt's student newspaper. As managing editor, she got to do a little bit of everything: she helped staff writers struggling with a story and was a second pair of eyes for the proofreader and designer.
"Being an English major helped me to organize my thoughts and ideas effectively," she said. "I am writing emails all the time; you have to be able to write and communicate through email, and give constructive feedback as well."
After graduation, she taught English as a second language to kids in Thailand and traveled around Southeast Asia on long weekends. "I got to immerse myself in a new culture while teaching English to 33 adorable kindergarteners," she said. "It was an amazing and rewarding experience."
Today she's the creative project manager at Epsilon, a position that the marketing company created especially for her.
"I started at my company as a copy editor, which was pretty much the exact role I had always wanted!" she said. "Over my first year there, I realized I also really enjoyed a lot of the project management. I'm loving my new role."
Starting her own business
Small business owner Demi Utley (BA '12) hated her first day at Roosevelt University. Her American Lit professor spent about 10 minutes on intros before diving into the material.
"I heard my classmates making arguments and using terms that I had never heard before," she said. "I felt completely overwhelmed and doubted that I would be able to pass the class."
Demi stuck it out. Before she graduated, she found herself using the same terms and making the same complex arguments. "It taught me that even if I don't understand something or feel too overwhelmed or inadequate, that I should persevere because I have the ability to grow and learn new topics," she said.
Demi thought that she'd have to get a master's degree to find any job with her English degree. "I didn't believe that I would put my English degree to much use," she said. "Instead, that's been the focus of my career."
As a proposal writer at CDW, she discovered there were real opportunities to write in a corporate space. In 2020, Demi founded her own company and now helps businesses with proposal writing. She gets to work other entrepreneurs and use writing to make a direct impact on their businesses.
"I never knew this was possible until I allowed myself to explore new career paths," she said.
Law and legal services
Timothy Stephens (BA '06) knew he was interested in law, but didn't want to apply to law school or practice as a lawyer. The paralegal certificate program gave him a middle ground to continue his education.
After 12 years as a paralegal, Timothy became a compliance consultant. He says that his English courses helped him communicate clearly and confidently with C-suite executives.
"Both my undergraduate studies and my paralegal studies put a strong emphasis on the art of writing," he said. "Without those skills, I would not have been successful in my past roles and my current position."
Interested in law school? Read this advice from 4 Roosevelt alumni.
Bachelor's in English
Students who major in English will study literary trends, themes and genres, as well as marketable skills in research, writing and speaking. You'll foster your appreciation of diverse cultural values and how culture spreads through language. Get to know the program.