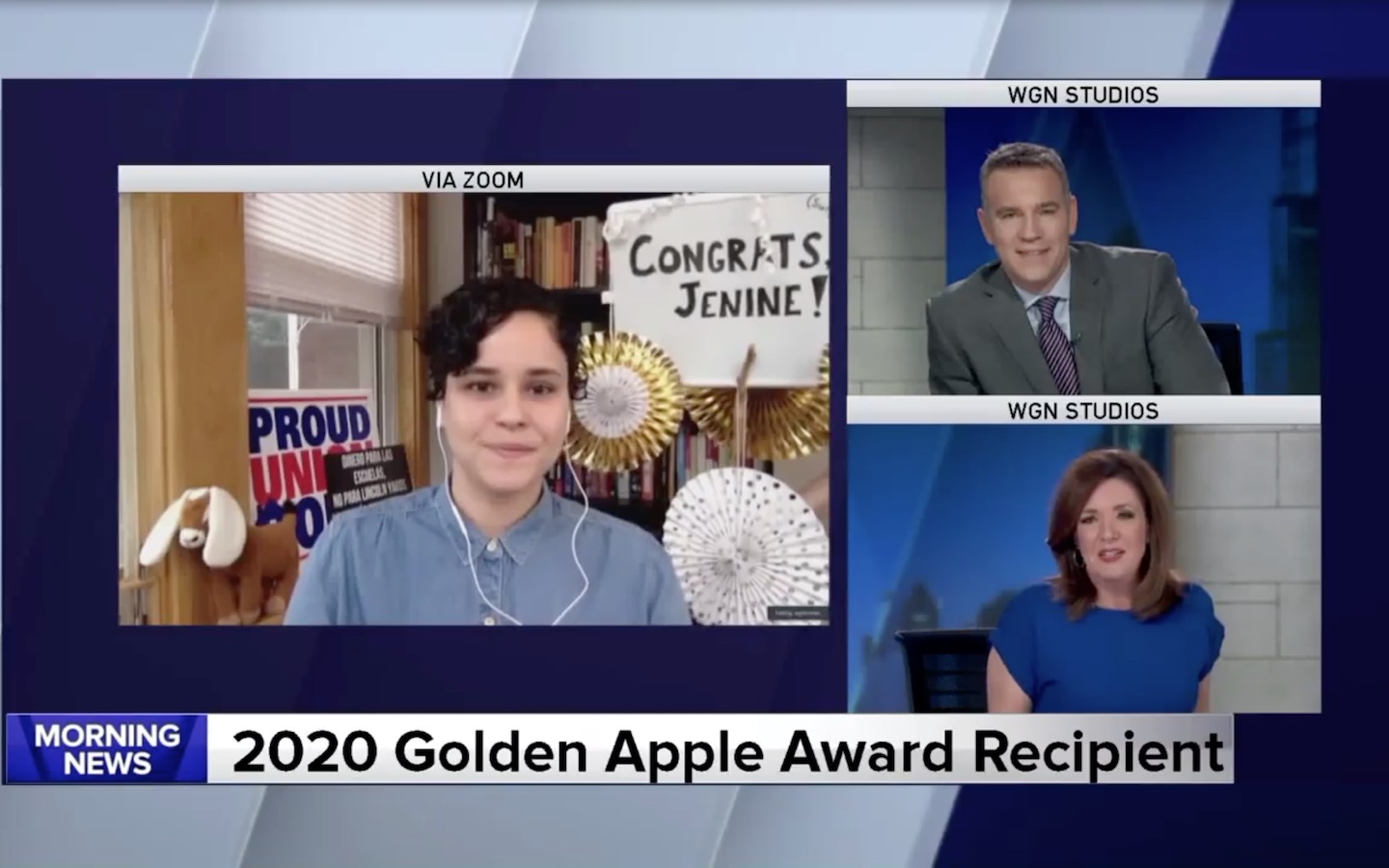 In Jenine Wehbeh's social studies classroom, lessons don't focus only on what the textbook says — instead, they cover what's left out. This May, the Roosevelt University alum was honored for her commitment to social justice education with the Golden Apple in Teaching Excellence Award.
During a live segment on WGN-TV, Wehbeh was surprised to learn that she was one of 10 Illinois teachers in grades 4-8 recognized for superior performance in the classroom and school community. She graduated from Roosevelt with a master's degree in elementary education in 2016.
"The outpouring of love and support was very heartening," Wehbeh said of her nomination. "It solidified that there's purpose in what I'm doing."
Exploring the Narratives that Matter to Students
Wehbeh teaches seventh and eighth-grade social science at John B. Murphy Elementary School in Chicago's Irving Park neighborhood. Her lesson plans bring a critical lens to textbooks and the marginalized communities they exclude. Through research projects, she encourages students to explore the narratives that matter to them — their voices, their passions and current events in their worlds.
"We study our own histories and chart our own trajectories," said Wehbeh. "My administrators are incredible and justice-oriented. People really support the students and the work that we do."
When Wehbeh's students read Angie Thomas' novel The Hate U Give, the Roosevelt alum grounded their lesson plans on police violence in Chicago and the story of Laquan McDonald to connect the book to the world around her students. To her middle schoolers, the lessons felt personal and emboldening.
Her classes also conducted an intensive study on indigenous history in the city and invited the American Indian Center of Chicago to speak at Murphy Elementary School. Her students worked diligently on projects to abolish Columbus Day, joining a critical mass of students and educators across the Chicago Public Schools system. In February, CPS officially announced that schools would celebrate Indigenous People's Day.
A Lifetime of Activism
Wehbeh grew up as a youth organizer, deeply involved in social justice work around immigrant rights, racial justice and access to education. She chose the Roosevelt master's program in elementary education for the University's deep social justice roots.
"I realized while I was doing my undergraduate work that the most inspired, empowering, active and passionate I've felt was working with young people," she said.
At Roosevelt, Wehbeh continued her work to dismantle the school-to-prison pipeline. Through the Illinois Safe School Alliance, she taught young people how to organize for their right to a high-quality education. Professor emeritus Judy Gouwens nominated the alum for the school's Matthew Freeman Social Justice Award to honor her work.
"Judy really invested her time in understanding the work that I was passionate about and nurturing that," Wehbeh said. "That experience shows the impact of having a professor or a teacher that invests their time in you."
In Gouwen's courses, Wehbeh had a space to critically discuss race, justice and economic disparities in the classroom. Sessions encouraged students to challenge what a lesson plan should look like and push back against what Wehbeh called the "textbook mantras" of education.
Teaching in the Time of Coronavirus
As a youth organizer, Wehbeh worked with young people who were already passionate about the cause and eager to get involved. As a middle-school teacher, her work today requires drawing students in and encouraging them to engage. It also involves more bulletin boards.
During the pandemic, Chicago Public Schools moved all instruction online, introducing new challenges to teachers' relationships with students. The health care crisis has only exacerbated inequities that cut across the city's schools and communities.
"There's such a huge disparity in access to education," Wehbeh said. "During a time of crisis, all of those disparities show themselves in a far more glaring way. But the reality is that those disparities have been there since the beginning of the system of education."
Amid the pandemic, Wehbeh's primary goal as a teacher has been to create a human connection with the young people she teaches — to respect the real stresses and anxieties they and their families face. In a recent lesson, she used the Mikva Project Soapbox curriculum to help students write speeches about issues they cared about, and the young people presented over Google Meet.
"When you're coming in as a teacher, your job is not just to write lesson plans," she said. "It's so much more expansive than that."