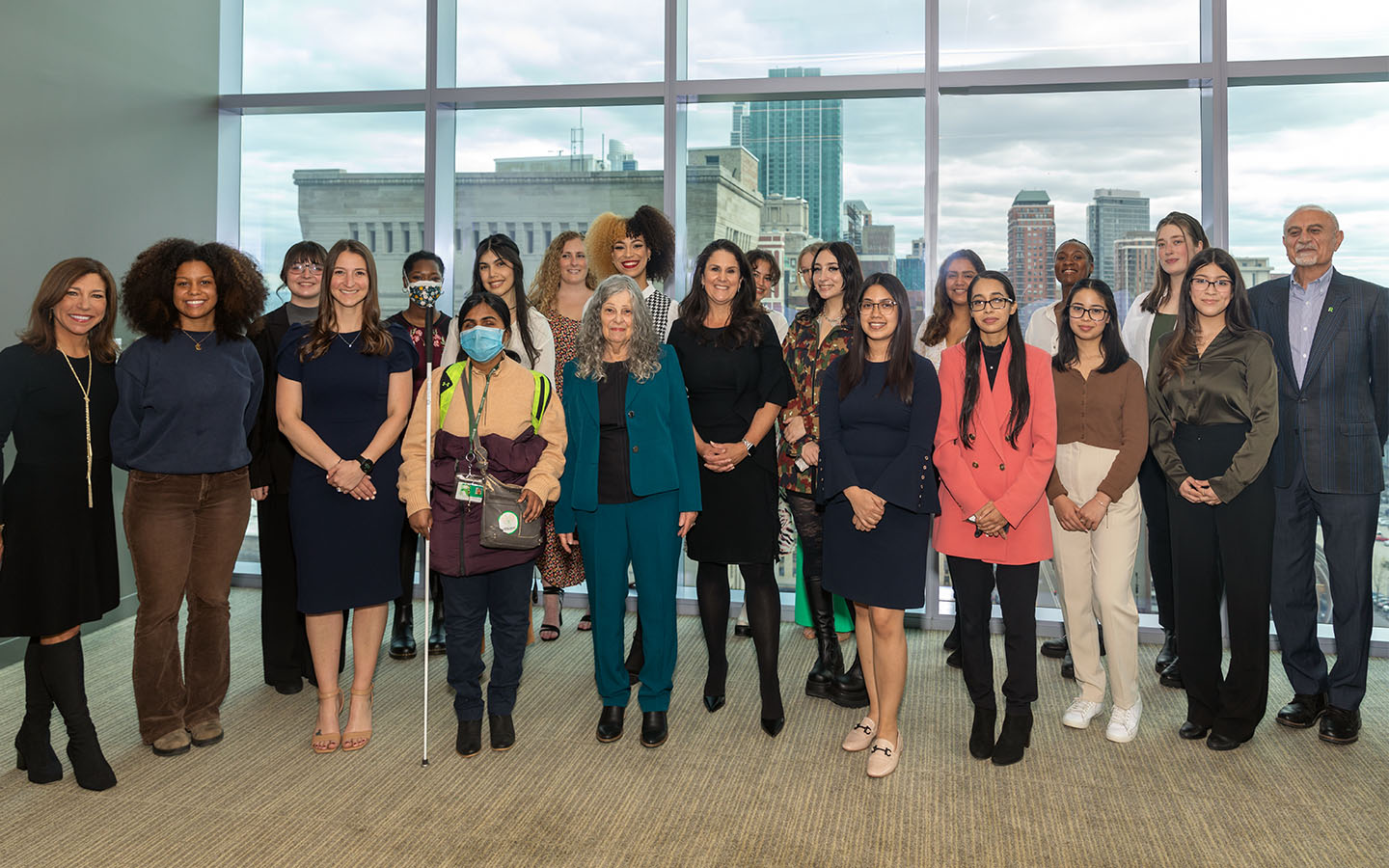 Over appetizers and heartfelt toasts, the Joan Deutsch Herczeg Scholars welcomed nine new scholars for the fall and said goodbye to the first program graduates.
Deutsch Herczeg Scholars receive $5,000 scholarships to support their growth as leaders. The program welcomes students to professional development events and pairs them with one-on-one mentors in the Roosevelt Women's Leadership Council.
This fall, the program will bring in a new group of students and continue scholarships for rising seniors, supporting 15 emerging leaders in total. The diverse, talented group of young women includes Honors students, social justice advocates, aspiring healthcare workers and creative thinkers.
"These women are so impressive," said Roosevelt trustee Larissa Herczeg, who founded the program and cofounded the Women's Leadership Council. "It's humbling to meet them and see what they've already accomplished. My wish for scholars is that this becomes a powerful network."
Deutsch Herczeg Scholars participate in educational and professional development activities, mentorship, and receive a $5,000 scholarship.
At a reception held on the 13th floor, looking out over downtown Chicago, the Women's Leadership Council sent off graduating students in style. Sariah Bolden, Sunyata Courie and Poonam Rahman are the first Deutsch Herczeg Scholars to earn their Roosevelt degrees.
"My mentor has shown me the pathway to getting where I need to be," said Courie. "Previously, I was really nervous, because I didn't know what steps you were supposed to take."
For the three graduates, the end of the program was just the beginning of their leadership story.
Welcome the new Joan Deutsch Herczeg Scholars:
Kimberly Catalan, nuclear medicine technology
Grace Hahn, biochemistry, Honors program
Salma Mardi, English and psychology, Honors program 
Mia Moore, history, Honors program
Kai Muhammad, graphic design
Kayla Rodriguez, radiation therapy technology 
Kaitlin Ryndak, social justice studies
Alondra Salazar Cruz, criminal justice
Onteya Zachary, social justice studies, Honors program
And congratulations to continuing scholars:
Kaltra Demiri, mathematics, honors
Kennedy Gale O'Connor, biology, honors
Adaly Navarro, psychology
Lilly Pribish, psychology, honors
Maria Rivera, finance, honors
Elizabeth Sprecher, piano performance and creative writing, honors
This program is supported by Roosevelt's Women's Leadership Council.