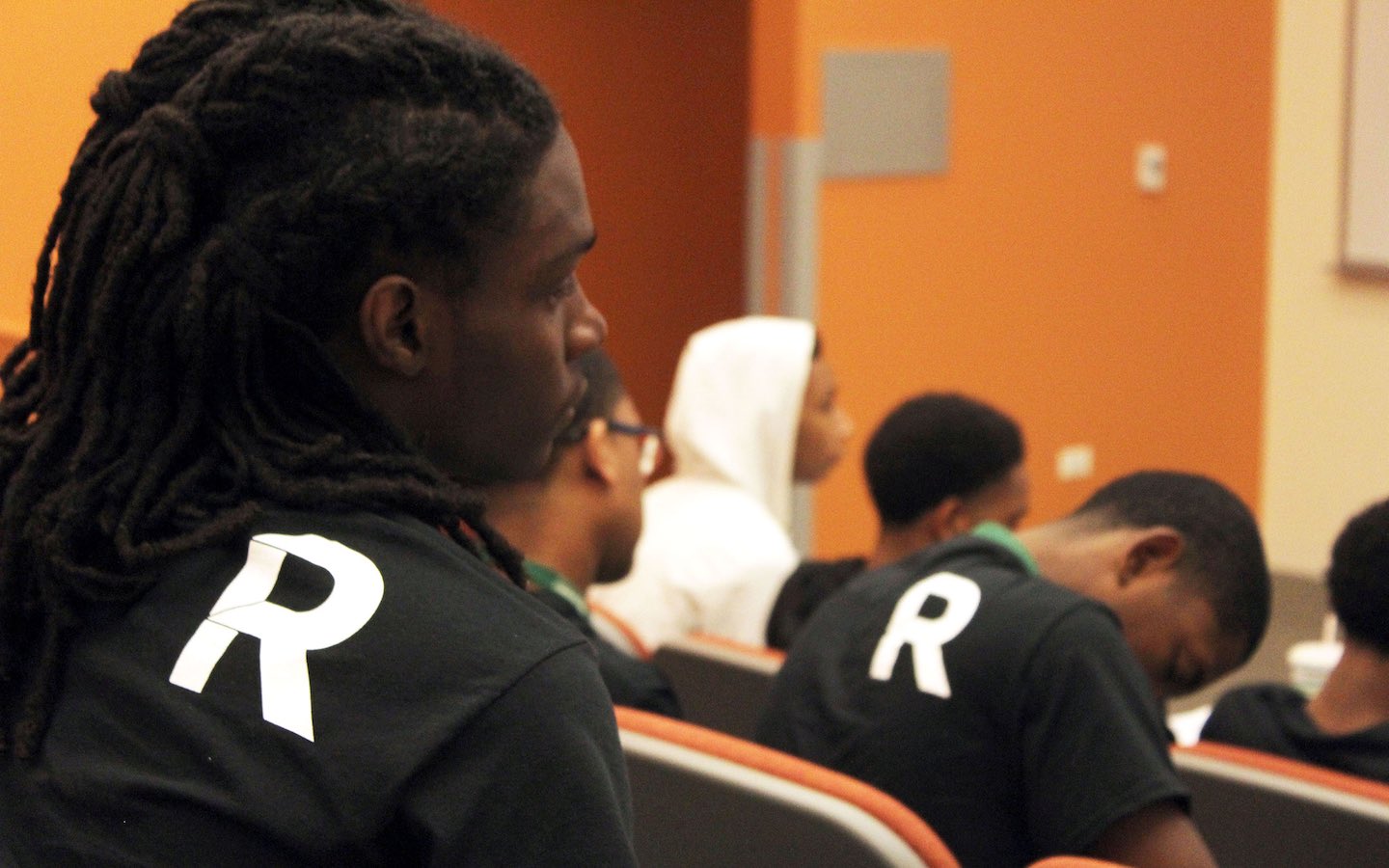 Since 2014, Roosevelt University's St. Clair Drake Center for African and African American Studies has sought the next generation of leaders by engaging promising black sophomore high school students in community-based programs and other experiential learning opportunities.
In its fourth year, the center's Black Male Leadership Academy welcomed back some first attendees of their program as first-time mentors.
"Before the program, I wasn't really focused on academics, I was focused on sports — basketball," said Charles Boyd, a Roosevelt first-year who attended the first Summer Institute in 2014. "But by the beginning of basketball season I broke my leg, so I needed a change of plans."
From its inception, the BMLA's goal has been to build leadership skills and the intellectual, cultural and social capital of young black men in Chicago. In order to increase the odds of the attendees attending — and succeeding — in college and beyond,  Summer Institute attendees stayed in touch throughout the year with a monthly meeting called "Second Saturdays."
When the program was founded, Dr. Al Bennett, director of the center, said he initially wanted the Drake Center to do more community outreach. "As I looked for opportunities, I began to think about black boys and wondered what we as an institution could do to help prepare them to go out in the world and be successful," he said.
For Boyd, the academy was a literal game-changer. "Coming into a place where there were so many older people, experiencing a college environment and whether it could be a place I would fit — I saw all the opportunities I was missing out on," Boyd said. "My mentors showed me that we can rise above the statistics without sports being the only way out — school can be the way, too."
This year, Boyd, who plans to double major in journalism and psychology at Roosevelt, returned as a first-time mentor to the 2018 Summer Institute, ready to share his experiences with the new students and help move them out of their comfort zones.
Along with returning attendees like Boyd, a few new faces found their way to the Black Male Leadership Academy program as mentors. Jonathan Talley, a political science major at Roosevelt and Chicago native, was one of them.
"I've volunteered with children in some way or another since I was a teenager," Talley said. "When I heard about this opportunity through Dr. [Michael] Ford, I knew it would be something different and interesting."
This year, students and mentors were challenged out of their comfort zones on a camping trip. As an experienced mentor, Talley knew he had to establish trust through understanding, especially in this situation.
"My group was hesitant when we heard we were going camping and a few of them didn't want to go," Talley said. "But I talked them through it. I told them that I was right there with them — and I'd never done anything like that before either! If they were seeing spiders and bugs crawling on everything, I was seeing spiders and bugs; if they were getting swarmed by mosquitoes, I was getting swarmed by mosquitoes, too! I was right there with them, and we were going to get through it together."
Insects aside, camping ended on a high note. "We got to sit around the fire, make s'mores and talk," said Tyler Moore, a first-time attendee. "You wouldn't think we had much in common, but sitting around a campfire we found out just how much we had in common. It didn't feel like I'd met these dudes two days ago — it felt like I've known them forever."
Back in the city, the BMLA students took African Studies courses, visited the Loop Capital offices to learn financial planning basics, and explored parts of the city they'd never seen before.
"The Loop Capital was my favorite part! I've been to a lot of programs before, and they never taught us anything practical," Moore said. "Mostly we'd sit in a circle and get talked at, like we were a bunch of bad kids. BMLA taught me so much about my own history and culture. I never knew about black people having wealth, power and influence. Taking the African Studies course [at Roosevelt], I was shocked at how little I knew about my own people."
Like Boyd, Moore's initial focus was also on sports. "I wanted to major in history, but I was thinking I'd go [to college] on a sports scholarship. We keep getting told that the only way out is through sports — if you can run or jump, you can get out," Moore said. "In my junior year of high school, I told my mom I wanted to try for academic scholarships instead."
For Moore, the new possibilities have inspired his future beyond academics. "When I got to BMLA, I knew this was the better way to go. I realized I can get out with my mind. I want to rise above the statistics — and I am," he said. "I'm doing better than the statistics, and now I want to go back home to help my friends do better and take care of our community."