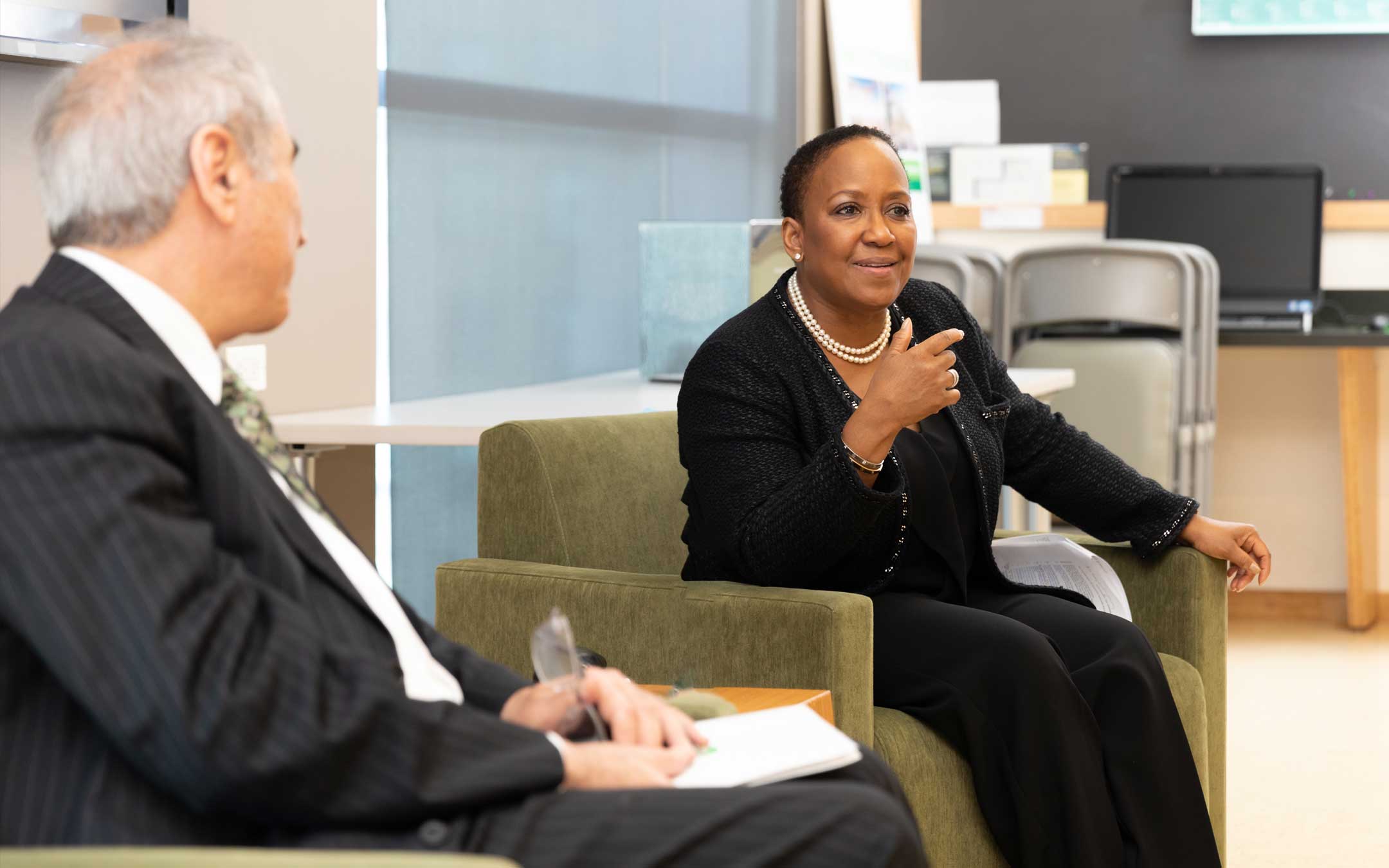 By the time Vicki Fuller (BSBA '79) left her position as Chief Investment Officer of the New York State Common Retirement Fund in early 2018, she had grown it to $207.4 billion in assets — an increase of about 38% net of all fees, expenses and retirement payments as of March 31, 2018, according to the Office of the New York State Comptroller.
The 2019 Heller College of Business Executive-in-Residence credited her studies at Roosevelt University and Heller College of Business as foundational experiences that gave her many advantages in her career.
Growing up, Fuller had a difficult childhood. Searching for the "whys" to reconcile these experiences, she wanted to think about things in a philosophical light.
"I still remember my mom's face when I told her I was going to major in philosophy," said Fuller. Her mother, Edna Fuller, a bookkeeper and head of their household, replied, "Well, how are you going to eat that?"
Eventually, mother and daughter struck a deal: Fuller would major in accounting and minor in philosophy.
"I believe now that we both were right," said Fuller. "Accounting opened the doors to the world of finance, asset management and asset allocation, but philosophy gave me the tools to ask the question why — to look at the complete picture and think from the end. That, I believe, was my edge."
It wasn't just Roosevelt's academic environment that gave her this edge, according to Fuller, but the diversity of her classmates, who came from all over the world. This sudden, early exposure to different cultures, languages, people and ideas would all influence Fuller's understanding of the world, and how her work impacted it.
Following Roosevelt, Fuller completed a master's degree in business administration at the University of Chicago and was immediately recruited to Morgan Stanley. The position proved to be a challenge, and Fuller learned some key lessons that became grounding principles of her career.
"I learned that I needed to fully research opportunities before saying yes," she said. "I also learned to call out things that were wrong, and treat staff as valued assets."
During her tenure at Morgan Stanley, Fuller also realized her interests lay in investing capital. So, when she moved on to Standard and Poor's (S&P), she joined as a rating officer to gain professional analytical experience. S&P taught her how to analyze holistically — not just financially, but strategically — and to get a complete picture of all the critical variables that should be considered when making investments.
Drawing on her philosophy background, Fuller learned about the totality of the investment process from start to finish, acquiring a comprehensive understanding of all the moving pieces involved.
"Accounting opened the doors to the world of finance, asset management, and asset allocation, but philosophy gave me the tools to ask the question why — to look at the complete picture, and think from the end. That, I believe, was my edge."Vicki Fuller, BSBA '79
From S&P, Fuller was recruited to Alliance Capital, which would become AllianceBernstein. At AllianceBernstein, Fuller managed high-yield, emerging markets and global high-yield portfolios that totaled $10 billion.
She gained an international reputation for her strategic investment approach, and was lauded for managing funds with superior performance. Simultaneously, Fuller broadened her investment managerial mantra of "strategy, research and analysis," to also include her six strategic leadership principles that guided her decisions as a leader.
Six Principles for Success in Business and in Life
Treat people as valued assets.
Embracing diversity yields superior results.
Employ a holistic approach to investing, whatever you do.
Accept the reality that you will be wrong. Plan for it.
Leverage obstacles to propel yourself forward; failure is a great fertilizer.
Say yes to the stretch opportunities early. Aim beyond your grasp.
Riding this wave of career success, Fuller joined the New York State Common Retirement Fund in August 2012. Her experience and insight grew the Fund profitably, maintaining its status as the third-largest public pension plan in the United States during her six-year tenure.
Fuller was also recognized as an industry leader in incorporating environmental, social and governance factors in the Fund's investment process. Under her leadership, the Fund also greatly expanded its minority- and women-owned business investment programs. When she retired from the New York State Common Retirement Fund in 2018, Fuller wasn't done yet — it was just the beginning of a new chapter.
Fuller joined the board of directors for The Williams Companies Inc. shortly after retiring. "I had been on a board when I was 38 years old and greatly enjoyed the experience of representing shareholders," said Fuller. "So, going back to boards was something I always knew I wanted to do."
A few months later, she also joined the board of the Fidelity Equity and High-Income Funds. "I wanted to be on boards that were committed to diversity, inclusion, and continually improving the processes of their organizations to be sustainable generators of return."
Today, Fuller is writing a book, accepting select speaking engagements, and considering teaching. When asked for advice, she encourages all students at Roosevelt to consider the whole picture; to develop themselves as enlightened people — not just professionals — as they build their careers.
Learn more about Roosevelt University's business programs.