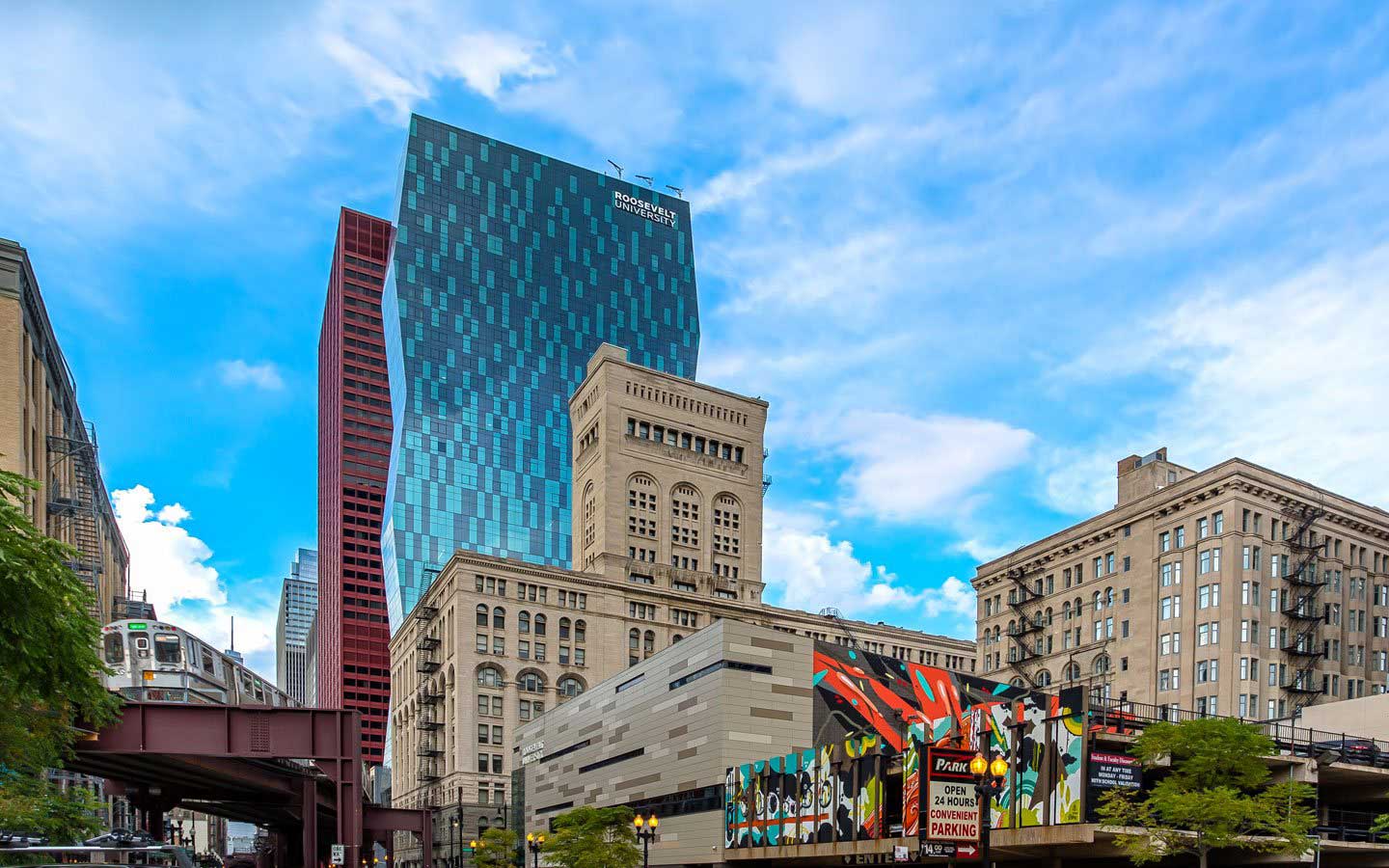 More than five decades ago, the Civil Rights Act outlawed discrimination by race, gender and religion. But the path to equal opportunity in the workplace hasn't been simple.
Joyce Tucker, an advisory board member of the Roosevelt University Women's Leadership Council, shares some thoughts on progress toward diversity, inclusion and equity over her 30-year career.
Tucker is the former vice president of global diversity and employee rights at The Boeing Company. She is a nationally recognized expert in equal employment opportunity (EEO) and affirmative action in both the public and private sectors. Tucker also recently joined the Roosevelt Board of Trustees.
Roosevelt trustee and advisory board member Joyce Tucker
What was it like working with Mayor (and Roosevelt alum) Harold Washington?
Working with Harold was a once-in-a-lifetime experience which I have never and will never forget. He helped shape me as a leader and made me want to do the same for others.
I first met Harold when I was acting director of the Illinois Department of Equal Employment Opportunity, one of the three agencies being merged to form the new Illinois Department of Human Rights.
According to Governor Thompson, it was Harold who advised him that despite a nationwide search to solicit candidates for the director's position, I was the best candidate and the governor should select me. He did. To help ensure my success, Harold introduced me to all of the individuals, politicians and community activists alike whose support he thought I would need.
Harold made himself readily available to coach, advise and encourage me as he transitioned from State Senator to Congressman and finally Mayor. I was always awed by his leadership, brilliance, commitment to serve, dedication, tirelessness, flair with language and approachability.
How have protections against workplace discrimination evolved?
The landmark Civil Rights Act of 1964 prohibiting job discrimination helped America take significant steps toward opening up employment opportunities for minorities and women. However, this law meets up with continued historical and institutional resistance, and needed additional support and enforcement.
Civil rights policymakers recognized that EEO laws alone could not "rectify the present effects of past discrimination." Coupled with affirmative action, measurable progress could be made.
And some was. I experienced affirmative action efforts being attacked from their beginnings. Relentless and unjustified assaults were waged in the courts and through widespread negative and distorted propaganda. EEO and affirmative action programs were not only undermined but eroded.
Civil rights advocates tried to address this hostility by renaming their efforts "Diversity and Inclusion" and focusing on business reasons rather than moral obligations. Some corporate leaders recognized that to be competitive in the 20th century, they had to reach out to those who were going to make up the majority of the workforce.
The new civil rights movement coming out of the Black Lives Matter movement is young, diverse and committed to equality. I am hopeful that the slowly moving and long awaited change will finally take place.
None of the effort has been in vain. At each stage some progress has been made, however it was slow and not enough to close the gap. I'm hopeful that we will finally get there.
What strategies have you used to navigate change?
Effectuating change is something that I've had to confront in all of my leadership jobs. In several instances, I was responsible for merging programs or independent organizations into one larger agency. Most individuals were not pleased, because their previous culture and the autonomy that they once enjoyed was being changed dramatically.
The first thing that I did was meet with each group to hear their concerns and invite individuals to reach out to me if they had concerns they did not want to share in a group setting. Next, we established teams to develop an action plan that would help us identify areas of change and things that were working well. We worked together to create a template that could be used to establish an enterprise strategy.
Then we brought in a cross-section of stakeholders. I learned that in order for folks to buy into the direction that you wanted to move in, they have to feel as if they had some "ownership" in crafting or a least giving input in the direction you would take.
When we got down to rolling up our sleeves and doing the work, we were no longer strangers and were becoming one culture. Nothing is as easy as it sounds and not everyone adjusted. The team that was left worked better because of the important time spent to bring them together as well as include them in creating the organization that they would be part of.
Why did you get involved with the Women's Leadership Council?
Roosevelt University's work to help advance the education of minorities and women is legendary. I was also inspired because my 93-year-old uncle attended Roosevelt College in 1948, only three years after it first opened.
My understanding of the University's background and mission, his connection and high praise for his alma mater, as well as my respect for Pat Harris, made me accept this invitation within hesitation.
What are your hopes for the Council?
I hope that the Women's Leadership Council would provide women with the opportunity to share challenges, enhance leadership skills and develop a network of women and resources that will help enable them to be more successful in their career aspirations. This will help the business community by expanding the pool of more easily identifiable and confident women ready to assume leadership positions.
The greatest impact will be the identifiable pool that have a support system that they can reach out to throughout their careers.
What was the best early career advice you received?
The most important career advice that I received was from my grandmother. She told me to believe that I could accomplish anything that I wanted to accomplish and to work harder than anyone else to make sure I achieved it.