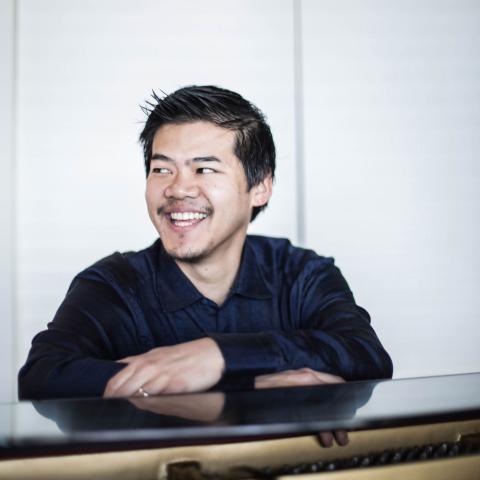 Chicago College of Performing Arts
» Music Conservatory
About Me
Canadian pianist Winston Choi is Associate Professor of Piano and the Head of the Piano Program at Roosevelt University's Chicago College of Performing Arts. His professional career was launched when he was named Laureate of the 2003 Honens Piano Competition and winner of France's Concours International de Piano 20e siècle d'Orléans in 2002. An inquisitive performer, his fresh approach to standard repertory, and masterful understanding, performance and commitment to works by living composers, make him one of today's most dynamic young concert artists.
Choi maintains an active international performing schedule. In demand as a concerto soloist, orchestras he has appeared with include the Alabama Symphony Orchestra, the Calgary Philharmonic Orchestra, the CBC Radio Orchestra, the Champaign-Urbana Symphony Orchestra, the Cheyenne Symphony Orchestra, the Civic Orchestra of Chicago, the East Texas Symphony Orchestra, the Elmhurst Symphony Orchestra, the Fort Collins Symphony Orchestra, Orchestra Iowa, the Kitchener-Waterloo Symphony Orchestra, the Kamloops Symphony Orchestra, Orchestra Iowa, the New Philharmonic, the Northwest Indiana Symphony Orchestra, the Peninsula Music Festival Orchestra, La Orquesta Sinfónica Nacional de Colombia, the Symphony Orchestra of Oak Park and River Forest, l'Orchestre Symphony d'Orléans, l'Orchestre National de Lille, the Mississauga Symphony Orchestra, the Peninsula Music Festival Orchestra, the Richmond Symphony Orchestra, and the Victoria Symphony Orchestra.
Known for his colorful approach to programming and insightful commentary from the stage, Choi has recently appeared in recital at the National Arts Centre of Canada, the Glenn Gould Studio in Toronto, New York's Carnegie-Weill Recital Hall and Merkin Recital Hall, the Kennedy Center and the Library of Congress in Washington D.C., the Kravis Center in Florida, and the "Cicle Grans Solistes" in Spain. Choi performs extensively in France, having played venues such as the Salle Cortot, Lille's Festival Rencontre Robert Casadesus, the Messiaen Festival, and the Strasbourg Festival. Frequently in demand throughout his native Canada, his numerous performances can often be heard on CBC radio broadcasts. Recently, he toured Eastern Ontario and Quebec under the auspices of Jeunesses Musicales and embarked on a 10-city Prairie Debut tour of the Canadian Prairie provinces. An accomplished chamber musician, he has performed with the Aeolus, Avalon, Philomusica and Spektral string quartets He also tours regularly with the Civitas Ensemble, and as a part of Duo Diorama (with his wife, violinist MingHuan Xu). As Duo Diorama, they are the Artistic Directors of the Unity Chamber Music Series held at the Unity Temple in Oak Park, IL.
As a dedicated champion of contemporary music, Choi has premiered and commissioned over 100 works by young composers as well as established masters. A composer himself, being involved with the creative process is an integral part of his artistry. He was the first pianist to perform Pierre Boulez's last version of Incises in North America and made the South American premiere of Luciano Berio's Sonata for pianoforte solo. He also regularly appears in concert at IRCAM, the world's most renowned institution for contemporary music. Composers he has collaborated with include William Bolcom, Elliott Carter, John Corigliano, Brian Ferneyhough, Jacques Lenot, George Lewis, Esa-Pekka Salonen, Bright Sheng, Christian Wolff, Chen Yi and John Zorn. He is also a core member of Ensemble Dal Niente. A frequent performer on the Chicago Symphony Orchestra's MusicNOW Series, Choi has also performed with Contempo and the Fulcrum Point New Music Project.
A prolific recording artist, Choi's debut CD, the complete piano works of Elliott Carter (l'Empreinte Digitale in France) was given 5 stars by BBC Music Magazine. He has also recorded the complete piano music of Jacques Lenot for the Intrada label, having won the Grand Prix du Disque from l'Académie Charles Cros for Volume I. His recording of the piano works of Thomas Adès was recently released on the Buisonne label. Other labels he can be heard on include Aeolian Classics, Albany, Arktos, BIS, Cedille, Crystal Records, Naxos, New World Records and QuadroFrame.
Choi obtained his Bachelor and Master of Music from Indiana University, and his DM from Northwestern University. His studies were with Vivienne Bailey, James Tweedie, Menahem Pressler and Ursula Oppens. An accomplished teacher, Choi is also in demand as a master class clinician and lecturer on a variety of pedagogical topics. Two of his presentations: "Towards a More Organic Approach to Phrasing at the Piano" and "Symmetrical Inversion: A Pianist's Journey Towards Ambidexterity" have been presented nationally and internationally at conferences. Prior to his position at Roosevelt University, he was on the faculties of Bowling Green State University and the Oberlin Conservatory. He has been a guest professor at Indiana University, and he also currently teaches at the Academy of the Music Institute of Chicago as well as the New Music School in Chicago.
Degree Program Affiliations