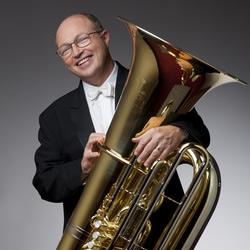 Chicago College of Performing Arts
» Office of Music Conservatory
About Me
Gene Pokorny has been a tuba player in the Chicago Symphony since 1989. He has previously also been a tuba player in the Israel Philharmonic, Utah Symphony, St. Louis Symphony and Los Angeles Philharmonic. In addition to playing film scores in Hollywood such as Jurassic Park and The Fugitive, he has played in chamber music, opera orchestras and orchestra festivals worldwide.
He grew up in Downey, California, about a mile from where the Apollo command modules that first took man to the moon were built. He studied tuba in Southern California with Jeffrey Reynolds, Larry Johansen, Tommy Johnson and Roger Bobo.
When he isn't counting rests in the back row of the stage of Orchestra Hall, Pokorny may be found playing with the Do-It-Yourself Sousa Band (3rd clarinet section). In recent years, he has annually returned to Southern California giving seminars in low brass artistry at the University of Redlands with trombonists Dr. Andrew Glendening, Michael Mulcahy and Randy Hawes. He assisted Rolling Stones' trombonist, Michael Davis, in the production of his "Twenty Minute Warm-Up" along with having solo and educational CDs of his own. He has received an Outstanding Alumnus Award and an Honorary Doctorate from the University of Southern California and University of Redlands, respectively.
Degree Program Affiliations