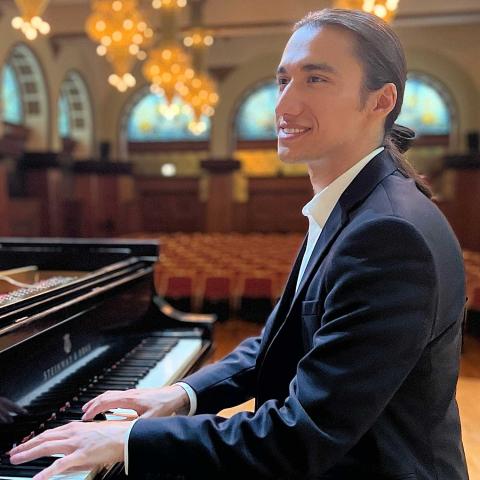 Assistant Teaching Professor of Musicianship
Program Director of Jazz and Contemporary Music Studies
Chicago College of Performing Arts
» Music Conservatory
About Me
Born into a musical family, Alejandro was always surrounded by the music of Mexico and Latin America. He first learned to sing and accompany himself on the guitar, and then developed a strong interest in the piano and began private instruction at the age of seven. As a member of the United Community Center's Latin Jazz band in Milwaukee, he was introduced to the music of Tito Puente, Mongo Santamaría, and Sergio Mendez, which set the course for the rest of his musical journey. 
Alejandro received his bachelor's degree in Jazz Piano Performance from the Chicago College of Performing Arts at Roosevelt University. Studying with renowned musicians including Jim Trompeter, Edwin Sanchez, and Ruben Alvarez gave him a unique educational experience which solidified his musicianship and strengthened his ability to communicate the marriage of Afro Cuban rhythms and complex jazz harmony. 
Since graduating in 2014, Alejandro has free-lanced steadily in Chicago's Jazz, Latin Jazz, and Salsa scenes. He can be seen performing a wide range of styles from American Pop and Jazz to Afro Cuban, Brazilian, and Peruvian folk music. Notable performances include concerts with international salsa singers Kayvan Vega, Willito Otero, Nino Segarra, Willie Gonzalez, Yoko "La Japonesa Salsera," and legendary trumpeter and arranger Luis "Perico" Ortiz. Alejandro is a regular performer at Chicago's major music festivals including the Chicago Jazz Festival, Latin Jazz Festival, and the Puerto Rican, Cuban, Colombian, and Peruvian cultural festivals. 
Alejandro has kept a successful private piano studio in Chicago since 2014. He joined Roosevelt University's Jazz faculty in 2018 and was appointed Program Director of Jazz and Contemporary Music and Assistant Teaching Professor of Musicianship beginning in the fall of 2023. 
Topic of Expertise
Latin Jazz & Afro-Caribbean Music