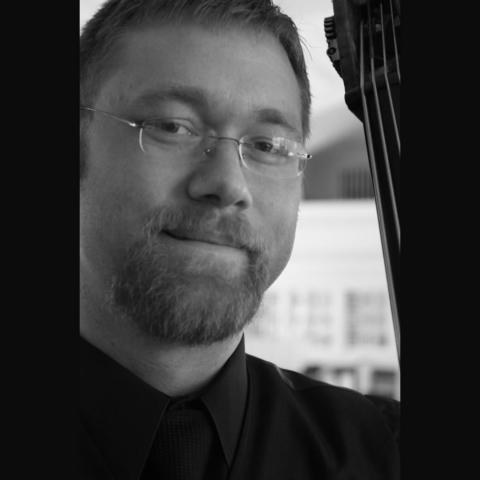 Chicago College of Performing Arts
» Office of Music Conservatory
About Me
Andrew Anderson enjoys an active career as both a performer and educator in Chicago performing over 130 concerts per year. He is a member of the Lyric Opera of Chicago Orchestra and the Grant Park Orchestra. He has held positions in twelve different orchestras across seven states, serving as principal bass in four of them. Mr. Anderson performs with a wide range of ensembles including; Music of the Baroque, the Chicago Philharmonic, and the Ravinia Festival Orchestra. In these ensembles Mr. Anderson performs music from every conceivable style, era, and genre with musicians of the highest quality.
In addition to holding bass faculty positions at CCPA and the Wheaton Conservatory at Wheaton College, Mr. Anderson run a thriving private studio that expands every summer with students returning home to Chicago from some of the top college studios in the country. Mr. Anderson has been pleased to work with students from Indiana University, New England Conservatory, Rice University, Colburn, and the University of Michigan in his private studio. The syllabi and other materials for his studios can be viewed at andersonbassworks.com. A four hour extemporaneous video session of Mr. Anderson was made into a ten part YouTube series on bass technique produced by contrabassconversations.com. These videos have collectively been viewed over 322,200 times from around the globe.
Mr. Anderson works as a sectional coach at DePaul University, the Chicago Youth Symphony, and the Elgin Youth Symphony.  Since 2008, Mr. Anderson has been involved with the Elgin Youth Symphony's Chamber Music Institute as an ensemble coach. He has been a clinician at the annual Chicago Bass Festival since its inception in 2010.  Mr. Anderson also volunteers as director of a string ensemble at Westminster Christian School in Elgin, Illinois. Mr. Anderson studied under Stuart Sankey, Lawrence Hurst, Jeff Bradetich, and Dr. Larry Zgonc.