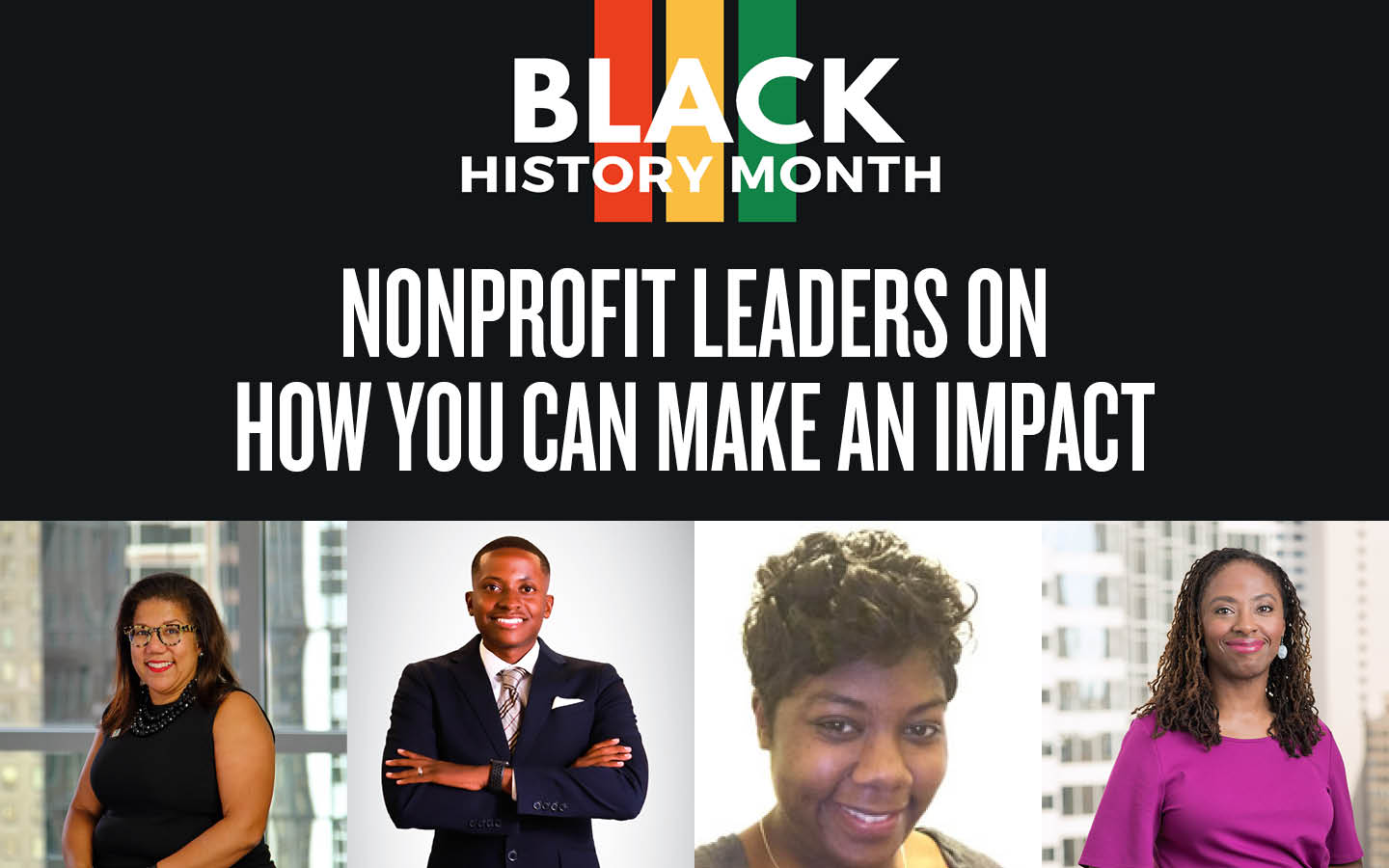 Across Chicago, leaders at nonprofit organizations do work while they do good.
During Black History Month, Roosevelt University alumni gathered virtually to explore the on-the-ground work of Chicago nonprofits. They talked about how they found their purpose in the field and how their organizations support diversity, equity and inclusion.
Read more about how you to make an impact on your community.
Working for the greater good
Even though nonprofits have a different status, they still mean business.
The national YMCA comprises 800 different 501c3 organizations and 2,600 physical buildings. As chief marketing officer, Roosevelt trustee Valerie Barker Waller creates opportunities to build the Y's brand equity.
She says that working for nonprofits is an opportunity to contribute your skills and experience to a cause that matters to you — and your community.
"Nonprofit organizations all across this country are doing real work," she said. "They're addressing real needs, whether they be in communities or with specific constituents. They're contributing to the economy just as for-profit companies do."
Jessica Hollie (BA '98, MS '02) has worked in human resources for two decades. She found her purpose with 501c3 organizations. Today, she's the chief people officer at the National Association on Mental Illness in Chicago.
"I flourish the best serving and supporting those on the front lines in nonprofit organizations because those individuals are working to ensure that marginalized or underrepresented people have a voice," she said. "That's very rewarding for me."
Tackling Health and Wellness During COVID-19
The theme of this year's Black History Month is health and wellness. During the pandemic, nonprofits created new ways to step up for the people they serve.
Marlon Haywood is the director of neighborhood and community impact at Volunteers of America Illinois. He says that community health workers have partnered with residents to help them eat healthier on their schedules and budgets.
"The pandemic hit the African American community the hardest because there were pre-existing health conditions," said Haywood. "We're helping more people in our community be more healthy, get fit."
When schools closed during the pandemic, the Y stepped in to serve breakfast and lunch and open virtual learning spaces. The organization checked in on isolated seniors and ran food drives.
Seeing a Spectrum of Identities
For organizations to spark lasting change, the nonprofit leaders said, they need to embrace diversity, inclusion and equity.
To best serve their communities, many nonprofits depend on seeing people for their full identities, as parents, students, spouses, immigrants, workers, people with disabilities.
"To me, wellness in the black community is all rooted in equity, when we're able to live our lives and participate fully in life without discrimination," said Hollie. "We are always checking on our team and advocating for their self-care."
No Impact Is Too Small
Haywood was born and raised in Englewood on Chicago's South Side. He wants to be the change he sought as a young man.
Haywood's work as a mentor started small, with a handful of young men at his university. Those personal, one-on-one connections grew into a full-time job. Since earning his doctorate from Roosevelt, he founded the Urban Male Network to reach more Black teenagers throughout Chicago.
"I didn't think that mentoring and volunteering made that big of a difference," he said. "But I saw the change in the kids and the youth that we were working with, and it really motivated me."
Three Ways to Give Back
Spread cheer with the Volunteers of America Illinois. You can write uplifting notes to seniors and veterans who live in VOA housing.
Support people with mental illness with NAMI. You can apply your research or marketing skills to help the organization reach more people in the community.
Volunteer with the YMCA. You can mentor young people, support food pantries or coach a sports team. Whatever your talents, put them to work for the betterment of the community.
About the Diversity Network
The Diversity Network educates, supports and connects our alumni community and beyond. The Diversity Network celebrates what makes Roosevelt such a vibrant place while promoting equity, diversity and inclusion to make sure that everyone feels like they belong. Join the network.