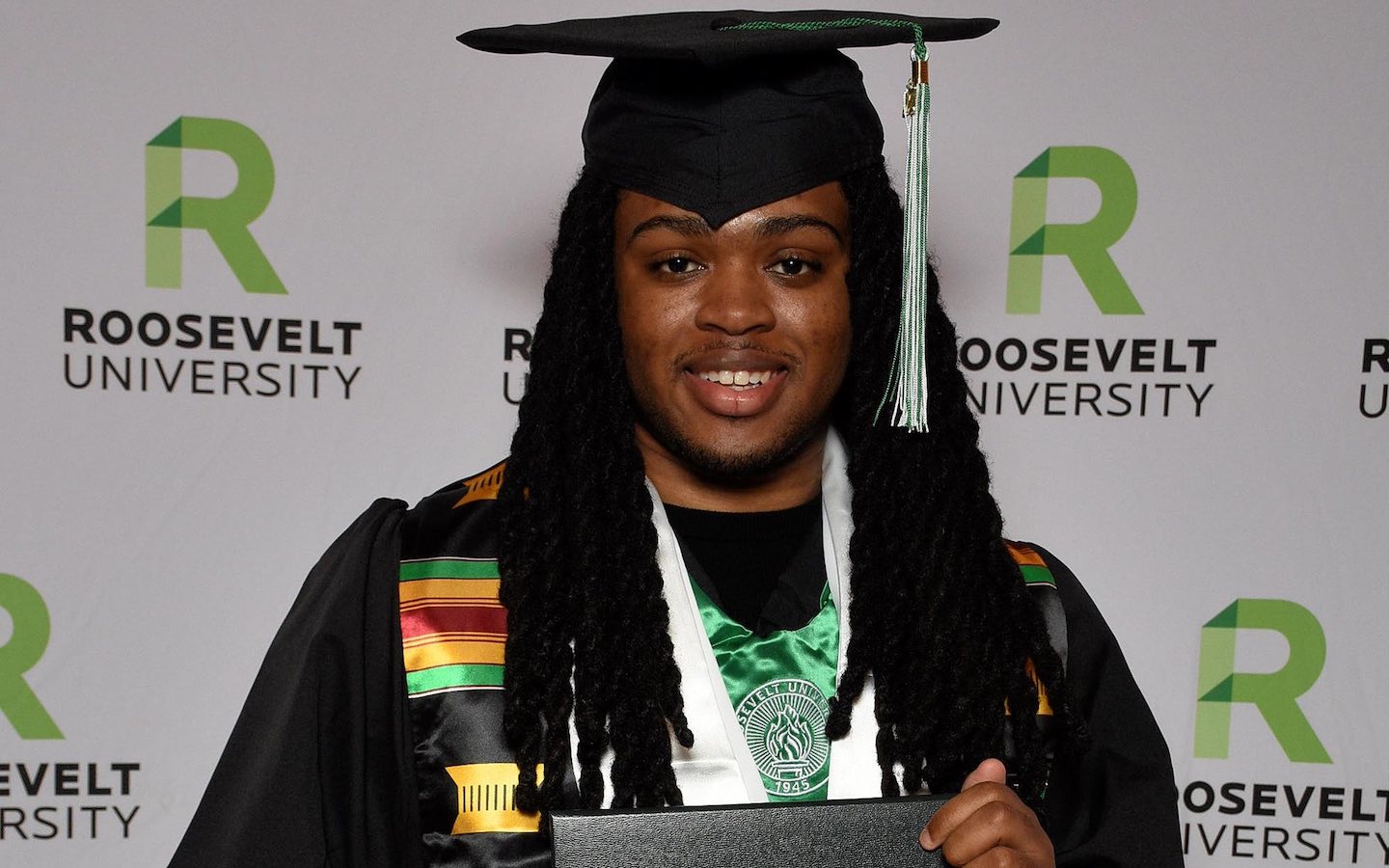 Growing up near the United Center on Chicago's West Side, Cauve Vinson dreamed of becoming a basketball player. A knee injury forced him to think about careers that incorporated his love of athletics and education.
"My mom was worried because how I wanted to go to college so badly but we didn't have the finances and resources to pay for it," he said.
Through the New Era Scholars program, Vinson found a pathway to college and a new way to pursue his dream.
When he found out about the program, he was "ecstatic," Vinson remembered. "New Era helped put me where I am now."
The New Era Scholars program, launched with a gift from Chicago philanthropist Michael Alter, supports a cohort of 25 undergraduates through their college experience. The program is open to Chicago high school students, many of whom are the first in their families to go to college.
Vinson joined the New Era Scholars program while he was a student at Wells High School in the West Town neighborhood. He took college-level classes at Robert Morris University while he was a senior, and got a taste of what to expect before he earned his high school diploma.
"I'm very grateful for the teachers that I had at Wells High School because they prepared me and shaped and molded me to participate in something like the New Era Program," Vinson said. "At first, I was scared — I thought college was going to be super hard — but it wasn't as intimidating as I thought it would be."
Through the program, scholars get a support network to answer questions about balancing their course load and preparing for graduation. Participants also get access to workshops and tutoring resources.
Students can form lasting relationships like Vinson formed with Carl Hunter, assistant director of the Office of Engagement, Equity and Inclusion.
Vinson remembers meeting Hunter at a high school orientation event. Nervous about starting college, Vinson approached Hunter with a long list of questions about what to expect. Hunter helped him narrow down the list and cross off issues he didn't have to worry about. The two stayed close throughout his time in college.
With the support of the New Era Scholars program, Vinson finished his bachelor's in three years.
This fall, he will be a reading teacher at Richard J. Daley Elementary Academy and plans to return to Roosevelt for his master's degree. He hopes to one day become a gym teacher, then a principal in Chicago Public Schools.
"I definitely want to be in Chicago because I feel like I can make an impact and make a difference," he said.