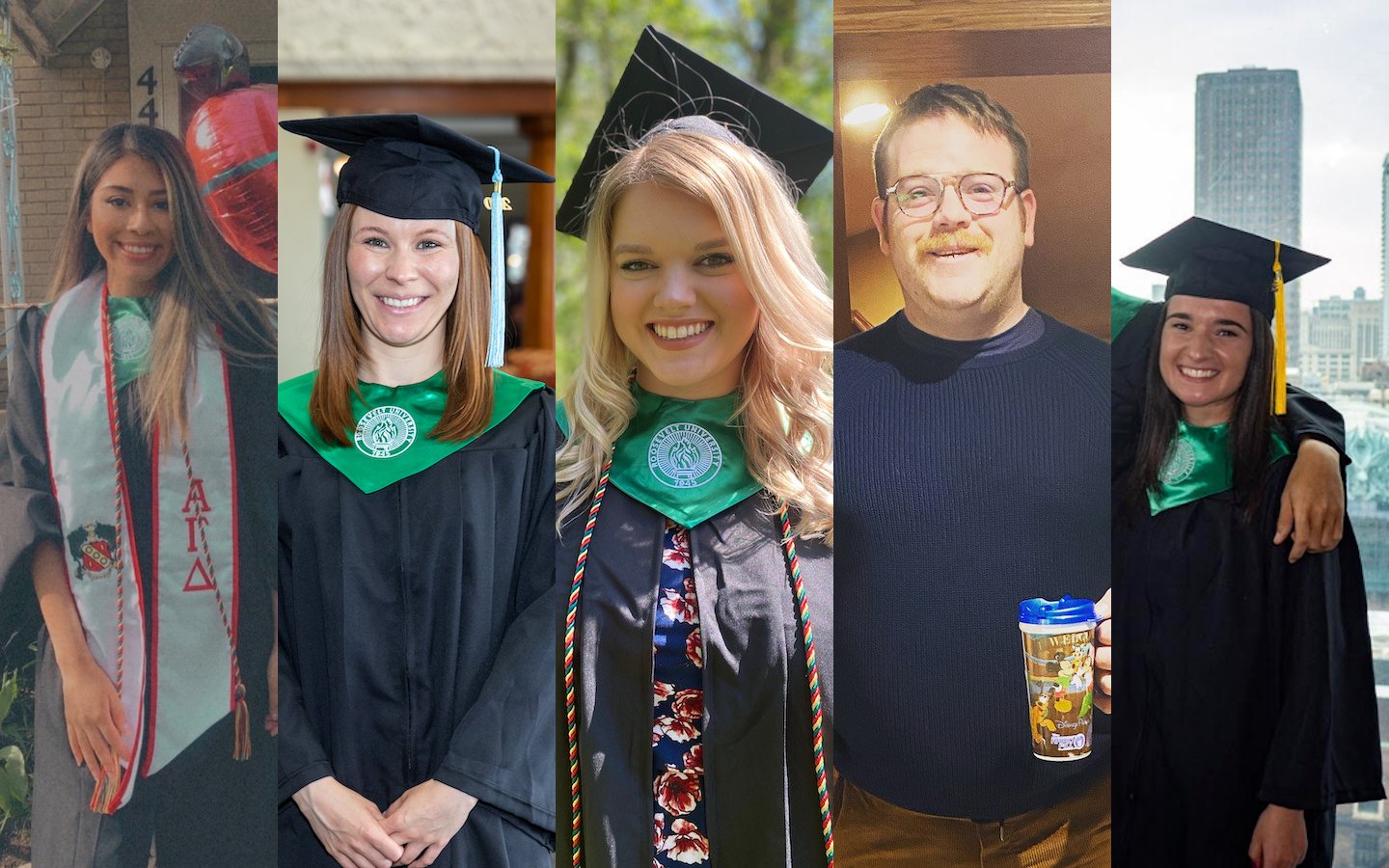 Congratulations to the Class of 2020! To celebrate Commencement, Roosevelt University College of Education graduates shared their most memorable University experiences.
DESTINI ARCEO, ELEMENTARY EDUCATION
Favorite memories: My favorite Roosevelt memory is joining Alpha Gamma Delta and participating in on-campus activities! I also enjoyed volunteering two years in a row for Roosevelt's Dual Language Symposium.
Proudest accomplishments: My proudest Roosevelt accomplishment is receiving the highest GPA in my sorority. I am also incredibly proud of making the Dean's List.
Post-graduation plans: I have recently accepted a job to teach fourth grade with Chicago Public Schools! I am hoping that we will be back in the classroom for the 2020-2021 school year. If not, I am prepared for eLearning! I am ready to change the world and to teach my students that they can change the world.
Who do you want to thank? I want to thank my professors, who gave me the knowledge and support that guided me in the classroom. I especially want to thank Elizabeth Meadows, Erin Mackinney and Margaret Policastro. I want to thank my family, boyfriend and classmates for their endless support.
I also want to thank my cooperating teacher, who allowed me to teach in her classroom until the end of the year and has given me the best experience. My biggest thanks are to the 29 students I got to teach during my undergrad because they are the reason I worked so hard to receive my degree.
Advice for the Class of 2024: My advice for the class of 2024 is nothing comes easy. You need to put in the work to get the results you want! There will be many late nights and early mornings, and I promise you will question, is it worth it? I am telling you right now, yes, it is. Utilize the free tutoring, talk to your professors and join a club!
Your college experience will flash before your eyes, so enjoy it. Eat at that new restaurant, walk around and explore the heart of the city, and attend on-campus events! I can't wait for you to experience all the fantastic opportunities Roosevelt and the city of Chicago have to offer. Good luck.
MICHAEL FLEMING, MA SECONDARY EDUCATION
Favorite memories: My favorite memories involve teaching my content area to other people in my cohort with different specialties, as well as learning from them. They always blew my mind with how smart they were, and I always loved sharing what I love about English and language arts.
Proudest accomplishments: Maintaining a 4.0 while working two jobs and being on the board of a 501(c)3.
Post-graduation plans: I am currently looking for a job teaching 5-12 English Language Arts.
Who do you want to thank? I'd like to thank all of the fantastic instructors I had at Roosevelt, particularly Dr. Linda Pincham, Virginia Brent and Catherine McVey, who made me work hard but also made it fun to come to class and develop my skills. I'd like to thank the members of my teaching cohort for being a constant source of support, and I'd like to thank all of my incredible high school teachers for inspiring me to follow in their footsteps.
Advice for the Class of 2024: Keep an open mind, never forget where you've come from, never do anything less than your best and call your mother — she's worried sick about you.
NICOLE FRANTIK, ELEMENTARY EDUCATION
Favorite memories: I have cultivated a plethora of amazing memories from my time at Roosevelt University! However, my favorite memories are those which have been shared with my sisters in Alpha Gamma Delta. From weekly chapter meetings, to fall retreat and "Friendsgiving," I have accumulated the greatest of memories with the greatest of friends.
Proudest accomplishments: My greatest accomplishment at Roosevelt University is being able to see how much I have grown these past four years. As a naive freshman, I thought I had all the answers. As I began my journey through my courses and experiences, I realized that we are always evolving and growing as humans. I am proud to see how far I have come from where I began, and I know this is just the beginning.
Post-graduation plans: I am excited to share that I have accepted a full-time teaching position in a third grade classroom! I will be teaching English and social studies to my students enrolled in the bilingual program at my school in Palatine, Illinois.
Who do you want to thank? First and foremost, I would like to thank my amazing parents and siblings for their constant love and support. I would also like to thank my friends CJ, Andrew, Destini, Nicole, Kayla and Amber, for always being there as the greatest support system. Thank you to Professor Kait Mullahey, Lilibeth Castillo, Dr. Elizabeth Meadows, and the other wonderful College of Education faculty.
Advice for the Class of 2024: Enjoy every single moment of your time at Roosevelt University. It will go by so fast. Join clubs, go to campus events and treat yourself! These are some of the greatest years of your life! Do all that you can while you have the opportunities to do so!
KATELYN JAFFE, SPECIAL EDUCATION
Favorite memories: It is hard to be selective when I've had so many amazing memories of Roosevelt. Whether it be meeting and learning from some fantastic faculty and staff, making lifelong peer friends, or paving the way to achieve my future career goals, I am forever grateful for my time here at RU! Having the opportunities for student involvement such as: Orientation Leader, FYS Peer Instructor, Resident Assistant, SPEED programming board. In addition, the ability to meet such wonderful and amazing individuals and creating lifelong friendships.
Proudest accomplishments: Aside from graduating as a first-generation college student, my proudest Roosevelt accomplishment was being selected as the Class of 2020 Commencement keynote speaker.
Post-graduation plans: I will begin working as a seventh-grade special education teacher at Bridge Elementary within the Chicago Public Schools.
Who do you want to thank? I'd like to thank my family, friends and classmates for supporting me along this academic journey. I'd also like to thank the Roosevelt community and faculty members such as: Dr. Maria Earman Stetter, Dr. Judy Gouwens, Dr. Vinni Hall, Professor Lisa Quesada, Dr. Lina Pincham, Dr. Becky McTague, Dr. Amanda Warnhoff and Dr. Ji-hay Park. These individuals and so many more have always shown me a tremendous amount of encouragement and love. Thank you!
Advice for the Class of 2024: No matter where your path leads you after graduation, know that it is your own and what you make of it! Do not focus or compare your route to others and be proud of the leaps and bounds you will make along the way. Do not be afraid of those unexpected curves and bends you will inevitably encounter along your way. Create a new path, knock down barriers and develop your own foundation. Always remember, you are stronger than you think; don't underestimate your abilities. You are READY for your new beginnings! Go hit the open road and find your new beginning!
GINA NARCISI, BS BIOLOGY '18, MA SECONDARY EDUCATION '20
Favorite memories: Just interacting with everyone on campus. From conversations with peers and professors, to small talk in the elevator, and every interaction in between, I'll always value learning from the diverse backgrounds of the RU community and developing meaningful relationships in the process.
Proudest accomplishments: My proudest Roosevelt accomplishment is completing two degrees and discovering what I was really passionate about during that time. In athletics, my proudest accomplishment was representing Roosevelt at nationals.
Post-graduation plans: I will be teaching high school science.
Who do you want to thank? I want to thank my family, professors, coaches and friends for all their guidance and support!
Advice for the Class of 2024: Strive to give better than your best effort, pursue your interests, and take advantage of everything RU and being in the city has to offer!