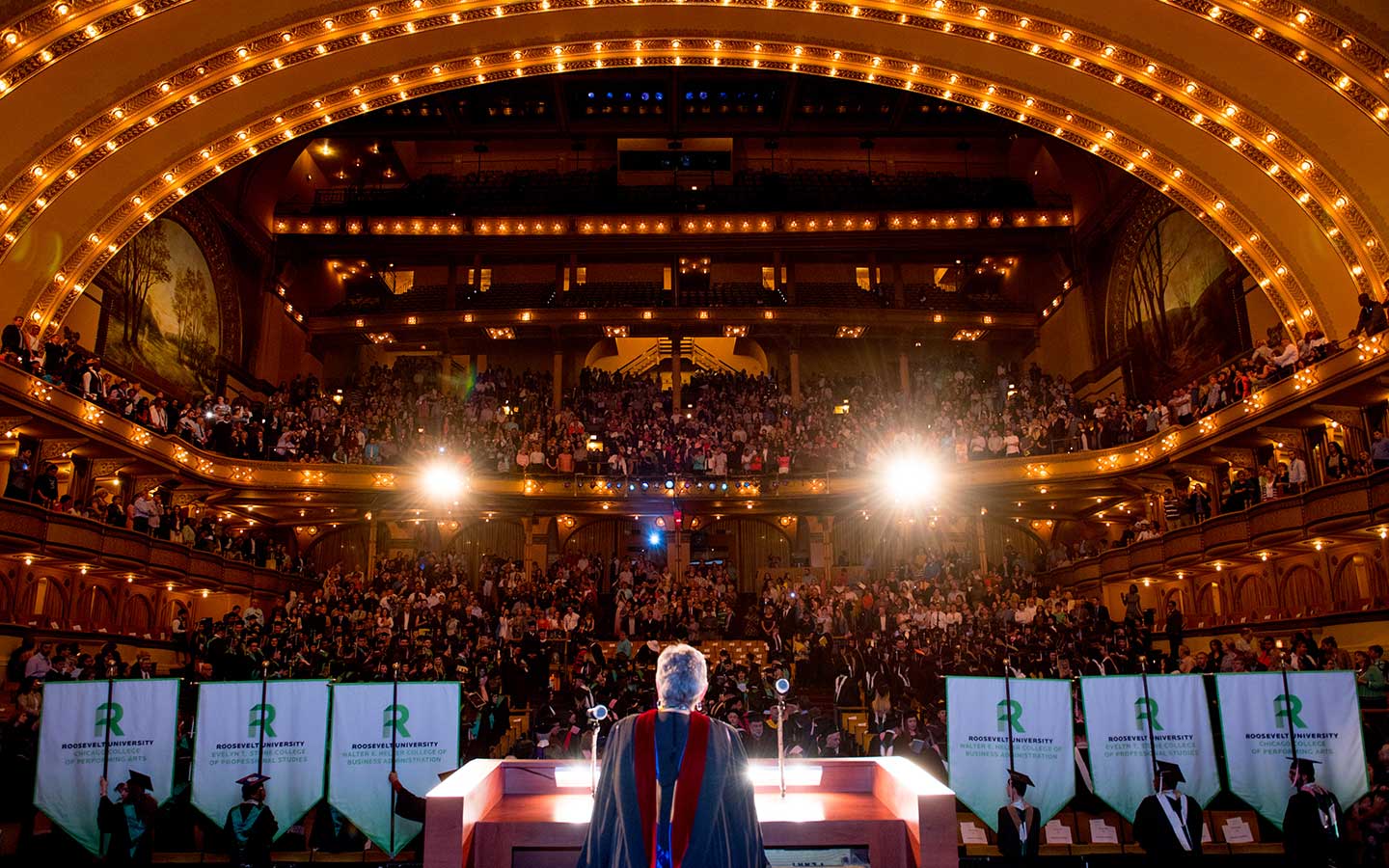 After a two-year hiatus, Roosevelt University graduates will cross the Auditorium Theatre stage to receive their diplomas on May 6.
The Spring 2022 marks the first in-person graduation ceremony since the pandemic began in March 2020. Hundreds of Roosevelt students will receive their degrees in two ceremonies at the national historic landmark.
Join us to celebrate a few of the many bold and resilient members of the Class of 2022.
Kerwin Chong
BS Biology
Soon-to-be graduate Kerwin Chong played tennis for the Roosevelt Lakers for four years. This season, he's posting strong results at No. 1 doubles and No. 2 singles.  
After graduation, he plans to pursue his dream: becoming a doctor of oral health.
"With the amazing help and support of faculty, peers, teammates and coaches here at the University, I can say that my path toward my dreams has never been clearer," he said.
Kerwin describes the Roosevelt experience as fun, adventurous and close-knit. He met his partner, who he says "inspires him every day," at his first tennis practice with the men's and women's teams.
"The school being at the heart of the city has made my years here even more memorable," he said. "I got to try new things and made so many connections at RU. I have learned not only so much about others, but myself and the person I want to be."
Raneen El-Barbarawi
BA International Studies and Journalism and Media Studies
As a student, Raneen El-Barbarawi delved into the social justice issues she hopes to address as a writer and lawyer. She will graduate summa cum laude on May 6.
"I'm wholeheartedly content with the decision that I made to attend and complete my degree at RU," she said. "In another school, I may have been seen as a statistic. I now know how to connect, gain more resources and opportunities and grow."
Some of Raneen's favorite memories are building strong connections with her professors. She took classes on political violence and terrorism, telling social justice stories and working class studies. At Roosevelt, she could study international relations with Prof. David Faris, an expert on U.S. policy in the Middle East. He became Raneen's honors advisor as she researched issues she feels passionate about as a Palestinian American.
Raneen's honors thesis evaluated the Sheikh Jarrah incident, comparing how American and international outlets wrote about Palestinians.
Raneen grew up in Northlake, Ill. Before moving into the Roosevelt residence halls, she worried she would feel lonely, being away from her friends and family. She said that Roosevelt quickly erased those fears with "this sense of family, connectedness and community that the teachers, students and staff establish."
Raneen's sister, who graduated from Roosevelt in fall 2019, advised her to venture into the RU community as much as she could. Raneen took up that challenge, earning a spot in the Golin Fellows program, becoming editor-in-chief of the student newspaper and joining the Muslim Students Association. She won the 2022 Making a Difference Award for her work on campus and beyond.
"I am who I am today because of the opportunities I was given at Roosevelt," she said. "I have received a genuine sense of compassion, care, understanding and love from every single person I have encountered at RU."
After graduation, Raneen plans on taking a gap year to travel, study for the LSAT and gain experience before applying to law school. She plans to become a lawyer and continue to write as a journalist.
Yajaira L. Gallegos
BA Elementary Education
Student speaker Yajaira Gallegos was born in Michoacán, Mexico. She grew up in Chicago in the Back of the Yards and Brighton Park neighborhoods.
Yajaira graduated from her neighborhood high school, Thomas Kelly College Prep, in 2016 with honors and an IB Diploma. She took advantage of the Star Scholarship and attended both Malcolm X College and Harold Washington College, where she obtained her associate degree.
After working in early childhood, Yajaira was drawn to the idea of becoming a teacher. Her family and friends encouraged her to pursue her dream of getting her bachelor's, and she transferred to Roosevelt University in 2019. She also pursued ESL, Bilingual and Middle School Math endorsements to support her future classrooms.
Troy Gaston
BA, Political Science
Graduate Troy Gaston is a vibrant spirit around the Roosevelt campus, always fighting for social justice and his mission to change the world for the better.
Troy Gaston majored in political science and legal studies. He is also the vice president of the Student Government Association. Gaston is a well-known community activist in Chicago, always advocating for change. In 2020 alone, he organized 67 protests against racial injustice in incarceration and policing.
Troy is also a McNair Scholar. Throughout his undergraduate studies, he formed mentoring relationships with his peers, encouraging and inspiring them to become active in their communities.
As a formerly incarcerated person, Troy brings a transformative perspective to his studies, his activism and his thoughts on the future. He appeared on And Justice for All to talk about his optimism and passion for advocacy.
Troy received the Eleanor Roosevelt Social Justice Award and Presidential Award for Social Justice, one of the University's highest honors, for his work in the community.
Silver Homa
MS Biotechnology and Chemical Science
Two-time Roosevelt grad Silver Homa had his mind set on a medical career when he started applying to colleges. He says that faculty encouraged his dreams of biomedical research and connected him to opportunities to prepare for graduate school.
"My mentors' support and advice was immensely helpful and was what guided me to the career path I've chosen," he said.
His favorite Roosevelt experience was his first research project in Dr. Wentz-Hunter's research lab, with the support of the McNair Scholars program.
"This project was followed by a trip to a research conference with my friends from McNair, where we each presented our research, explored others' presentations, and gained more friends from other universities around the nation," he said.
Silver plans to continue working on biomedical research and development. He hopes one day to manage an oncology or genetics lab, designing and performing experiments as a principal scientist.
Silver says that students should use all of the University resources they can and spend as much time as possible building connections with faculty and classmates.
Ellie Kurt
BA History
Ellie Kurt experienced physical and mental health issues that worsened during her first year at Roosevelt. With the support of Disability Services and her professors, she not only finished her degree, but excelled.
Ellie participated in the Loundy Human Rights Project twice. Through the Newberry Library Undergraduate Seminar, she studied Chicago with humanities students from across the university. She also became a leader on campus as president of the history honors society and the College of Arts and Sciences Student Advisory Council. Ellie gave one of the Commencement addresses on May 6.
Next year, Ellie's off to a dual master's program in history and library science at Indiana University.
Marius Phoenix
MA Conflict and Mediation
Marius Phoenix has built his own version of the American Dream. Marius immigrated to Chicago from Romania. His interest in the struggles and discrimination faced by Romani people became a central theme in his conflict and mediation work, and an echo of Roosevelt's founding values.
"Marius stood out to the faculty as an extremely bright, hard-working and insightful student. "He's really reflective, self-aware and provides well-supported, logical and empathetic responses," said professor Debra Orr.
Eight years ago, Marius founded the property management company Habitat Haven. He manages about 40 properties on the West and South Sides of Chicago. From its inception, the company has had no evictions. Using his creativity, intuition and empathy, Marius successfully manages his properties and mediates disputes between his tenants.