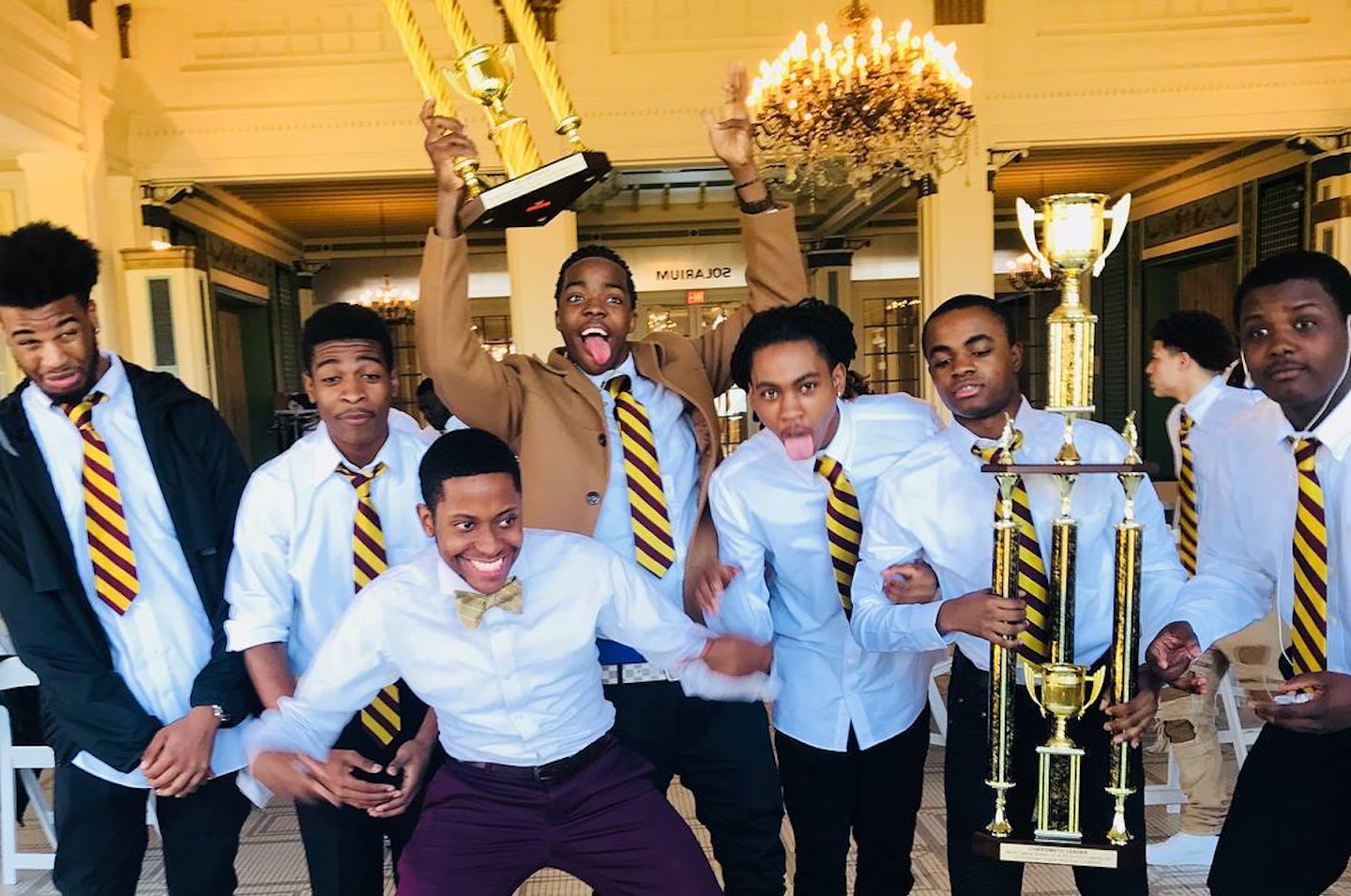 The year 2018 was a big one for Roosevelt University alum Marlon Haywood. He defended his doctoral dissertation, flipped his first real estate property, and got married.
After his defense at Roosevelt, Haywood and the young men he mentored went out to eat to celebrate. Haywood's supervisor at Rush University Medical Center  gifted him with a shirt with three crossed-out words: bachelor's, master's, then doctorate.
Haywood is the founder of Urban Male Network and a community engagement manager at Rush University Medical Center. Growing up on the South Side of Chicago, Haywood wanted a male role model to look up to.
"It always brings joy to my heart to attend graduations, prom, move-in day for college," he said. "I understand the importance of introducing students to people who look like them in various career fields, and exposing them to opportunities outside of their neighborhoods."
Roosevelt University offers graduate degrees in counseling, teaching preparation and educational leadership. Explore our graduate programs.
While he was teaching at Malcolm X College, he asked the dean if he could start a male mentoring program that met once a week.
That group would go on to earn their GEDs, associate degrees and transfer to four-year colleges. The program was so successful that Haywood grew it into his own nonprofit, the Urban Male Network. His former mentees went on to support other young men in elementary and high school.
Most of the people in the program live in underserved communities on the South and West Side of Chicago. Haywood sees mentorship as a way to be a positive source of change for young Black and Latino men.
Haywood discovered the College of Education through professor Joanne Howard. "I felt that Roosevelt University was the perfect fit based on location, the small cohort model, and the mixture of online and in-person classes," he said.
At Roosevelt, he wrote his dissertation on the Black Male Initiative (BMI) at Northern Illinois University, another mentoring program, and how it impacted its participants over the last 15 years.
His research showed that while more Black and Latino men were starting college, graduation rates remained stagnant. Students needed more support services in college, more financial aid, more academic preparation, more support when dealing with microaggressions.
Interested in becoming a mentor? Roosevelt's Professional Mentoring Program matches current undergraduates with mentors in their future careers. Learn how you can make a difference in a college student's life.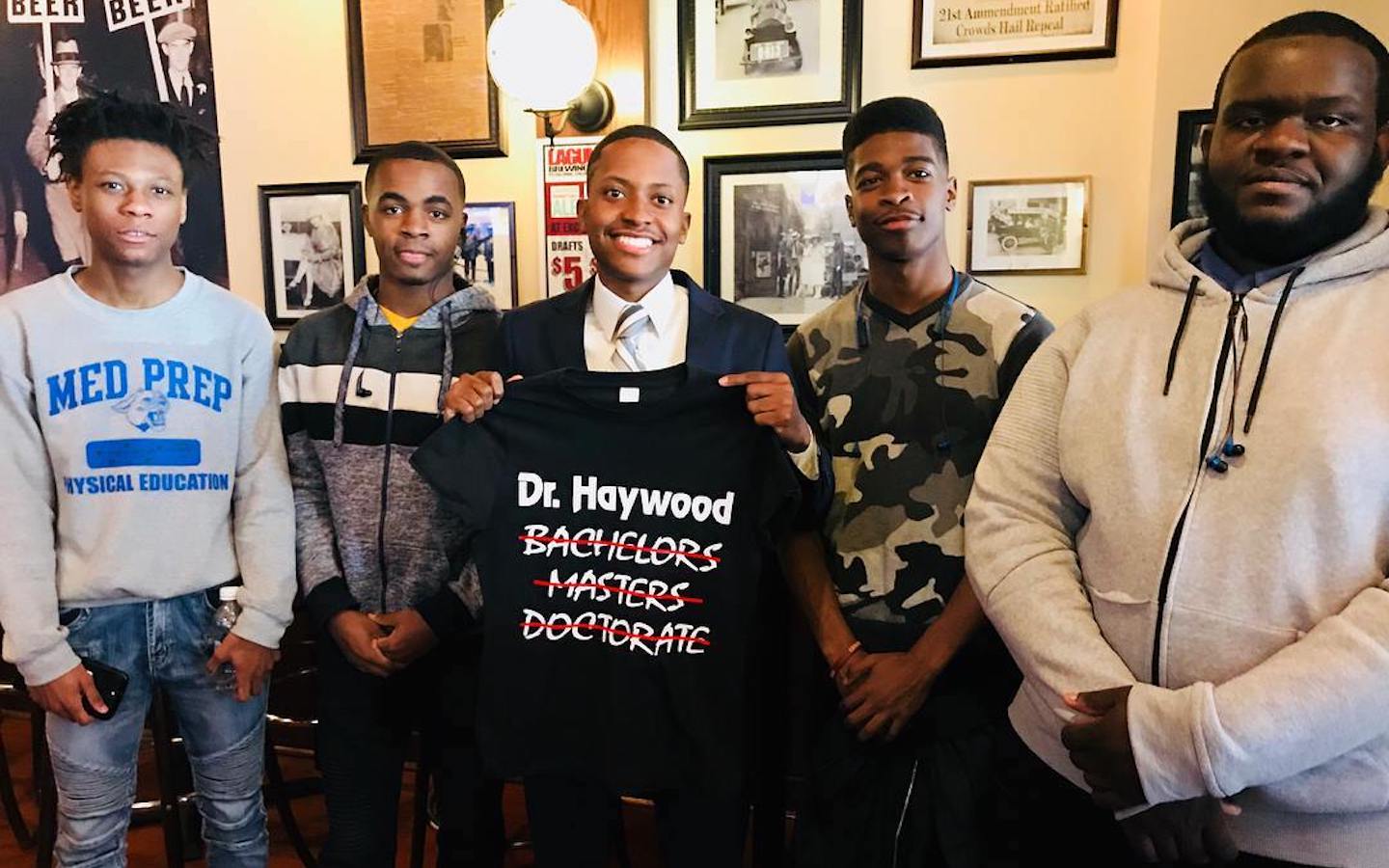 What Haywood wished he knew as a first-gen student
Your undergrad degree doesn't determine your entire career. Haywood majored in biology, and earned his undergraduate degree in liberal studies. It was during his time as an undergraduate student that  he discovered his aptitude for mentoring early on.
As an undergraduate, he got involved with several campus organizations that met with elementary and high school boys. It was casual, with no commitment. Haywood put out the word that once a week, he would settle in at a restaurant and buy dinner for whoever came.
The program expanded to welcome 15 to 20 teenage boys a week. Luckily, pizza was pretty cheap in DeKalb, because Haywood was spending his own money.
As a first-generation college student, Haywood said he didn't know he could get his master's degree in a different field and pursue his passion until he talked to his advisor about it. Haywood went on to earn both his graduate degrees in educational leadership and become the resident expert on mentoring.
Allow your passion to drive your path. College students can sometimes feel pressured to choose a lucrative career and "follow the money." Haywood tells his mentees to trust in their passions, and the money will follow.
While working on his Roosevelt degree, Haywood was a health disparities research fellow at Rush University. He studied ways to close health life expectancy gaps between affluent communities and underserved Chicago neighborhoods.
After some conversations, Rush developed a permanent, full-time community relations position for him.
"Mentoring has become a part of me, but originally it was something to do because I wanted to make a difference," he said. "If you're passionate about it, and you're good at what you do, people will pay you to do that job."
Your college experience isn't just about academics (and your job's not just about the work, either). Academic success was just one of the three tenets of Haywood's mentoring program. He also encourages young people to build fellowship and give back to their communities through service.
You might be surprised at how much influence you have. When Haywood was still an undergraduate, he welcomed a high school student for a couple of campus visits and took him around to his classes.
"I didn't think what I was doing was anything major," Haywood said. "I didn't think bringing a kid on campus with me for a few weekends throughout my semester could be so touching."
Years later, Haywood got a call from the young man when he earned his college degree. He told Haywood, "I'm graduating because you were one of the people that inspired me."