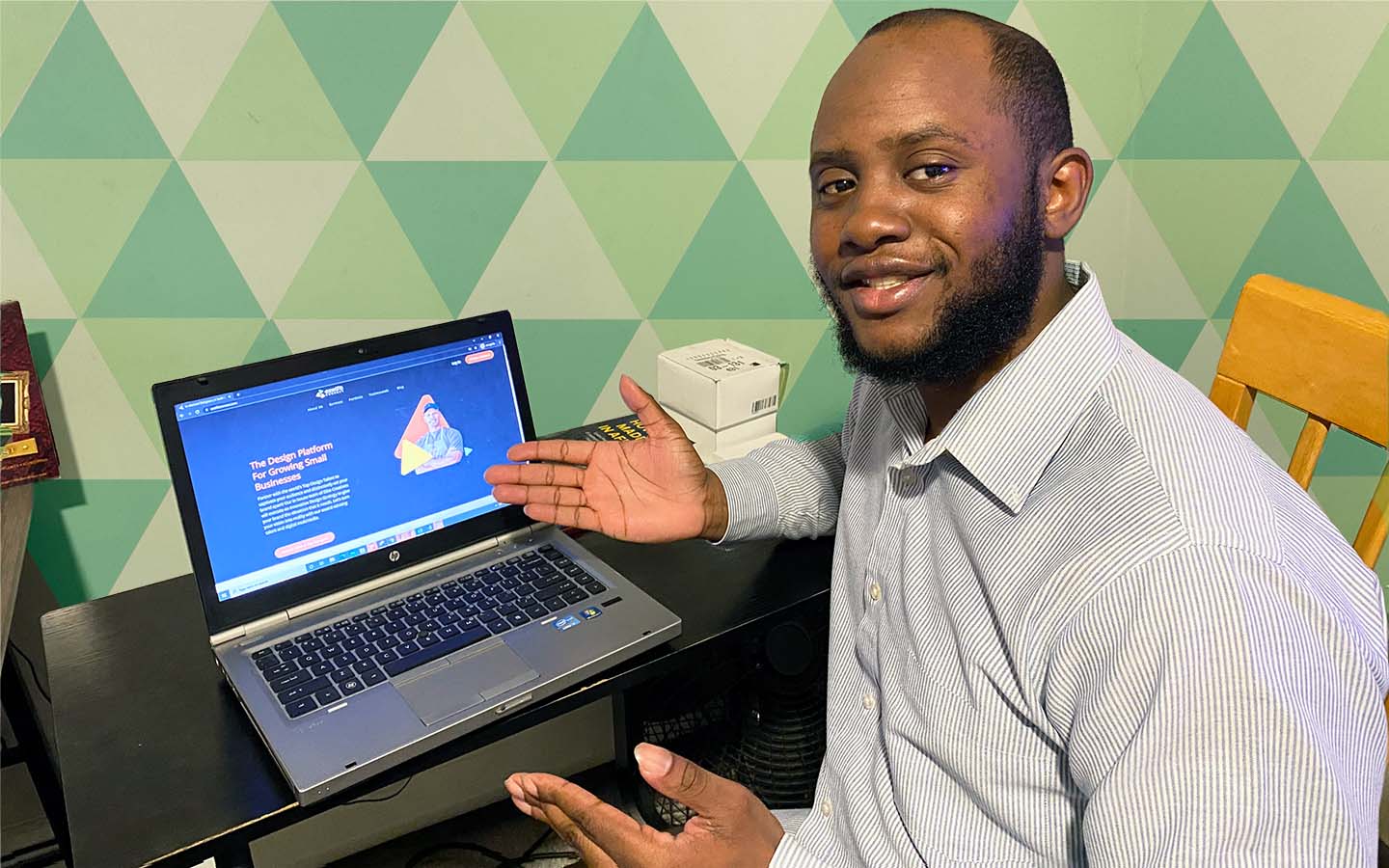 Alum Eric Synajie (BA '17) is one of the millions of Americans who re-evaluated his career aspirations during the pandemic. As a pension analyst by day, CEO by night, Synajie is hustling to make his entrepreneurial dreams a reality.
His new company, A Swift Connect, is a concierge platform that matches small businesses with skilled designers. Think Fiverr or Task Rabbit, but with a personal touch and a proven network of graphic artists.
Synajie's time at Roosevelt University fueled his desire to start his own business. "The social entrepreneurship program made me the person I am today," he said.
Synajie shared what he's learned from the ups and downs of launching A Swift Connect. Hear more from him and several other ambitious young entrepreneurs at the Laker Leadership Conference, May 23 and 24.
Take classes you're passionate about (even if it's not for your major)
Synajie is from Cameroon and has spent the last eight years in Chicago. At Roosevelt, he earned a bachelor's degree in actuarial science with a minor in finance. But he considers himself an informal major in social entrepreneurship.
The social entrepreneurship degree at Roosevelt is designed for students with drive and creative spirit. Students prepare for launching their own startups, leading nonprofits or volunteering in the community. Roosevelt pairs courses on business planning with cross-disciplinary courses in sociology and sustainability studies.
Synajie took most of the social entrepreneurship program's classes. He was founder and president of the social entrepreneurship student club. His team won $500 at a local competition for their innovative business ideas.
"Social entrepreneurship is about creating businesses that change people's lives, either through the people you employ, or the people you serve," Synajie explained. "Most importantly, it's about people over profits."
Entrepreneurship takes time and commitment
While Synajie searched for jobs after graduation, he started his own limousine company. The business took off in the Chicagoland area, but he wanted to push himself more.
"I wanted to test what I had studied at Roosevelt," he said. "The money was good, but I felt it wasn't stimulating me mentally."
Synajie applied what he learned in the actuarial science program as a pension administration analyst. He's still working full-time as a pension consultant while he launches A Swift Connect. So far, the company is wholly self-funded — he plans to prove his traction in the market before reaching out to investors.
"At night, I'm hustling to start a business," he said. "I wanted to get back into the entrepreneurial spirit."
Test, test, test your ideas
You have a brilliant, never-been-done idea. You're ready to get to work. Before you launch your own business, you still need to test it in the market.
"Sometimes we make the mistake of assuming our idea is what other people want," Synajie advised. "You have to be humble enough to accept that in the end, consumers have the final choice."
Synajie's original plan was to create an exclusive platform to partner with Black designers. He realized that for his main clientele — small organizations with fewer than 50 employees — he wouldn't have the profit margins and competitive prices to retain top talent. He listened to the market and expanded his network to make it more inclusive.
"Before you implement an idea, you should take a step back, do some research, do a lot of service, and listen to potential customers," Synajie said. "Don't just imagine things."
His business model stands out from the competition because of its human relationships. Customers don't have the overwhelming number of options and impersonal profiles that users often contend with on other platforms.
"We have this personal connection with our clients," he said. "All you have to do is sit back and relax and get a project to be done."
Meet other entrepreneurs on LinkedIn
As he began formulating his new business, Synajie reached out to connect with other founders on LinkedIn. He said their feedback was instrumental in figuring out his own business plan. He even met his current chief marketing officer on LinkedIn.
"Entrepreneurs can be very proud people," he said. "Be humble, listen to advice. If you don't listen to advice, you'll get lost."
He recommends turning to the network to meet like-minded people. "Any person who wants to be an entrepreneur — or any kind of professional — should be on LinkedIn," he said.
Meet Roosevelt alumni who share your interests in our LinkedIn group.