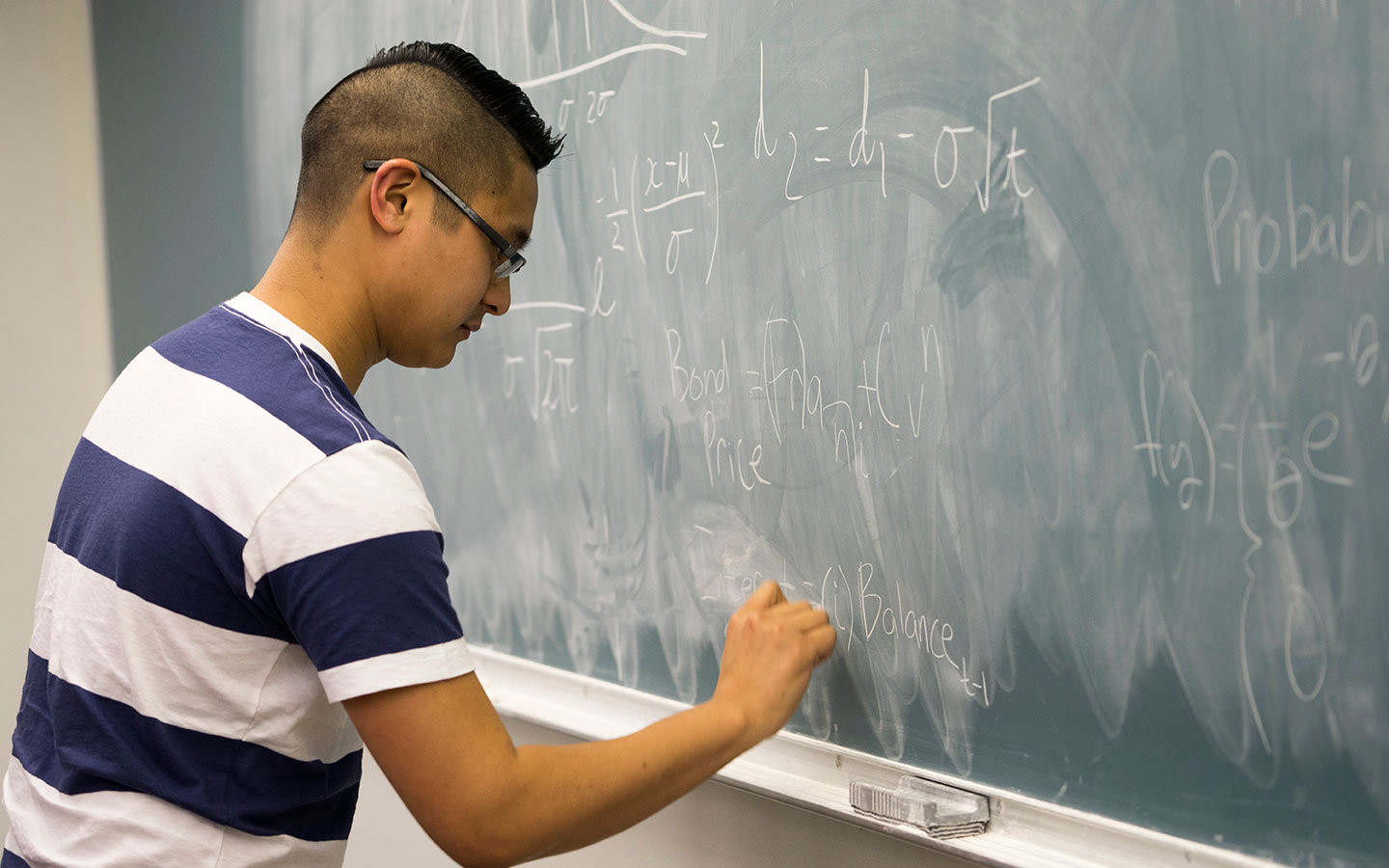 Actuaries use their strong backgrounds in math, probability and statistics to manage risk for their employers. U.S. News and World Report ranked actuarial science as one of the top 100 jobs of 2021 for its variety and booming prospects.
The Roosevelt University actuarial science degree is one of only two in Chicago recognized for its advanced curriculum by the Society of Actuaries. Find out if becoming an actuary is right for you with advice from alumni in the growing field.
Explore Roosevelt's undergraduate and graduate programs in actuarial science.
What do actuaries do?
In the insurance field, actuaries do the math on life and health insurance, property and casualty insurance, pension plans and other employee benefits. They use large data sets of people, hospital statistics and accident reports to estimate the likelihood of certain events. Roosevelt graduates work for major companies like Milliman, Blue Cross and Blue Shield and Sammons Financial.
Actuaries also work in many other industries for companies like investment firms, banks, accounting firms and consulting agencies that assess risk. At Roosevelt, undergrads take a semester-long course dedicated to exploring different actuarial science careers.

What skills will you use from your actuary degree?
A math mindset. Actuarial science students go beyond crunching numbers to take advanced classes in calculus, statistics and probability theory. While you might not use your calculus knowledge from day to day, strong math skills will help in your role.
Actuaries use their quantitative skills to answer questions from clients on the fly and figure out where a spreadsheet went wrong. The thought process you practice as a student can help you solve problems down the road.
Logic and critical thinking. A career as an actuary brings thought-provoking challenges and problems with many moving pieces. Your undergraduate and graduate courses can help you look for the ultimate root of a problem and structure solutions.
Communication skills. As an actuary, you have to answer your clients' questions in a clear, straightforward way. If you can tell your client doesn't understand, you need to pivot and explain in different ways for different audiences.
Explore more STEM careers for students who like math.
Day in the life of an actuary
At a recent career panel held by professor Melanie Pivarski, actuarial science alumni and their colleagues reflected on becoming actuaries.
Early in their careers, the panelists said they started as "doers" — the team members who analyzed data sets and ran the calculations. In early roles, you'll receive lots of guidance from your manager and team lead. As you rise in the field, you become more of a reviewer and often meet with clients.
Some of the panelists said that their jobs had evolved into client-facing financial services roles as they grew in their careers. They enjoy the excitement of being part of a fast-growing team, with new projects and deadlines giving variety to each day.
The panelists agreed that the best part of their job was working with many intelligent, responsible coworkers. Others said they liked the freedom to innovate and take on projects that interest them.
How much do actuaries make?
The Bureau of Labor Statistics estimates that the field will grow by 17.6% between 2019 and 2029.
On average, actuaries make $108,350 per year, according to the U.S. Bureau of Labor Statistics. That salary average jumps a little in Illinois, up to $110,269, according to Glassdoor data.
How hard are the actuarial exams?
Like doctors and lawyers, actuaries earn credentials from a series of professional exams that you can start taking in college and continue to take while working. Risk analysts and actuaries can earn professional designation from either the Society of Actuaries (life and health insurance) or the Casualty Actuarial Society (property and casualty insurance).
When you pass five exams, you become an actuarial associate. To become a fellow, you must complete 10. As undergraduates, Roosevelt actuary students take courses to prepare for the first two exams in their field.
At the career panel, actuaries didn't sugarcoat the hard work it took to prepare for their exams. It can take hundreds of hours of studying to pass the exams. Some companies offer their employees significant study time, but actuary graduates need to add on time on top of that.
Balancing work, school and life
Be realistic about your schedule. Make a study plan you can follow through on. If you're a morning person, try going into work early to get some study time in. If you're a night owl, set aside some time after dinner for deep focus.
Treat the exams like your baby. Dedicate your time to feel fully prepared on exam day.
Try different strategies. If you're not having success with one routine, don't be afraid to try a new plan.
Tips for finding actuarial science jobs
Apply even if you don't meet all of the criteria. Submit your resume for a lot of jobs right out of college. Don't rule yourself out if you can't check every box in the job description. The best way to find a role is to cast a large net and be open to different roles.
Explore internships in related fields. Internships in fields like data analytics are an opportunity to practice your skills and demonstrate you can succeed in a future role.
Just be yourself. Your interviewers understand how you're feeling and were likely on the other side of the table just a few years before. Take a deep breath and be yourself during the job search.
Show enthusiasm. Get excited about the interview process. Dive into a subject you like talking about. Interviewers will appreciate your enthusiasm.