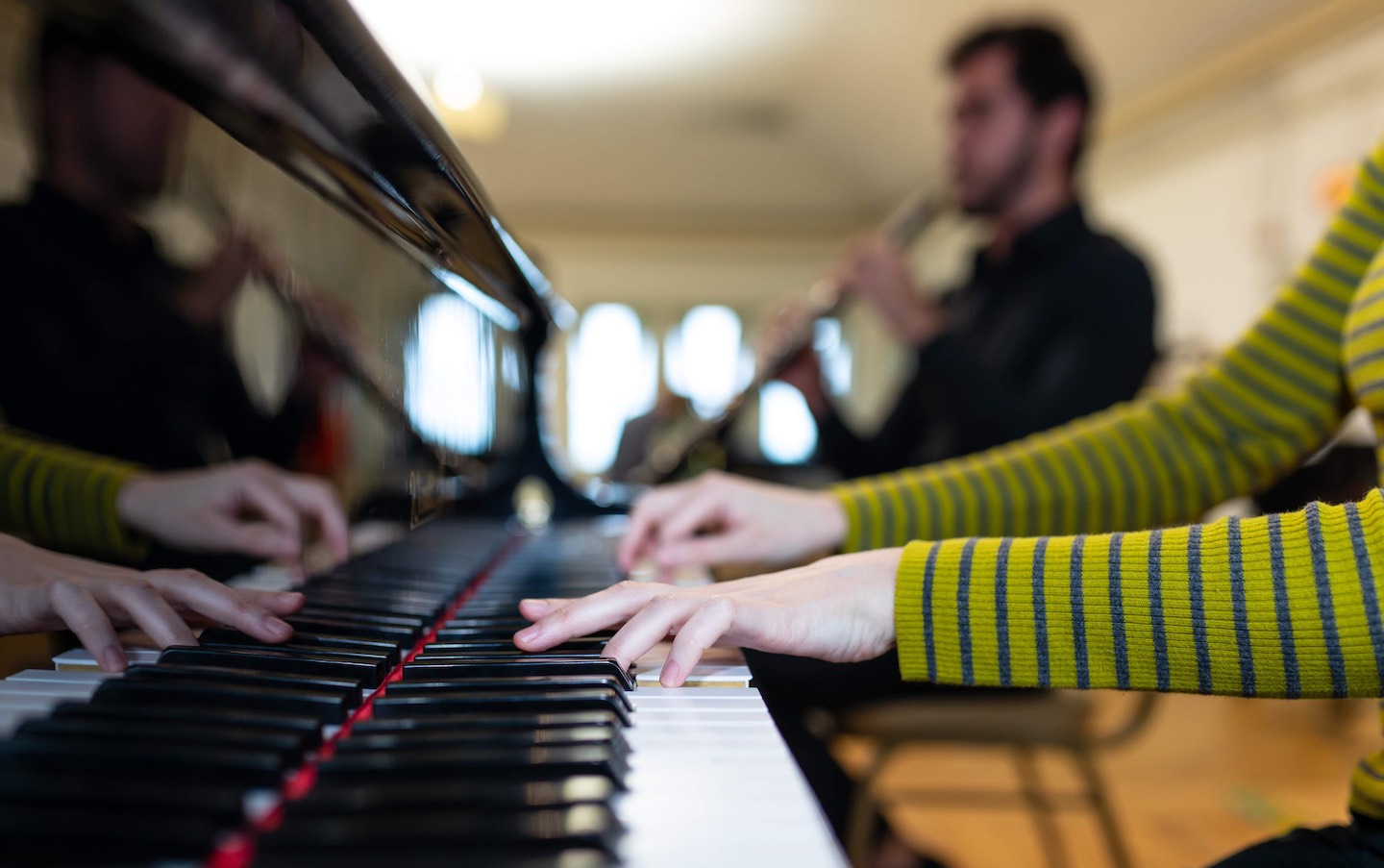 More than you might think. In the Bachelor of Musical Arts program, Roosevelt University students connect music with in-depth research on their passion projects.
Pushing through the pandemic, this year's honors students finished full-length thesis papers on everything from environmental science to criminal justice to travel.
What is a BMA degree?
The Bachelor of Musical Arts program, designed for curious thinkers and performers, lets you design your own path as a student. Students get the close artistic community of their conservatory at the Chicago College of Performing Arts (CCPA), backed by the breadth of a liberal arts education.
BMA students can combine their interests in two fields, like instrument performance and history, or physics and voice performance. The Roosevelt BMA program culminates in a senior thesis project, where students research and write about the intersections of their two disciplines.
At a final, heartfelt gathering, the honors students celebrated their semester, sharing their research virtually with their classmates.
Rachel Hooker wanted to combine her love of music with her interest in the stigma against incarcerated people. She worked with psychology professor Elijah Ricks, an expert in mental health within corrections, to research the possibilities of music therapy in prisons.
"This thesis is one of the most amazing experiences I've had as a college student," she said.
Savannah Reimer came to the bachelor's program as a parent. She used the honors project to bring a scientific perspective to the restoration of keyboard instruments, comparing the physics of different organs.
Other students studied the role of collegiate ensembles in Cold War diplomacy or the connection between nature and identity in music.
The writing process could be challenging, the students admitted, but they said they could depend on regular feedback from their mentor. They kept their classmates in the loop with a group text, which many said helped them feel less alone.
What can I do with a BMA degree?
As they devised and drafted their theses, the Roosevelt students flexed their graduate-level research skills, building competitive applications for graduate school.
In the fall, Hooker will start a master's in music therapy at Indiana University Bloomington. Maggie Cuddihy is a future master's in library and information sciences candidate. Others in the program hope to go on to law school or dive straight into the professional world.
The Bachelor of Musical Arts program may be right for you if you're…
Curious about a lot of different subjects and ideas.

Passionate about performance.

Able to critique and engage with how we talk about music through your love of performance.

Adaptable to your evolving research and arguments.