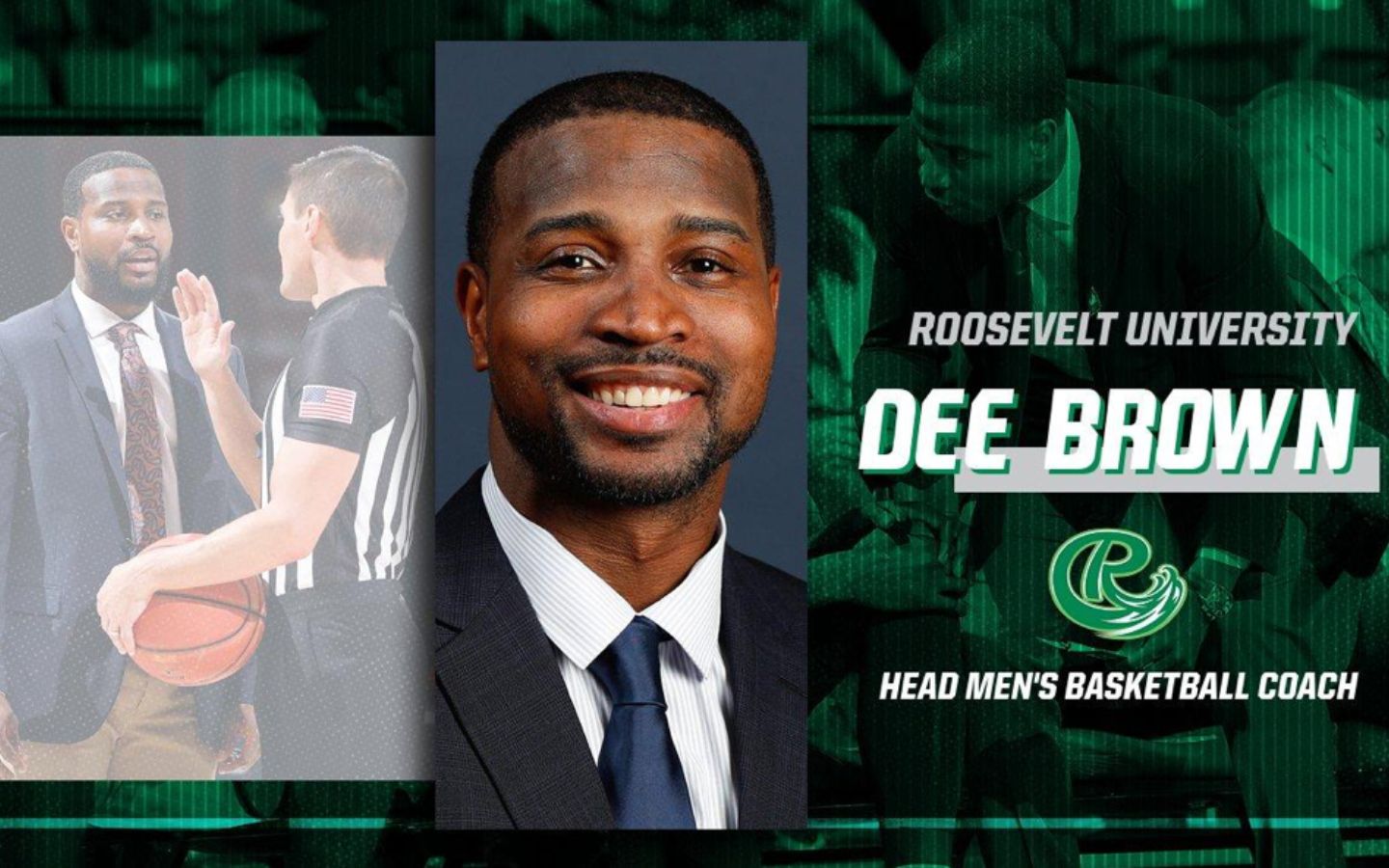 Eight pounds per square inch.  That's the air pressure needed to give a basketball its bounce.  There's a different force of nature giving the Roosevelt men's basketball team their bounce: first year head coach Dee Brown.  The hometown basketball icon came to Roosevelt last June, bringing his signature competitive fire and boundless energy to the Lakers, creating a winning culture on and off the court.
So far, so great. As of this writing, the Lakers are 14-7 overall, and an impressive 11-2 in conference. But Coach Brown is just getting started. "We've got what we need to build something special in Chicago. The academics, facilities, downtown location and support of administration are amazing. I'm blessed to be here, and I show up every day expecting excellence," says Brown.
Brown coaches his players to care about the Xs and Os on the floor, and the As and Bs in the classroom.  Recently, he shared his thoughts on what it takes to excel as a student athlete.
Toughness and grit matter, in athletics and life.
If you follow basketball, you know that players from Chicago have a reputation for being tough and gritty, willing to do the hard, unglamorous work to win.  Brown exemplified this style of play, as a Chicago prep star, All-American at Illinois, and NBA standout. 
"Toughness is great in basketball, but it's also important in your academics.  Getting to class when you're tired, managing time when you're stretched, fighting to understand hard subjects, and getting extra help when you hit adversity.  I want our players to be as gritty in their academics as they are closing out a game."
Your shortcomings can be a gift.
"Because of my mom, academics were always 1, 2 and 3 in our household, but I had my struggles," recalls Brown.  Math was challenging for him growing up (he thrived in English and composition). Instead of giving in to the difficulty of the subject, Brown took it as a personal challenge to do well and sought out extra help from teachers and professors.
"Looking back, my teachers were willing to help me because they knew I was bringing my best and I cared. We got to know each other better than we would have if I never needed their help. That was a silver lining to my struggles and I'm glad for it."
You must be present to win.
In any team sport, showing up matters, for yourself and your teammates.
As Coach Brown says, "I'm in the lab every day."  Which means he shows up to work ready to lead, support others, and set an example for the culture he wants to build. 
And he wants that culture of support and success to extend beyond men's basketball. "We're getting great support from the other teams and programs here, and we want to be there for them too. People have welcomed me, and I want us to be there for them as we all create something special at Roosevelt."