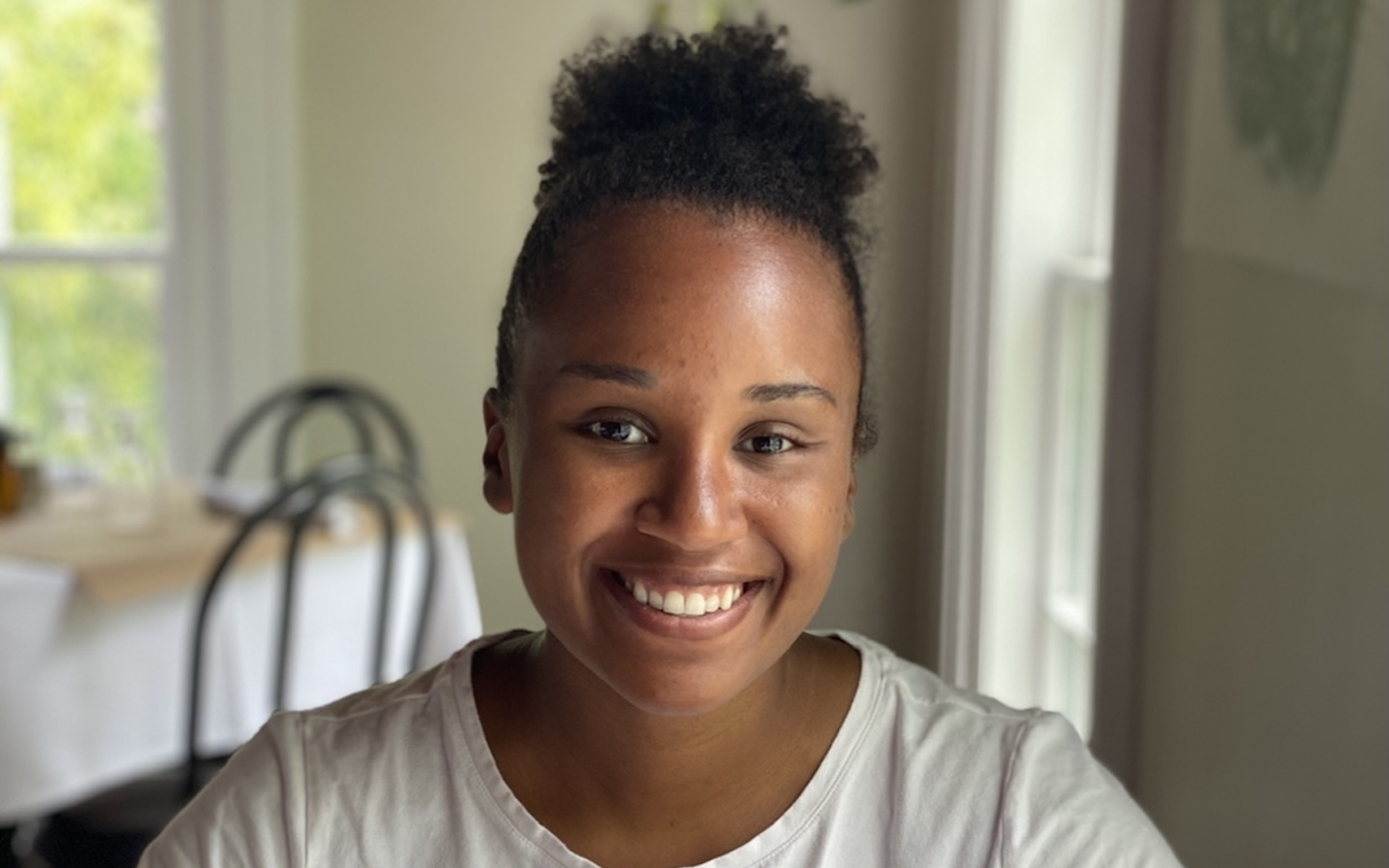 When Rebecca Moss played for the Roosevelt Lakers, the women's basketball team would gather in the tunnel four minutes before home games. Then one of her teammates would start to yell.
"She wouldn't say anything motivational or empowering, just scream," she remembered, laughing. "For some reason, it worked. We did that every game to psych ourselves up."
Moss played through many firsts: the first home game in the Goodman Center, the team's first national tournament appearances. Today, she's breaking new ground as the special education chair at Thornton Fractional North High School. She's also the winner of the 2021 Young Professional Award.
The education major reflected on her time as a student-athlete and equity in the classroom.
On being recruited as a student-athlete
I chose Roosevelt because I wanted to be a part of history. I tore my ACL my junior year of high school. With an injury that extensive, recovery takes a very long time. A lot of the schools that were recruiting me dropped me once they heard that I was injured.
Coach Robyn Scherr-Wells stuck by me during my recovery. She took a chance on me, so I wanted to take a chance on Roosevelt and be a part of history. She believed in me and instilled my faith in the program.
On playing for a nationals team
We were such a new program that we were the underdogs going into the national tournament. Many people didn't believe that we could accomplish what we did in that short amount of time. Knowing that put a chip on our shoulders.
 
Who can say that they've gone to the national tournament with a program that's only been around for five years?
I have lifelong friends from Roosevelt. My daughter's godmother was on the volleyball team. I also keep in touch with all my coaches. I still have a connection with almost everybody I came across at Roosevelt. I'll always be grateful for the relationships I made.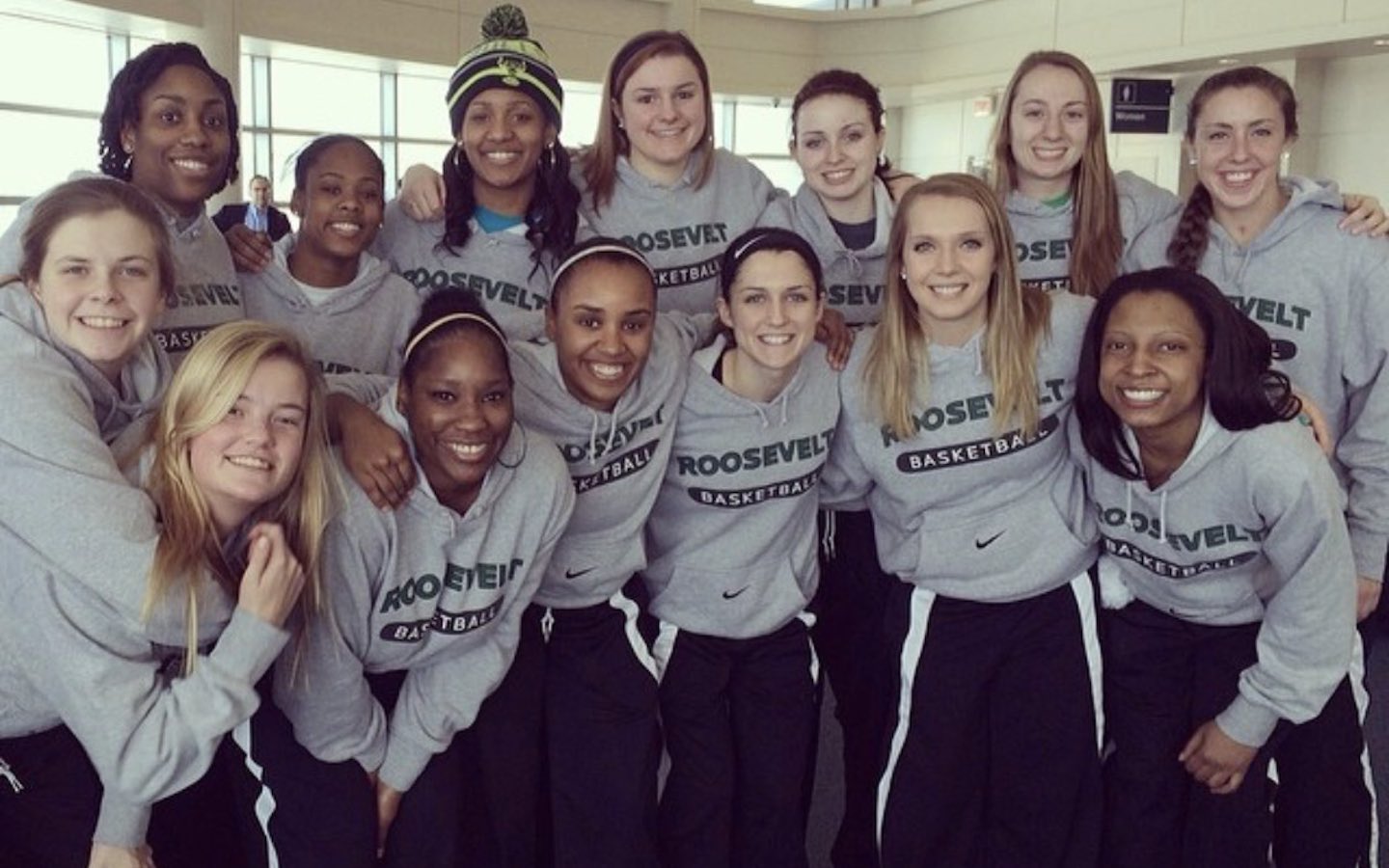 On the Roosevelt faculty
It helped to have smaller class sizes because I'm a very structured learner. I need that one-on-one connection, and I received that with my Roosevelt professors.
The professors were very knowledgeable and also very personable. Every one of my professors knew my name and my story, and that's true for all the students they had in their class. It felt like a genuine connection.
In the Roosevelt special education program, we had a ton of required hours observing and actively engaging in the classroom. Being in the classroom almost daily my junior and senior years helped me gain experience, especially working with Chicago Public Schools.
On teaching high school
Aside from college, high school was my favorite part of school because I could find myself. Now that I'm on the other side as a mentor, I can set my students up for where they want to be.
It's easy for me to relate to them. A lot of my students struggle with the issues that I faced growing up.
That's my way in with the kids. Before the pandemic, a group of five teachers and I would play every Wednesday morning against the kids. To this day, we're still undefeated.
The students who found themselves in the dean's office all the time, the students who weren't doing well in classes, those were the students who would come every Wednesday to play basketball.
On building equity in education
I spearheaded the equity and leadership club during everything with Breonna Taylor, Ahmaud Arbery, and all that was escalating that summer. It created a lot of trauma, so we also served as a platform where students could voice their concerns and solutions.
During remote learning, students came together to write a letter to the superintendent and request more student support. For the rest of the school year, we had Students Support Wednesdays because our students came together and voiced that they needed extra help.
Some of my students were hesitant at first because they didn't feel empowered. We let them know that just because you're a teenager doesn't mean that people aren't listening to you. Students have the power to create real change.
Our equity subcommittee also reshaped inequitable hiring practices. We found that our three campuses weren't consistent with the interview process. We consolidated the interview questions list so that everybody was consistent.
We also created a human resources statement that says we don't discriminate against race, religion, creed and sexual orientation. We wanted to make everyone aware that we're an inclusive district. Now we've had more applicants apply for our district.