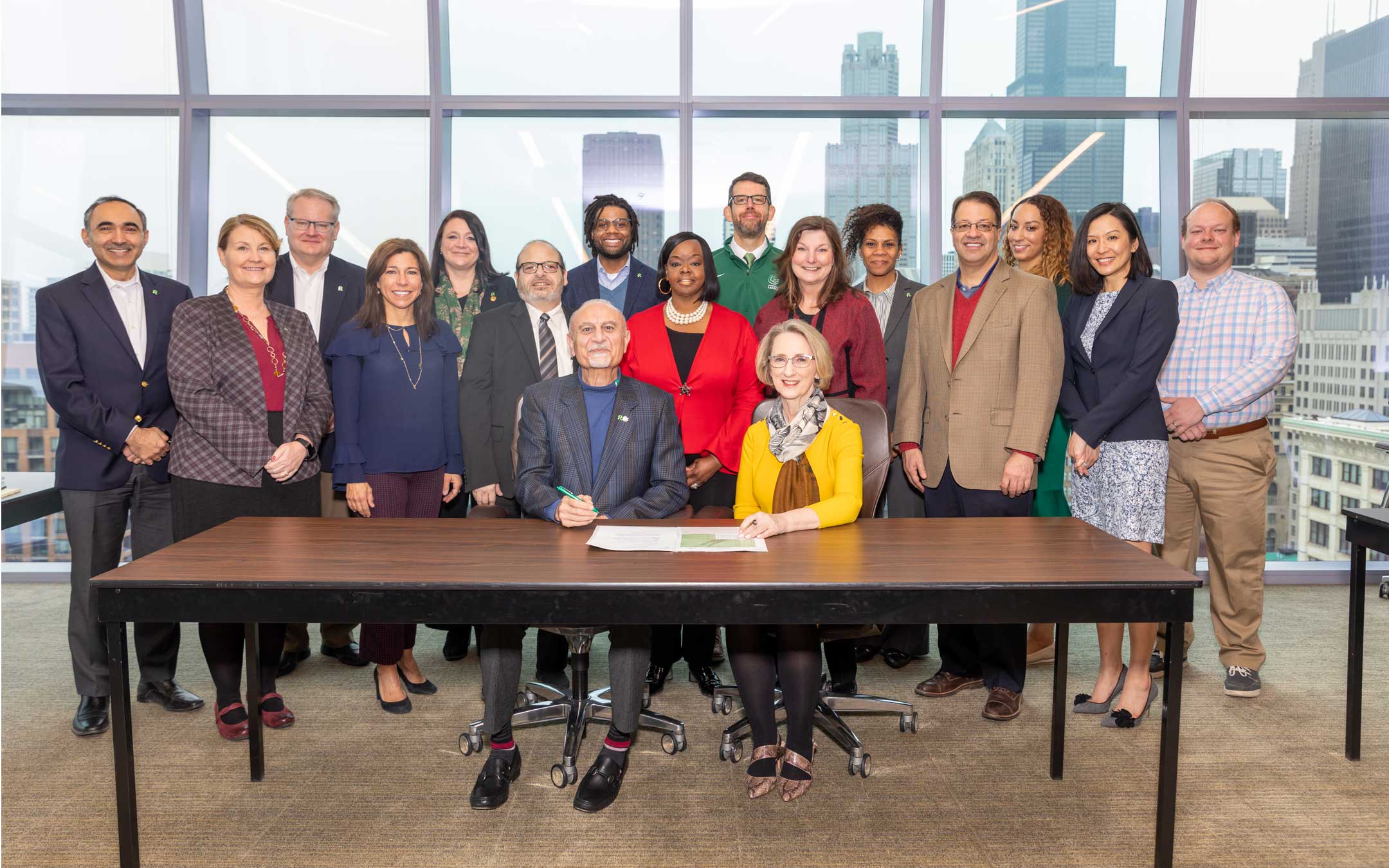 Chicago, IL—March 9, 2020.   Roosevelt University and Robert Morris University Illinois were notified by the Higher Learning Commission (HLC), their primary accreditor, that it has approved their joint application to make Robert Morris part of Roosevelt. The transaction was finalized on March 9, 2020.
The integrated University will continue under the name of Roosevelt University. Ali Malekzadeh will continue as president of Roosevelt and Robert Morris' former president, Mablene Krueger, will be the chief operating officer of Roosevelt's Schaumburg Campus.  The combination of the two universities will allow them to build on their historic missions that honor diversity and access to education, welcoming first-generation students and minorities.   
"The integration aligns the strengths of both universities to better serve our diverse student population," said Pat Harris, chair of the Roosevelt University Board of Trustees. "With a stronger financial position, the University will be able to expand academic pathways and develop exciting new programming for our students."
"We have many plans for our integrated University, and we look forward to working with all of our students, faculty and staff to implement them," said Ali Malekzadeh. "This is beyond a business transaction; it is about preserving the culture and missions of both universities as we evolve in a complex industry. We are excited for the future and all of the new opportunities we are developing as a result of this partnership."
The new Roosevelt will be nationally recognized as a catalyst for students from all walks of life to receive transformational learning experiences. Students who attend the expanded University will become socially conscious citizens who thrive in a diverse and changing world. 
"Students' and employers' needs are fundamental to our strategic plan," said Mablene Krueger. "We will continue to be creative in our approach, utilizing complementary resources and strengthening areas of excellence, all to help students become more successful. It is a very exciting future for our entire community, filled with many opportunities."
There will be a new college, the Robert Morris Experiential College, in which many of Robert Morris' current programs will reside. Its Bachelor of Science in nursing and associate degrees in allied health complement the strong baccalaureate programs that Roosevelt has in biology, biochemistry, allied health and health science administration. In addition, Robert Morris offers a Master of Information Systems that will fold into Roosevelt's computer science programs.
New programs exist with the Robert Morris associate degree in culinary arts added to complement Roosevelt's Bachelor of Science in hospitality management. The expansion of extracurricular programming includes several new athletic programs and other opportunities for student involvement.
For more information about the integration, please visit Building a Stronger University.