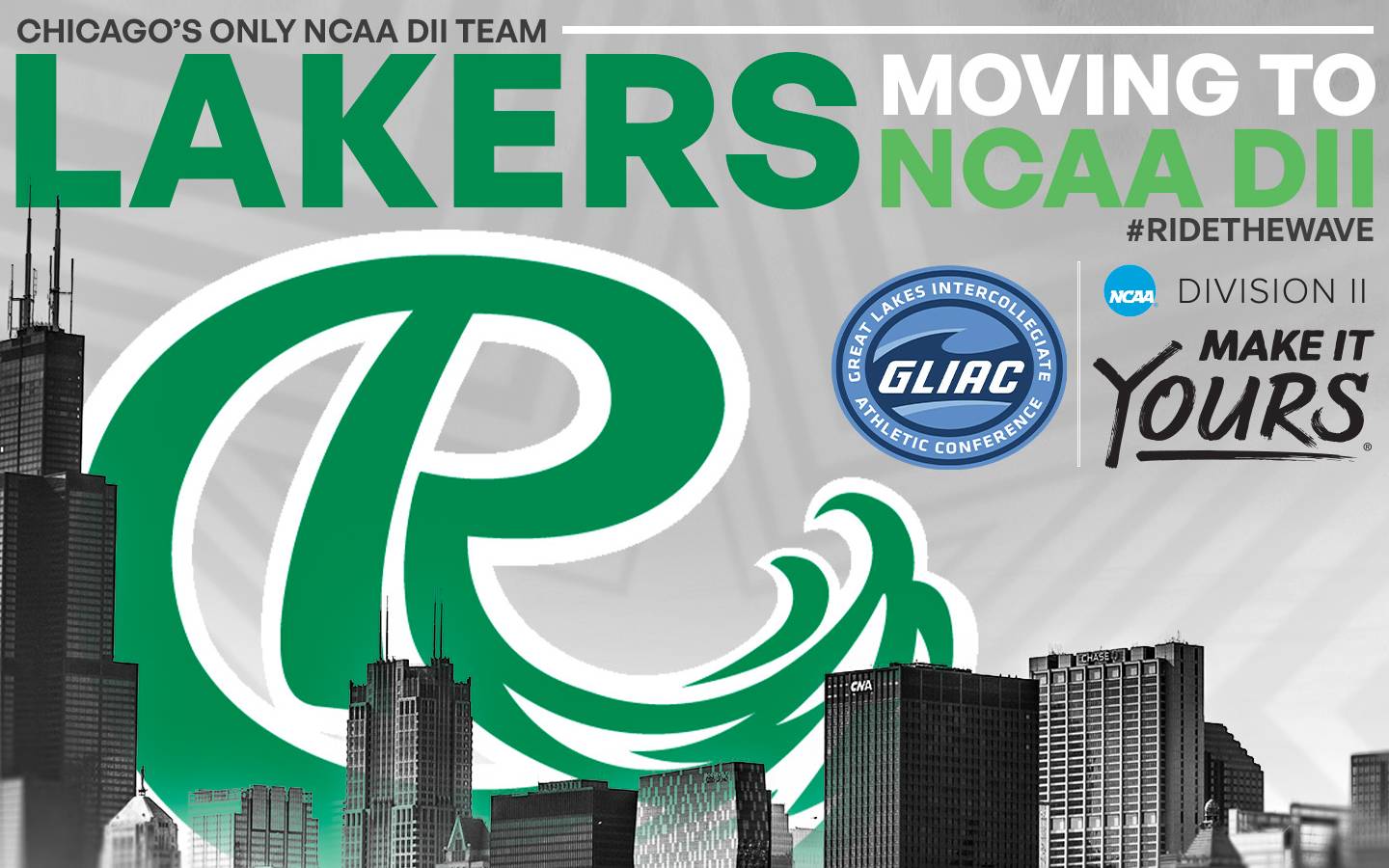 Roosevelt University will be accepted into the National Collegiate Athletic Association (NCAA) Division II membership process. The granting of provisional membership makes Roosevelt Chicago's only NCAA Division II athletic program and allows the Lakers to join the Great Lakes Intercollegiate Athletic Conference (GLIAC), which comprises 10 institutions located in Michigan, Indiana and Wisconsin. 
Roosevelt is currently a member of the National Association of Intercollegiate Athletics (NAIA) and Chicagoland Collegiate Athletic Conference (CCAC). The Lakers have held this national and conference affiliation since the institution reinstated men's intercollegiate athletics and introduced women's varsity programs in 2009. Roosevelt will retain NAIA and CCAC membership through the completion of the 2023-24 academic year. 
As part of successful matriculation into year two of the NCAA provisional membership process, beginning in the 2024-25 academic year, Roosevelt will compete in the GLIAC and be eligible for conference championships and tournaments.
The NCAA Division II Membership Committee notified Roosevelt of its acceptance following their annual meeting. The University submitted its application for NCAA membership in late January after an extensive, multi-year research and consideration process.
"I'm excited for the opportunity this provides our student-athletes to both experience great competition and take advantage of our amazing academic opportunities," said Vice President of Athletics and Student Success Mike Cassidy. "The opportunity to be Chicago's only NCAA Division II member is a differentiator in what can be a crowded athletic and higher education marketplace. There are so many opportunities this provides for us, both to raise our awareness as an institution and to provide an even more enhanced experience for our student-athletes."
NCAA Division II provisional membership is a minimum three-year period which prepares institutions to integrate its policies, guiding philosophies and strategic positioning platform through education and assessment opportunities.
The NCAA Division II Strategic Positioning Platform is based on learning, service, passion, balance, resourcefulness and sportsmanship. As Roosevelt plans its future as a vibrant NCAA member institution, it will prioritize these six areas to deliver equitable opportunities for student-athletes to be successful in the classroom, in competition and in preparation for their careers as engaged and active community members.
"We really like the NCAA's values in terms of balancing athletics, academics and community service," said Roosevelt President Ali Malekzadeh. "Because of the social justice mission of the University, the main value of membership for us is achieving a higher level of athletic competition and retaining our students because they want to be involved in our larger goals. I want every student-athlete that comes to Roosevelt to feel like they are part of a team—that they can learn to compete while managing their classes."