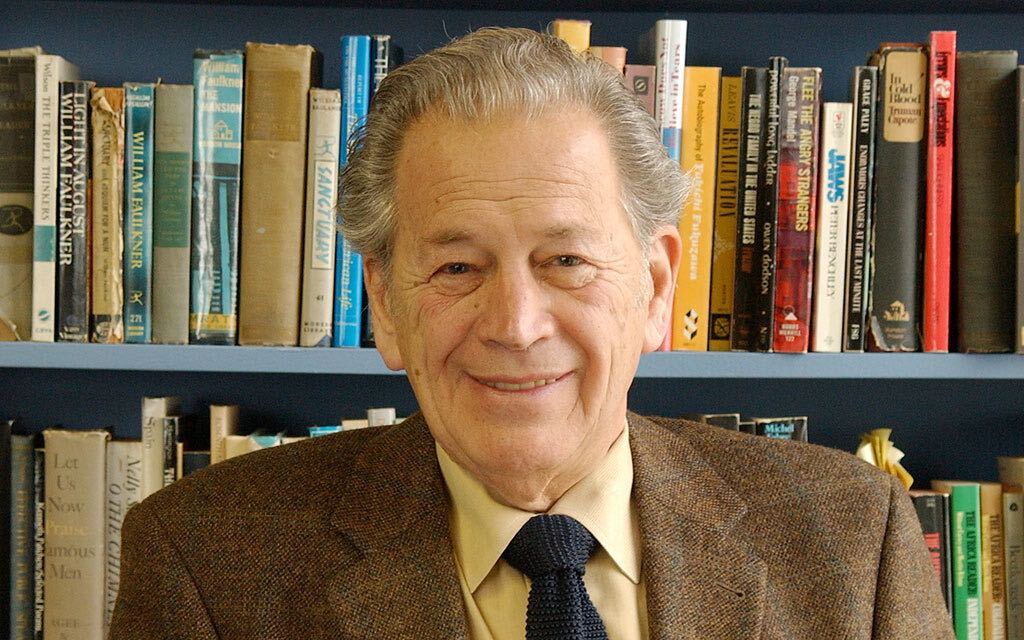 The education and literary worlds have lost a giant with the passing of President Emeritus Theodore "Ted" Gross (1988-2002). Ted passed away at his home in Evanston, Illinois, on August 16, 2022. He was 91. Ted leaves behind his wife of twenty-one years, Jody, and two children—Donna, who is a location scout for movies and television programs in Los Angeles, and Jonathan, professor of literature at DePaul University in Chicago. He is also survived by a granddaughter, Shiri Nicole Gross, along with extended family members Prasad and Amy Ravi, their two children, Torin and Ethan, and Beth Prullage who lives in Massachusetts.
Early in Ted's presidency, he envisioned a metropolitan University — "it would be a single institution, with a single faculty, teaching on two separate campuses. And in the course of teaching and learning, it would bridge the great divide between suburbs and city." (Chicago Tribune 2000, John McCarren)
For Roosevelt's 75th anniversary, Ted shared on the "75 Years of Belonging" Presidents Panel: "In 1988, when I came to Roosevelt, I had spent all my career, practically, in public education. The notion of coming to a university that's private, in which one could carve out one's own destiny was particularly attractive."
During his presidency, Ted implemented several institutional additions, including the development of Roosevelt's permanent campus in Schaumburg in 1996 – which, at the time, marked the first new comprehensive University campus to be established in Illinois since the late 1960s. Ted was also instrumental in the creation of the Chicago College of Performing Arts and the Marshall Bennett Institute of Real Estate. He led the development of an honors program, for which the Theodore "Ted" Gross Endowed Scholarship in Honors continues to provide financial support to students today. He also increased enrollments to 7,500. A fundraiser extraordinaire, Ted began and grew Roosevelt's endowment to $35 million, and he led a highly successful $53 million capital campaign.
Ted's vision and leadership changed the trajectory of Roosevelt University, which he reflected upon in his memoir, The Rise of Roosevelt University: Presidential Reflections. (Southern Illinois University Press). He also authored or edited 19 books and several articles on education and literature. His works include: The Heroic Ideal in American Literature, Dark Symphony: Negro Literature in America, Academic Turmoil: The Reality and Promise of Open Education, and Aging Beauty.
As an educator, Ted served as a faculty member or administrator at the City College of New York, the State University of New York at Purchase, the Pennsylvania State University, and the University of Nancy in France. After retiring from Roosevelt, he continued to teach courses in American literature.
On Thursday, October 13 at 4 p.m., a reception will be held in the Fainman and Ida B. Wells lounges to honor Ted's many years of service. The event will be followed by a tribute in Ganz Hall. To make a charitable contribution in memory of Ted, visit the Theodore "Ted" Gross giving page.