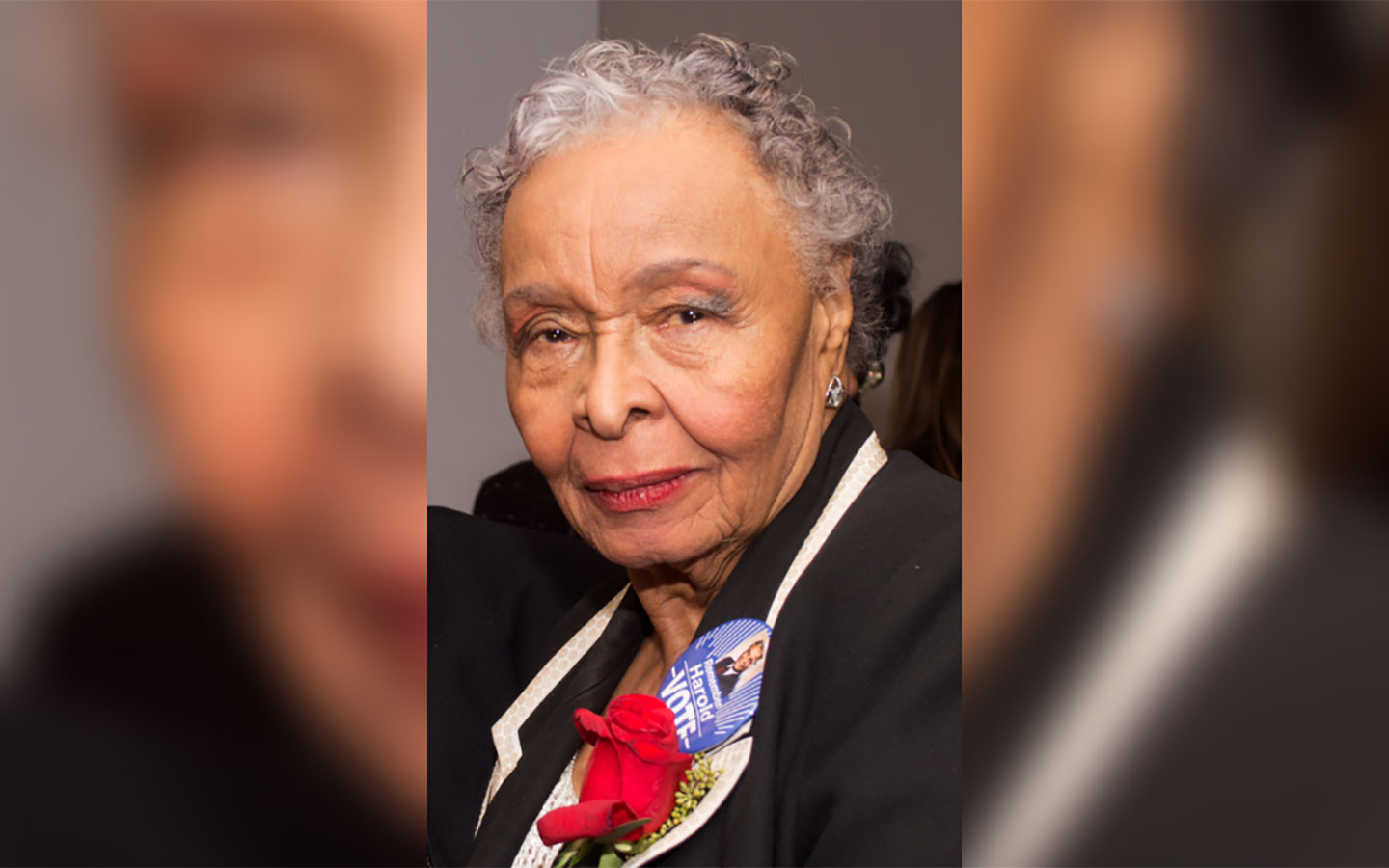 Roosevelt University joins the Mayor Harold Washington Legacy Committee (MHWLC) in remembering Josie B. Childs, founder and long-time president of the committee. Under Childs' leadership, our organizations officially partnered in December 2021 to establish the Mayor Harold Washington Legacy Scholarship at Roosevelt University.
Josie B. Childs passed away on Monday, February 13. A public memorial service for Childs will be held at a later date. All arrangements are pending.
A statement released by the MHWLC reads, "Her visionary leadership is widely revered and recognized throughout Chicago and across the U.S. as the driving force which has elevated Mayor Washington's profound legacy." The statement continues, "Only Josie could have […] brought together Mayor Washington's strong multi-racial coalition […] to establish the MHWLC and, once again, carve out a unique place in [Chicago's] public service and community history."
Josie was born October 13, 1926 in Clarksdale, Mississippi. She spent her childhood and teenage years in both Memphis, Tennessee and Vicksburg, Mississippi. Childs attended LeMoyne-Owen College in Memphis, a private historically black college affiliated with the United Church of Christ. She also enrolled in business courses in the late 1940s at Northwestern University.
Childs became an ardent Harold Washington campaign enthusiast and strategist, helping secure Washington's historical win to become Chicago's first Black Mayor. In 1983, Childs joined Washington's legendary administration ― as a specialist in both cultural affairs and special events ― and remained a City of Chicago employee until 1990.
Childs founded the Mayor Harold Washington Legacy Committee in 2013. Since then, the MHWLC has implemented a variety of positive, community-focused initiatives ― all intended to preserve the integrity and authenticity of the message of Mayor Harold Washington. Notable initiatives include voter registration drives, the April 2022 Centennial Gala honoring Mayor Washington's 100th birthday, and endowing the Mayor Harold L. Washington Legacy Scholarship at Roosevelt.
Jared Fritz-McCarty, assistant vice president of advancement and Roosevelt's liaison to the MHWLC, says, "Josie's life and legacy resonate with Roosevelt University's social justice mission, and we are beyond grateful for her loyalty to the University and Harold Washington. Without Josie's vision, we would not be where we are today. To date, 161 donors have generously contributed $62,000 towards our $100,000 goal."
In early 2022, Childs said, "Mayor Washington dedicated himself to public office and social justice. We think it is most fitting that we partner with Roosevelt University, the alma mater of the late mayor. This scholarship will help future generations continue their education and pursue their goals in his honor."
In lieu of flowers, donations can be made in honor of Josie to the Harold Washington Legacy Scholarship at Roosevelt University.