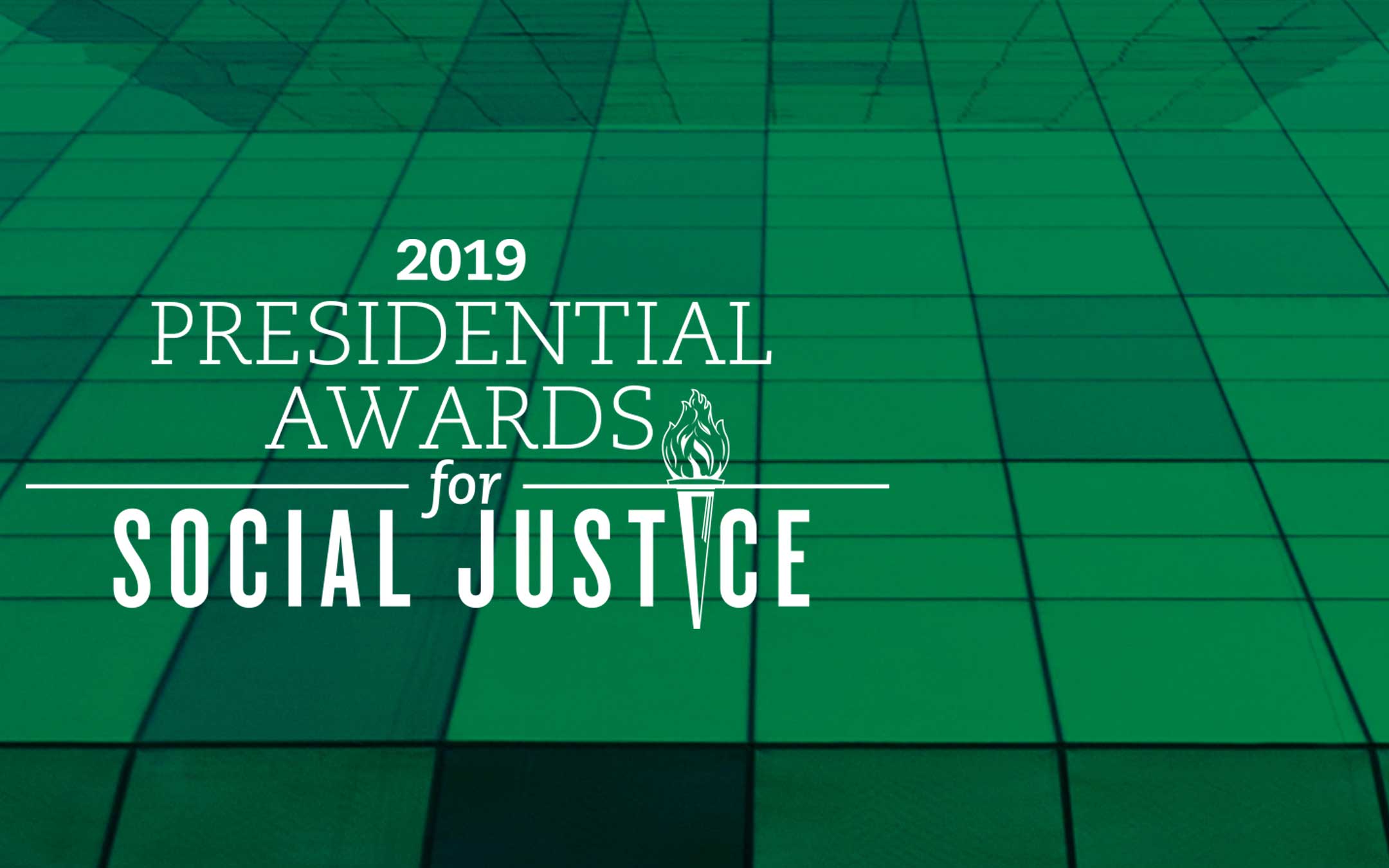 President Ali Malekzadeh rolled out the 2019 Presidential Awards for Social Justice to recognize Roosevelt community members who advocate for social change.
"Today we celebrate those who have gone beyond routine work and have demonstrated a commitment to social justice in the classroom, workplace and community," said Malekzadeh.
The President recognized 13 Roosevelt people, including two professors, a student and 10 staff, for three separate projects that are changing Roosevelt and society as a whole for the better.
Work by three on new task force merits award
Staff members Charity Seaborn, Pamela Thompson-Hill and Hilda Rojas -Duarte received awards for advocacy on behalf of Roosevelt students who are unable to afford basic essentials like food, clothing and housing.
"Social justice is the best of who we are at Roosevelt," said Jamar Orr, assistant provost for student affairs and dean of students who nominated the three.
"Clearly, the efforts of these women who frequently volunteer their own time on a daily basis for the benefit of students in need are an example of social justice in action at our University," he said.
As members of the Homelessness and Food Insecurity Task Force, the three opened a food pantry, clothing closet and emergency housing space at the Chicago Campus. A food pantry that is part of the project also operates at the Schaumburg Campus. Thus far, more than 200 students have received services.
"People think Roosevelt students just eat in the cafeteria, but that's not always the case," said Thompson-Hill, awardee and director of multicultural student support services.
Task force members forged a partnership with the Greater Chicago Food Depository for donations and brought in the state's Supplemental Nutrition Assistance Program (SNAP) to assist students in applying for aid.
"We never had a model or a plan per se," said Seaborn, director of student rights and responsibilities, a project founder and award winner.  "We simply wanted to meet the needs of our students and the project just came together for us," she said.
While donations were vital to get started, need for generous giving continues. "We always need more, and I hope this award will spark giving," said awardee Rojas-Duarte, director of housing and residential life. To make a donation, contact Jan Parkin, interim vice president of institutional advancement at jparkin01@roosevelt.edu
Awardees use the arts as social justice catalyst
Faculty and staff from Chicago College of Performing Arts (CCPA) won awards for work on The Considering Matthew Shepard Residency, held earlier this year at the University.
Hundreds participated in the residency's lectures and performances thanks to the work of CCPA faculty members Cheryl Frazes Hill and Mark Crayton; and staff members Linda Berna, Allegra Montanari, Abbey Springer, Elizabeth Sustar Nye, Laura Bumgardner, Brittany Nelson and Andrew Zweibel.
"I am very proud of our students and faculty, whose hard work and dedication created an incredible learning experience that reached across the entire Roosevelt community," said Berna, an awardee, project overseer and associate dean and director of CCPA's Music Conservatory.  "This powerful initiative demonstrated the deep connection between the performing arts and social justice."
The nine winners essentially used the arts as a social justice catalyst, raising awareness, conversation and engagement on hate and violence that continue to affect the LGBTQA community.
"The program and performances emphasize our commitment to a performing arts education grounded in Roosevelt's social justice mission," added CCPA Assistant Professor of Music History Thomas Kernan, who nominated the project and winners.
He praised awardees Frazes Hill, associate professor of music education and director of choral activities, and Crayton, artist faculty member of voice, for engaging students in socially responsible conversation and reflection beyond the classroom.
"This piece started the conversation," added awardee Allegra Montanari, director of CCPA's Center for Arts Leadership. "We hope it will spur those who participated to become positive change agents beyond the scope of these events."
The Music Conservatory's Performance Activities Office (Sustar Nye, Springer, Nelson and Bumgardner) helped coordinate three shows of the oratorio Considering Matthew Shepard, including much of the project planning and outreach. Zweibel, CCPA's scheduling and facilities coordinator, provided the shows' sound engineering. 
Honors student Alex Fruin Recognized
A social justice award also went to Roosevelt honors student Alex Fruin, who will graduate with a Bachelor of Musical Arts (BMA) degree in May.
"Alex has been working throughout his time at Roosevelt to incorporate social justice goals into his work," said Marjorie Jolles, associate professor of women's and gender studies, director of the Honors Program and presenter of the Fruin award.
"He has a clear understanding of the need for intersections between community development and the arts, including the responsibility of arts leaders to build diverse, equitable and inclusive organizations that reflect communities they serve," she said.
Fruin's ongoing honors thesis identifies diversity, equity and inclusion as principles common to all fields, but which have yet to be part of standard operation in the performing arts sector, added Thomas Kernan, CCPA assistant professor of music history and Fruin's honors thesis advisor.
"Alex argues that diversity, equity and inclusion must be the basis of every element of strategic planning.  He will offer best practices that ultimately could be a useful guide for the ensembles with whom he hopes to work," Kernan said.
Fruin credits training he received earlier this academic year with the Obama Foundation Community Leadership Corps for a thesis that centers on social justice ideas. "We can't just concentrate on art itself," said the student award winner. "We have to build organizations that best reflect our communities."