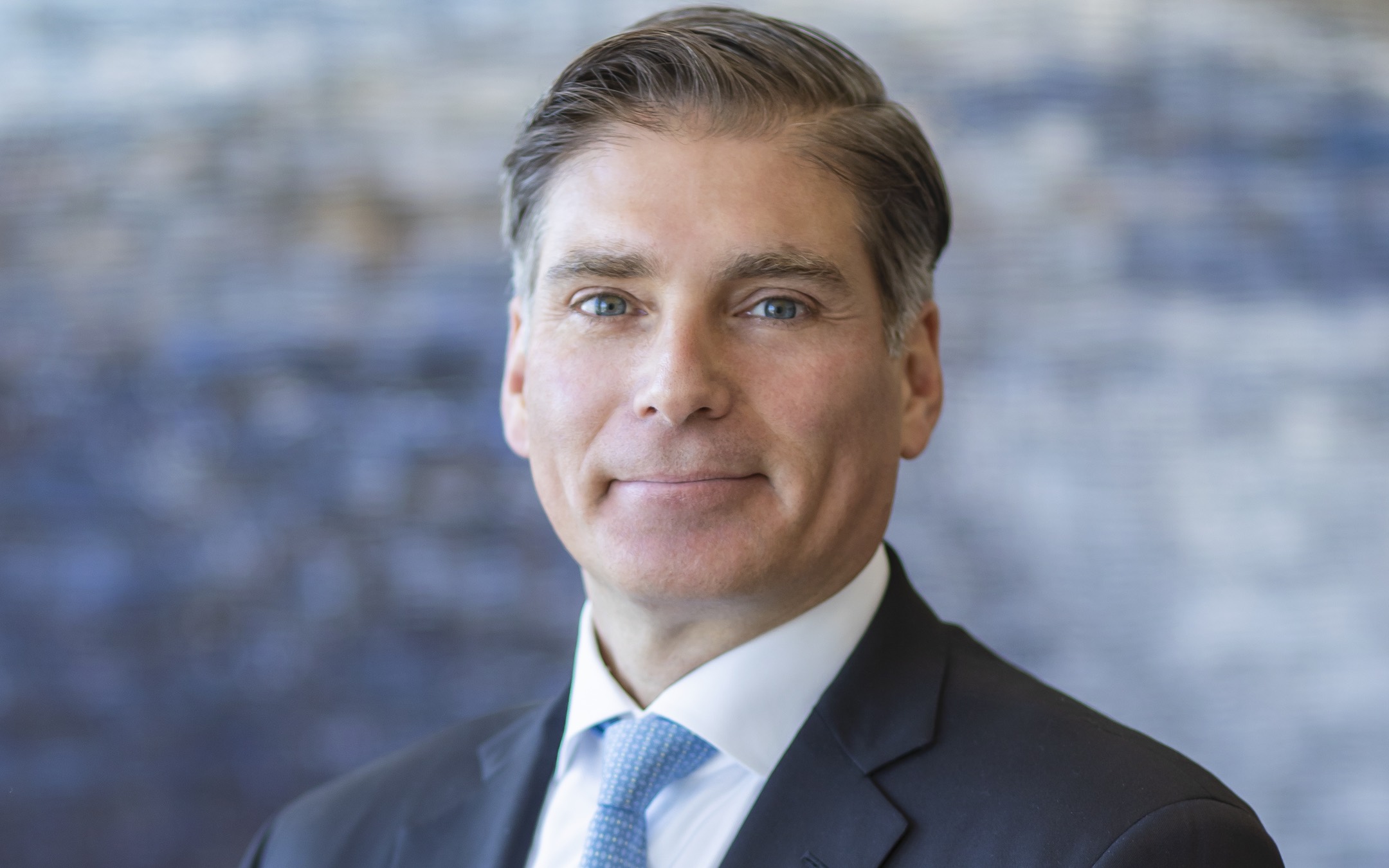 Bill Presutti is a proven financial services leader, an accomplished senior executive — and, like many Roosevelt University students, the first in his family to graduate from college.
As a member of the Board of Trustees, Presutti hopes to make that kind of inclusive opportunity possible for current and future Lakers. " Later in my career, I've been focused on helping people from all backgrounds get to where their goals want to take them," he said.
Presutti is currently an executive director at FS Investments, an alternative investments asset manager with $23 billion under management. Through fluctuating regulations and economies, he has continued to deliver substantial results in competitive markets.
Bill Presutti joined the Roosevelt University Board of Trustees this spring. He spoke to Roosevelt about his career path and his goals as a board member.
What attracted you to Roosevelt University and the Board of Trustees?
I was the first one in my family to attend college, because of the Niagara University Opportunity Program, which helped underprivileged kids go to college. I received my education, went to New York City where I was able to get my first job in financial services. I am very proud of the fact that I was able to pay back my student loans within the first couple of years in the workforce. I must give all the credit to my mother and NUOP — my brother and sister followed the same path, and they've become successful in their industries.
My attitude and drive to help others is based on their own motivation. I will guide anyone who is driven to do something with their own individual spirit. In my opinion, passion is what makes someone successful in the path they choose — whether it is being a good citizen, getting a dream job or just making a difference to themselves.
Roosevelt is an institution that was started so that every qualified student had an opportunity to go to college, regardless of their race, religion and gender. This was very similar to my own experience in that what was holding me back was my families ability to afford higher education. I'm drawn to sit on the Roosevelt board to help create opportunities for individuals based on their own ability to dream about reaching their own goals and aspirations.
Overall, I'm trying to create a balance between corporate life, family life and giving back to society. I've been with my wife for 26 years. We have one child that's a senior in high school and one that's a freshman in high school. It's helpful to be a parent of children looking to go onto higher education, and helping them become productive, thoughtful, overall good citizens.
This framework and my own world experiences will help me shape my input on the board. Roosevelt's an exceptional platform to help me maintain the balance I am looking to achieve in today's environment.
What parallels do you see between your work in financial services and higher education?
We have underlying responsibilities as an overall society. Those responsibilities for my industry are investing in companies and in ideas to make society better from a capital market perspective. The capital we invest gives presidents and CEOs of companies the ability to get their products to market. The parallel is with every great idea and investment, all levels of society will benefit with these new technology and ideas.
During these current tough times with COVID-19, we're going to see society go back and forth trying to set a new level for the way all individuals communicate. This is will be at all levels: places of worship, schools, in neighborhoods, as well as in corporate America. There has also become a warranted underlying current for individuals that have not been treated fairly and equally.
At FS Investments, we have always taken equal opportunity seriously. At my company I am part of FS in Color, a dedicated group that will recruit more individuals of color into our organization and industry.
The pandemic is forcing us to think about new technologies, forcing us to view all citizens' activity from both sides of the political aisle. This is moving us to think more about how we're including people from different religions, races and genders. We need to interact in a more thoughtful way in this new environment.
As virtual meetings, recordings, and higher levels of interactions continue and become the new norm, it will continue to be important to make people aware of the changes in higher education and in the investment management business.
What role do you do hope Roosevelt will play in the greater Chicago community?
In my opinion, Roosevelt needs to continue being a leader in the Chicago community. Students need to feel comfortable and proud that they're at Roosevelt University. The students need to have access to internships and life-changing events where they can voice their opinions in an upbeat, positive manner. The more Roosevelt can do to create pride in the Chicago area, the better.
It all comes down to the mission, if Roosevelt continues to create that diversity, inclusion and opportunity for individuals to grow. As long as we're aligned on our mission, I think that Roosevelt could play a big role, especially with the background of University namesake Eleanor Roosevelt.
What are the most important leadership qualities in times of crisis?
In any time of crisis, you must have character to be able to stand up when things aren't going your way, believe in your mission and your vision. You must have the passion, desire, and grit to be able to fight the status quo and stick to what's right. Every person can make a difference — if they show up to and put time into changing a situation.
In these current times, I want to be a leader that brings both sides together. A simple example: I am a registered Republican who works on Wall Street. I realize several people in higher education are Democrats, but I don't think that should be the issue. A good leader — no matter if you're on the board, a student or a leader within an organization — listens to both sides to find compromise and move forward for the better of the cause.