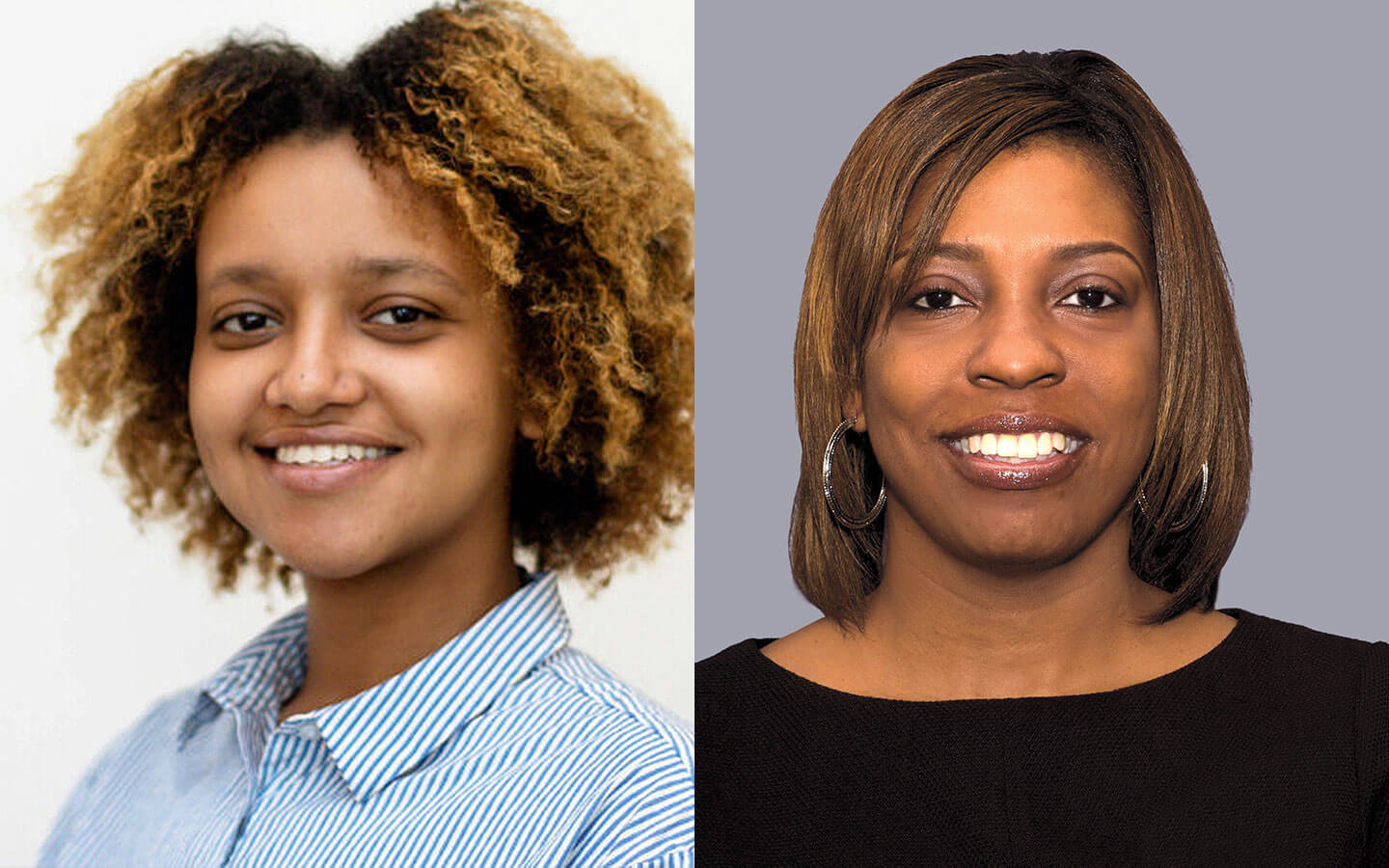 In the fall of 2020, one thing standing between Elsa Medhin and her Roosevelt University degree was her final internship.
The integrated marketing communications program asks students to intern for credit to get a feel for their field before graduation. During the pandemic, Medhin had landed a role at a public relations agency that fell through. Now she needed to find a new position and log 200 hours of experience before the semester ended.
One of the first people she contacted was her mentor, Tanya Norwood, for guidance.
ONE-HOUR MEETINGS ADD UP
The Professional Mentoring Program matches 100 students each year with professionals in the field: alumni, trustees and friends of the University.
As a Roosevelt student, Medhin had always wanted a mentor, but didn't know how to approach one. "It's a little hard to be a first-generation student, but it's less hard when someone's there to check in with you," she remembered.
Medhin knew right away that she wanted a Black woman as a mentor. She needed someone unbiased who would keep her accountable in the last stretch to graduation.
"I needed someone that looks like me in my field," she said. "I wanted someone to guide me through the semester because I already knew not having that face-to-face interaction with professors was going to be difficult for me."
The mentoring program matched her with Tanya Norwood, chief marketing and membership officer at the American Society for Clinical Pathology. Norwood had graduated from Roosevelt herself with an MBA in marketing.
Through weekly phone calls, the two developed a real relationship beyond the requirements of the program. Students can work with their mentors on resume review, mock interviews or talk about whatever they want. Medhin had the space to think intentionally about her career goals by talking to someone who had walked in her shoes.
"Our conversations were really rich," Medhin said. "I liked her approach and it made me feel comfortable to talk to her because I knew what I wanted out of the relationship."
3 MENTORING TAKEAWAYS
Create a positive, healthy relationship beyond a resume line.
Learn that it's okay to ask for help.
Take advantage of every Roosevelt opportunity before graduation.
Get matched with a professional mentor or Roosevelt student mentee.
Norwood called her mentee a "wonderful, intelligent and spirited individual."
"Elsa was very purposeful in organizing our sessions and driving the agenda," said Norwood. "I felt I was able to give my best because she was intentional about what she wanted to get out of this relationship."
When she needed a new internship, Medhin reached out and Norwood immediately volunteered to contact her network. She didn't make any promises, but she understood Elsa's urgency. Medhin found another position, but she was thankful that she had Norwood willing to step in.
"I just want to rave about Tanya," she said. "It makes me really happy to know people like her exist."
BUILDING REAL RELATIONSHIPS
Sometimes, knowing what path is wrong for you is just as important as knowing the right one.
Medhin's mentor helped her figure out that she didn't want to pursue a career in marketing, and what she could do to follow her passion for film. Medhin is now producing short films and videos and exploring her next steps. In her future jobs, she'll bring the skills and rigor she built through her marketing communications course work.
And of course, she'll have Norwood as a supporter and a sounding board.
"I can't imagine not checking with her," said Medhin. "I would love to continue this relationship."
PROFESSIONAL MENTORING PROGRAM
Through the professional mentoring program, Roosevelt University students meet with mentors for an hour each month. Mentor and mentee pairs can collaborate on students' goals, talk about networking strategies, review career skills or practice informational interviews.
Apply to connect with a mentor or Roosevelt student this fall.