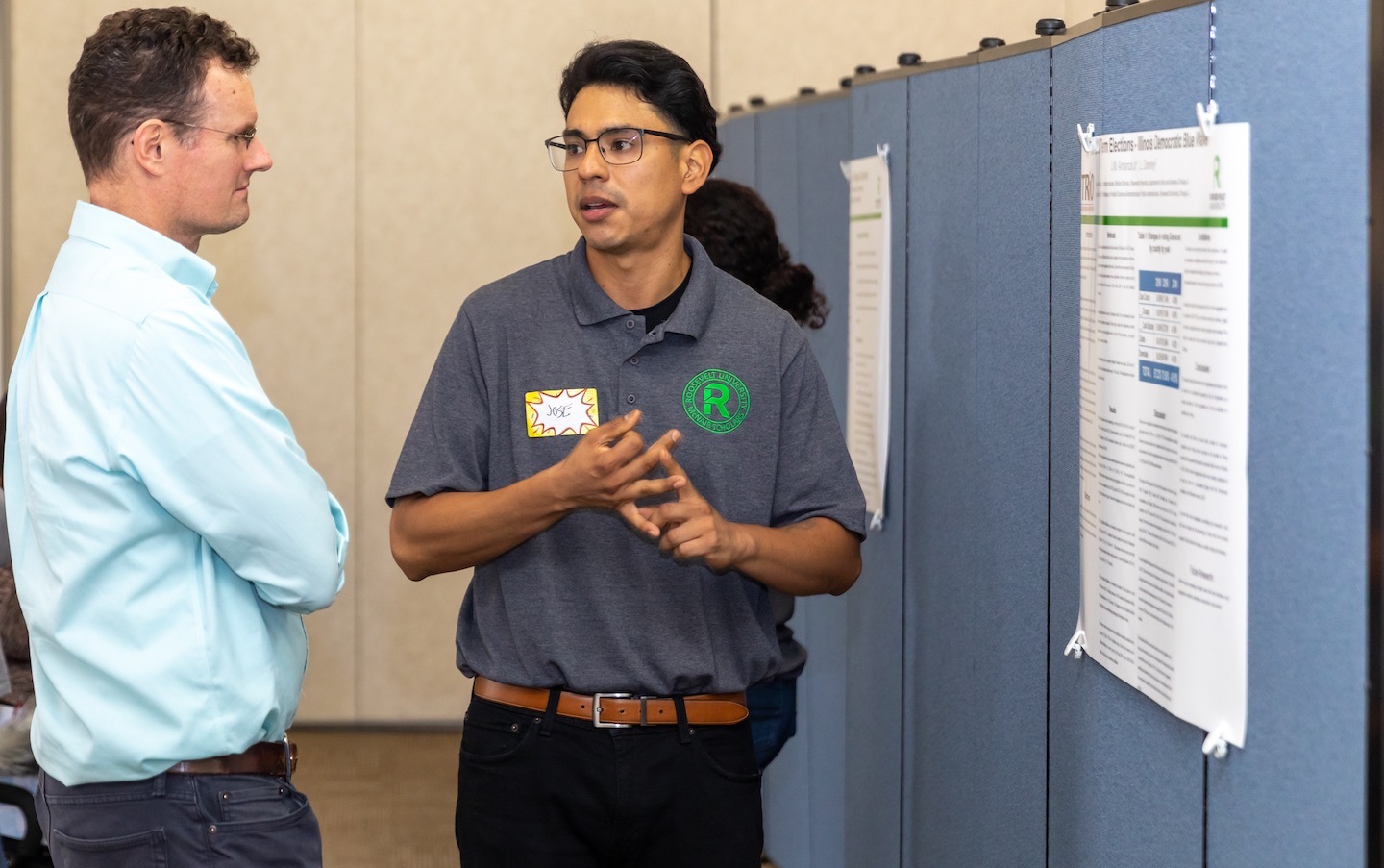 After serving in the Marine Corps, Jose Almanza Jr. (BA Political Science, '19) came home to Chicago and moved into an apartment not far from his family in Little Village. Several leases and apartments later, he had seen firsthand how difficult gentrification has made it to live in his community.
As a Roosevelt University undergraduate, Jose studied political science and conducted research on the midterm elections through the McNair Scholars program. Now Jose is a student in the  master's of public administration program, training for a public service career where he can make a difference in his neighborhood. 
With his MPA degree, he hopes to dismantle policies that displace long-time residents and replace them with the equitable housing policies that Chicago needs. He hopes to one day represent his ward as alderman.
Jose spoke with Roosevelt about the MPA and his work with Únete La Villita, a community organization dedicated to community-driven development in Little Village.
ON WHY HE CHOSE ROOSEVELT UNIVERSITY
I transferred to Roosevelt from Harold Washington City College to finish my undergrad because of the school's dedication to social justice. After graduating in December 2019, I chose to continue my education at Roosevelt and enrolled in the MPA program because it was a great fit. The professors, faculty, student body, architecture, the RU community in general made it difficult to leave.
I was also awarded a graduate assistantship through spring 2021. This combination made it an easy decision for me to continue my educational career at RU.
ON HIS WORK WITH ÚNETE LA VILLITA
Únete La Villita is a relatively new community organization made up of neighbors that uses grassroots organizing, community engagement, political education and policy advocacy to promote community-driven development in Little Village and North Lawndale.
The COVID-19 pandemic forced us to shift our focus away from large development projects that ramp up gentrification in the community to address the immediate issues associated with the pandemic. For example, we received federal assistance to run a food pantry and distribute food to members of our community.
Únete volunteers distributed 420 boxes of fruits and vegetables every Monday morning in the months of July and August 2020. I am happy to report that we recently got approved to distribute boxes through the end of October. In collaboration with other local community organizations, hand sanitizer and face masks are routinely distributed.
The looming eviction crisis caused by the pandemic is another area Únete is focusing on. Fortunately, Governor Pritzker extended the moratorium on evictions, which was set to expire at the end of August, through the end of September. Governor Pritzker is expected to extend it once again; however, we are preparing for the worst.
Únete La Villita is part of the Lift the Ban Coalition and Chicago Tenants Movement, where a new strategy is being developed. An Eviction Defense Response Team hub is being established to service city tenants facing legal and illegal evictions. The city is divided into several hubs, and Únete was assigned to the North and South Lawndale neighborhoods.
While relatively new, our Eviction Defense Team has been training all summer long and is ready to assist the people of North Lawndale and Little Village.
HIS ADVICE FOR STUDENTS WHO WANT TO GET INVOLVED
Just do it! Be ambitious and outward-looking — use your local environment and community as hands-on learning resources. Encourage friends, family, community organizations and businesses to bring their issues to your local elected official.