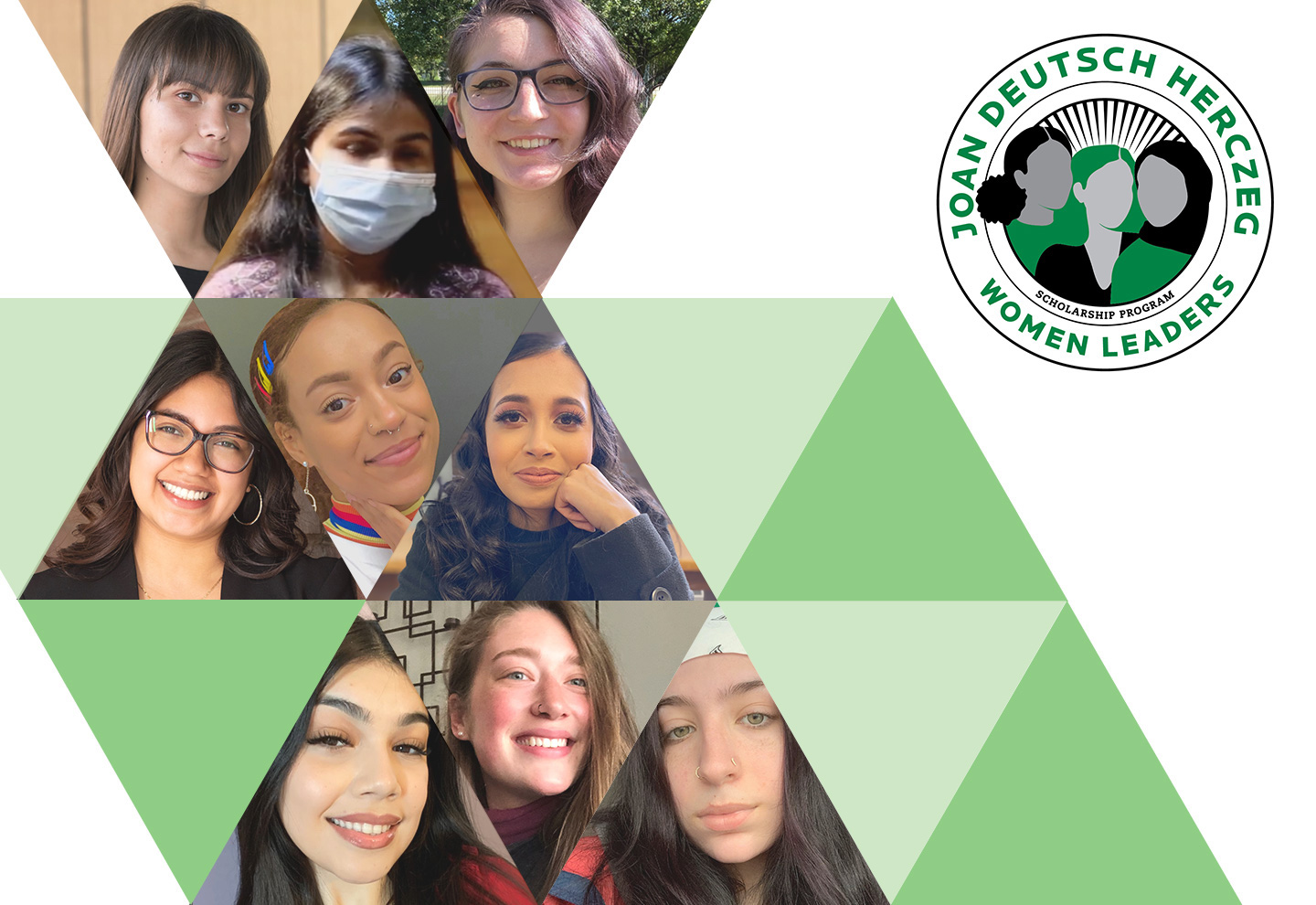 Roosevelt University welcomed its first Deutsch Herczeg Scholars to a new community of women leaders. As a cohort, the nine scholars will learn from women executives and industry experts to build their leadership skills and confidence.
The scholarship program matches participants with a member of the Women's Leadership Council for one-on-one mentorship. The Council — open to all alumni and friends of the University — hosts programs, mentors members and gives back to initiatives that help close the gender gap.
Scholars will also learn from their peers, building a community of friends and supporters. The diverse group of juniors and seniors represents academic programs from piano performance to finance.
"Remarkable women have been part of Roosevelt University since its founding in 1945, starting with the first advisory board chair, Eleanor Roosevelt," said University president Ali Malekzadeh. "In the 75 years since, Roosevelt has counted many extraordinary women among our community. The eight Deutsch Herczeg Scholars are no exception."
Larissa Herczeg, Roosevelt trustee and managing partner of Oak Street Real Estate Capital, launched the scholarship with a generous lead gift. Herczeg named the program in honor of her mother, Joan Deutsch Herczeg, and the many strong mothers leading by example. At the welcome reception, where she told scholars that she is "excited to help you network and connect with people who could be integral in your careers."
Deutsch Herczeg Scholars are also awarded with a one-time scholarship of $5,000. The program can serve as a pathway to a potential internship.
The inaugural cohort was chosen from a competitive pool of 44 applicants. The Roosevelt students who are deeply involved in campus organizations. Seven are members of the Roosevelt Honors Program. At the reception, they shared their aspirations to become attorneys, data analysts and researchers.
"I'm looking forward to being around other people who are driven and working toward similar goals," said Lilly Pribish, a scholar and current Student Government Association president.
Meet the 2021-22 Deutsch Herczeg Women Scholars:
Sariah Bolden is an honors student and a history and political science major from Birmingham, Mich.
Sunyata Courie is an honors student and a philosophy major from Ridgely, Md.
Kaltra Demiri is an honors student and mathematics major from Libohove Lushnje, Albania.
Kennedy Gale O'Connor is an honors student and biology major from Montgomery, Ill.
Adaly Navarro is a psychology major from Glenwood, Ill.
Lilly Pribish is an honors student and psychology major from Arnold, Mo.
Poonam Rahman is a management major from Roselle, Ill.
Maria Rivera is an honors student and finance major from Cicero, Ill.
Elizabeth Sprecher is an honors student majoring in piano performance and creative writing from Chicago, Ill.