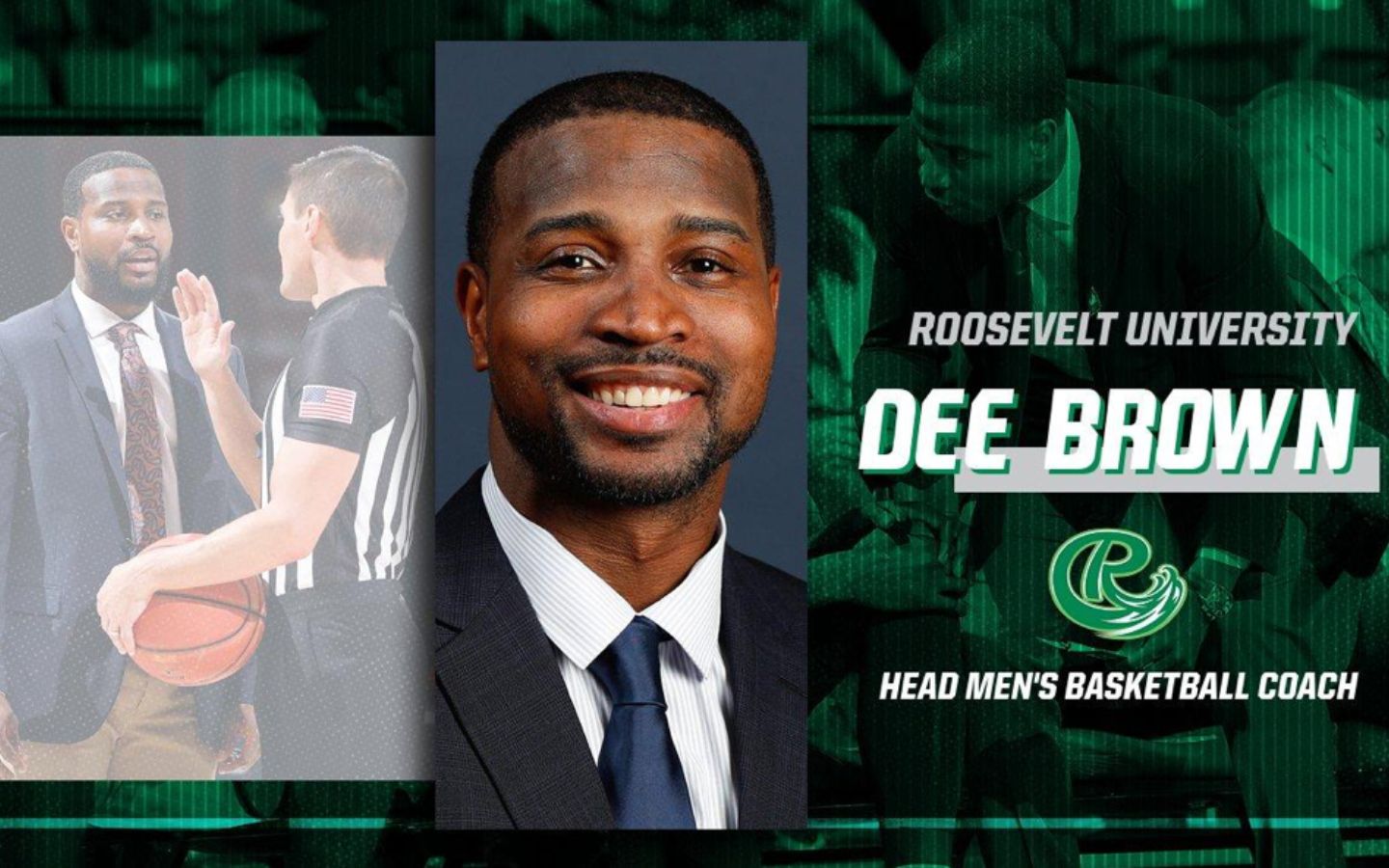 CHICAGO – Roosevelt University director of intercollegiate athletics John Jaramillo announced the hiring of Dee Brown as the new head men's basketball coach for the Roosevelt Lakers.
The 37-year-old Brown, a McDonald's All-American and Illinois Mr. Basketball at Proviso East High School and one of the most accomplished and popular athletes in University of Illinois history, brings two decades of collegiate and professional basketball playing and coaching experience after most recently serving as an assistant men's basketball coach for the University of Illinois at Chicago (UIC) since 2017.
"Dee Brown is synonymous with winning basketball," Jaramillo said. "Dee brings a bold vision for the men's basketball program at Roosevelt. He will provide a fresh perspective, cultivated by his successful experience as a player and a coach, and a competitive fire that will elevate the team's success on and off the court. 
"Dee's relentless energy, extensive knowledge of the sport, strong connections within basketball, insatiable work ethic, and passion for fostering the holistic student-athlete experience will elevate the program and our championship expectations in every facet."  
"I'm excited and ready to get to work," Brown said. "What I love most about Roosevelt University are the academics, the administration, the facilities, and the location in downtown Chicago. After meeting with Roosevelt's athletics leadership team, I feel very good about the vision of the program and where it's going." 
"I'm blessed to be in this position to be a head coach in my city," Brown continued. "Chicago taught me toughness and grit. I'm focused on culture, people, and excellence. Every day I will come to work at Roosevelt with great energy. I'm outgoing and ambitious, and I show up every day with the expectation of excellence and unbelievable drive towards competing for championships." 
Most recently an assistant coach for the UIC Flames under the tutelage of head coaches Steve McClain (2017-20) and Luke Yaklich (2020-22), Brown spent five years with the Flames. Behind Brown's basketball acumen and knack for player development, the Flames advanced all the way to the Horizon League tournament championship game in 2020.
Brown first made his name as a prep basketball star at nearby Proviso East in Maywood, where he was named Mr. Basketball in the state of Illinois and a McDonald's All-American in 2002. He finished his career as the all-time leader in scoring, assists, and steals for the Pirates.
Brown then went on to excel at the collegiate level for the University of Illinois from 2002-06, playing for head coaches Bill Self (2002-03) and Bruce Weber (2003-06) in Urbana-Champaign. There Brown became known as "The One-Man Fastbreak" and led the Fighting Illini to back-to-back Big Ten championships in 2004 and 2005. He was the catalyst of Illinois' run to the 2005 NCAA Division I Men's Basketball National Championship game. A consensus First-Team All-American and the Big Ten Player of the Year in 2005, Brown was named the Sporting News National Player of the Year at the end of that historic season which also saw him earn the Big Ten Defensive Player of the Year Award. In 2006 he won the Bob Cousy Award as the nation's top point guard, finishing his collegiate career as the all-time winningest player in Illini history as part of 114 victories in Orange and Blue.   
Following his successful collegiate career, Brown was selected in the 2006 NBA Draft by the Utah Jazz. After additional NBA stops in Washington, Phoenix, and Dallas, Brown spent nine total seasons playing professionally, winning two championships and one Player of the Year award in Europe.
Upon retiring from professional basketball in 2015, Brown returned to his alma mater and served as the Director of Player Development and Alumni Relations for the University of Illinois men's basketball team under then-head coach John Groce.
Brown started his coaching career on the AAU circuit with Chicago Meanstreets and coached the USA select team Bloomington Flex during a 2017 tour through China.  
Brown earned his bachelor's degree in Recreation, Sports and Tourism from the University of Illinois in 2006. He was inducted into the Illinois High School Basketball Hall of Fame in 2015 and was a member of the inaugural University of Illinois Athletics Hall of Fame class in 2017.
"It was clear that Dee not only saw the vast amount of academic, athletic, and experiential opportunities that Roosevelt University can offer students now and the massive potential for those opportunities to grow significantly in the future, but he wanted to be a champion of those opportunities and of Roosevelt University," Jaramillo said. "I am proud to welcome Dee and his family to the Roosevelt University community, and I look forward to working with Dee on establishing and maintaining new standards of excellence for the Roosevelt Lakers."   
"I am very passionate about life and basketball," Brown stated. "I deeply believe in the development of student-athletes on and off the court. We will value education, we will make an impact in the community, and we will compete on the court. 
"Our program will be built on toughness. We, us, together. It's about the team." 
Brown begins his new position at Roosevelt University this week. 
 
WHAT THEY ARE SAYING ABOUT DEE BROWN:
Bruce Weber, former University of Illinois head coach:
"I am very proud of Dee and excited for him to have the opportunity to be the head coach at Roosevelt University. There was no doubt in my mind when I coached Dee that he would someday become a coach. Dee will bring that same passion and energy that he had as a player to this job. Dee also has that special exhilarating personality that will not only help him recruit but also take the Roosevelt basketball program to new levels."
Steve McClain, former University of Illinois at Chicago head coach:  
"Dee Brown has been a winner at every level he has coached and played at. Roosevelt just hired a winner who will build a great relationship between the University and the city of Chicago." 
Luke Yaklich, University of Illinois at Chicago head coach:
"On behalf of our players and staff, we are so excited for Coach Brown to begin his new journey and the next step in his career as head coach at Roosevelt University. We thank Coach Brown for five years of service to UIC in the men's basketball program. I cannot thank Dee enough for his loyalty, dedication, and passion on and off the court. He helped each player grow as a student, athlete, and young man during his tenure at UIC. He's going to be a terrific head coach, and we're very excited to watch him build the Roosevelt Men's basketball program here in the city that he loves dearly."